SMS plays host to Double Blue tournament
Posted on October 19, 2022 by Taber Times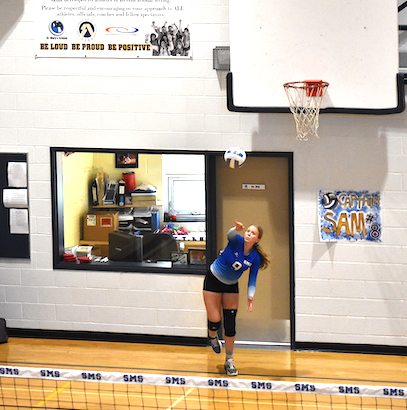 TIMES PHOTO BY MEG NOGUCHI
By Cole Parkinson
Taber Times
cparkinson@tabertimes.com
The volleyball season is approaching its end and the St. Mary volleyball teams are still in the thick of things. The Auroras saw their regular season continue last week as they were in Coaldale taking on the Kate Andrews Pride.
"Last week, we travelled to play Kate Andrews in Coaldale for our regular league game. Our last time playing KA, we had lost in their home tournament final to them in a very exciting match. In our league play, we beat them 3-1. We played a lot more in control this week and were able to step our serving on the full court," explained Carolyn Siemens, coach.
Following that big win to wrap up last week, both the Auroras and Celtics were preparing for their home tournament. Over the weekend, SMS saw tons of great matchups as they hosted their annual Double Blue tournament.
"We hosted our 42nd annual Double Blue tournament on Friday and Saturday. The week leading up to the tournament, our leadership had planned a spirit week to help create some excitement for the tournament and then on Thursday, we held a pep rally where the educators including our (assistant) Fire Chief Amy (West) and Resource Officer Chris (Nguyen) both participated. The Celtics and Auroras were able to pull out a win against the teacher's team, which doesn't often happen," continued Siemens. "The tournament saw 10 girls teams and eight boys teams in competition for the weekend."
With the hope both the Auroras and Celtics would be able to win their respective sides of the tournament, the two teams came in fired up.
"In pool play, both the Auroras and Celtics came in second place in their pools. For the Auroras, we split with Kate Andrews and Myers and won all our other games. In the quarter-finals, we played FP Walshe who we were able to beat in two and then moved onto the semi-final match against Vauxhall," explained Siemens.
Knowing the Vauxhall Queens would be a tough matchup, the coaching staff was hopeful the team would bring their best performance of the tournament. While the team did play exceptionally well, it just wasn't enough to beat the tough Vauxhall team.
To read the full story, pick up a Taber Times issue or subscribe to an ePaper digital subscription! You can sign up for digital or traditional subscriptions on tabertimes.com by clicking subscribe under ePaper on the home page.