Rodeos hopeful for(needed) summer crowds
Posted on May 12, 2021 by Taber Times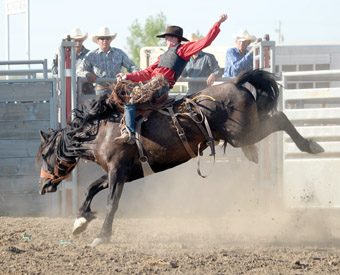 TIMES FILE PHOTO
By Alex McCuaig
Southern Alberta Newspapers
Rodeo season is getting underway but the Brooks Kinsmen Rodeo has been at least postponed while a decision on whether the Medicine Hat Exhibition & Stampede will be run is expected early in May.
As for the chances of a fulsome Alberta professional circuit going forward, "we're going to do our damnedest to have a season," said Jeff Robson, general manager of the Canadian Professional Rodeo Association (CPRA).
And there is good reason to be hopeful.
The current AHS outline for having spectators at rodeos could see restrictions completely relaxed by the end of July, according to a CPRA release earlier this month.
The release outlines that as early as late May rodeos would be able to host 100 fans outdoors, followed by 500 a month later with removal of all restrictions by the end of July.
"But there's a lot of bridges to cross until then," cautioned Robson.
He added 2021 is in ways more difficult to navigate than 2020 because of the number of variables involved, while last year saw most events shuttered.
And there is millions of dollars at stake for communities, cowboys and breeders.
"We need fans to make revenue," said Robson.
The province's amateur associations are also feeling bullish on this season.
Murray McGonigle, past president of the Foothills Cowboys Association, said they were one of the only circuits that managed to hold a whole slate of both rough stock and timed events last year in the country outside the provincial high school championship.
While amateur rodeo might not have the splashy entertainment acts and midway rides, McGonigle says this year might be as good a time as any to check out the down-to-earth events in Dogpound, Writing-on-Stone or Patricia.
"It's the first Wednesday after Calgary," McGonigle said of the Dogpound Rodeo, "and there are people there three-days before and four-days after – it's a one-day rodeo."
He added that smaller rodeos have done well during hard economic times, "because it's a cost-effective way for families. And it is a family-orientated situation because families can go spend a day at a reasonable price."
The Jenner Rodeo north of Suffield is currently scheduled to go ahead this year July 2-4, while Mike Smith, president of the Chinook Rodeo Association (CRA) is hopeful to have an event in Dunmore in June.
The CRA has been able to hold a few timed events this year including in Magrath and Taber this month.
"But no crowd at all. That sucks," said Smith.
He says outside entry fees contestants pay into amateur rodeos, there isn't much in the way of prize money outside of those fees.
"In rodeo, you really need a crowd … Right now, the contestants are paying for everything – there is no added money," said Smith. "Without crowds, it's pretty hard for any of these small-town communities to run rodeos."
The Strathmore Rodeo announced it's moving ahead with ticket sales for its event planned for the same time as Medicine Hat's scheduled rodeo over the July 30 weekend.