Barnwell athletics shows Decade of Dominance
Posted on January 8, 2020 by Taber Times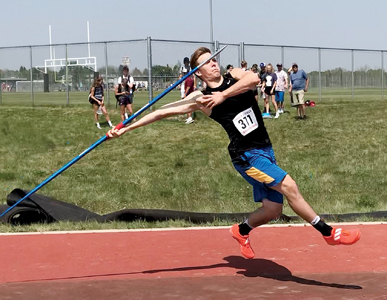 TIMES FILE PHOTO
By Greg Price
Taber Times
gprice@tabertimes.com
It is commonplace when January rolls around for sports teams to look back and see the success of a season that was.
It is not too often you can look a decade back and marvel at the dominance of a whole athletic program for 10 years for a small rural school.
Aaron Edlund, vice principal at Barnwell School, and its athletic director, has been teaching at Barnwell School since the 2007/2008 year. As the world enters a new decade in 2020, Edlund caught himself walking around the school's gymnasium and seeing exactly how many banners its student athletes have been able to win in basketball, volleyball, track and field and cross country.
"There are ebbs and flows, but we seem to have been able to avoid them where we have always had the horses for athletes," said Edlund. "When I first got here, we had such a keen group of kids on both the boys and girls sides. When we cranked up the intensity a little bit, the kids were excited and happy to be pushed a little harder and it set the bar really hard. It kind of became the standard with the kids younger than them for something to look up to where that expectation was there. The bar was set nice and high with what we do and you don't have to sell the new kids on it."
The philosophy looks like it is working as Barnwell School has hung 22 team championship zone banners since 2010 in various sports. Barnwell athletes have 29 individual zone championships, mostly in track and field, but also a few in cross-country and badminton. Seven of the track championships featured zone records, five of which have passed the test of time and still stand today. Barnwell School has amassed 50 Horizon league champions in various sports at either the Tier I or Tier II levels. Girls basketball has managed to win basketball banners in 4J in the past, (the highest student population ranking there is). This coming from a junior-high student population which ranges only around the 90-student range tops, although not all schools have Grade 9 in their junior high like Barnwell has.
"In track and field in numerous years, we always had a ton of points come from our Grade 9s, and then I worry about how are we going to replace these guys? That's for cross country and basketball and volleyball too. But then the next class steps up," said Edlund. "I think the Grade 9s have really embraced their last year and tried to make it special at the school. Luckily, it has linked in at our school and we have great leadership."
There is always turnover to some degree in the coaching ranks of various athletic programs at schools, but at Barnwell School it seems to have more stability than many in the southern Alberta region for at least a handful of years at a time.
"We have a little bit of turnover too. I've been able to provide some stability, but there have been other coaches who have stuck around past their children's years. The whole program benefits when we have the consistency with coaches," said Edlund. "But we run into problems like other schools, where it's getting harder and harder to find coaches. But, we don't have it quite as hard as other schools."
That support in the coaching ranks also spills over to an administration where Edlund noted the principal sees the value of athletics to the school body, including a highly successful cake auction that sees funding spill over to other programs in the school besides athletics.
"Administration makes the whole thing work. For instance, Horizon league games start at 4 p.m. If, you're not at home, you are missing school that day. The administrator sets up the timetable every year and (Sheldon Hoyt) is promoting athletics, while also keeping the importance of education," said Edlund. "He'll schedule phys Ed class during those last blocks of the day. So if kids are losing instructional time leaving class early those days, it's simply missing phys Ed for basketball or volleyball games. They aren't missing any of their core subjects and truth be told, they are probably working harder in those games than they would be in a gym class. We aren't pulling them out of the classroom-classroom."
The famous Cake Auction games have the players playing to a packed house, giving a vibe seldom seen in middle-school athletics to show off the pride in a program.
"There's 300, 400, 500 people there. That's something I've always felt American kids have on us is that pageantry. Kids want to perform knowing they'll be playing before a live audience. They want to be ready for that, so it's easier to push the kids when there is that cake auction carrot," said Edlund. "They want to win that basketball game and score some baskets. That doesn't just happen, you have to work for it."
Some of Barnwell's banners can be attributed to pure enthusiasm for athletics through participation which can build points. Pursuits like cross country and track and field has busses full of kids participating and having other schools marveling.
"Cross country, when you think about it, isn't the most fun sport. Your body is hurting, if you are doing it right, you are dying out there from sheer exhaustion," said Edlund. "And to convince 35 kids to do that. The zone lady every year I register our school, we are registering more kids out of Barnwell junior high than say St. Francis, or other huge schools. Winning breeds winning and it's something that has definitely spun in our favour."
While all the banners at Barnwell School show the accomplishments of middle-school aged athletes, the foundation for athletics interest is encouraged at a much younger age. Programs like Small Ball in basketball and mini volleyball get kids interested in sports when they first enter grade school.
Excelling in sports has had a spill -over effect to academic and other extra curricular pursuits, where skills learned are transferable.
"A common misconception about our school is we are just an athletic school. Our drama program is thriving right now, we have a musical coming out in January," said Edlund. "Dedication in athletics has given kids that confidence and dedication other pursuits as well. There are so many little bits in sports that you learn that help all pursuits. The wins are nice and we've had some success, but there are so many benefits sports can give."