Clemis and family achieve big success at Transplant Games
Posted on May 25, 2023 by Taber Times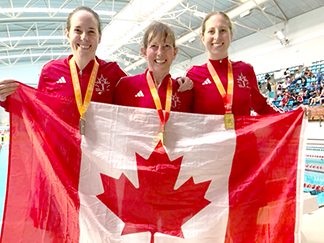 Times Photo Submitted by Jan Clemis Carli Bekkering, Bonnie Turcato, and Jan Clemis are all smiles after the 50-meter freestyle- Carli - Silver, Bonnie - Gold, Jan -Gold.
By Heather Cameron
Taber Times
Local Journalism Initiative Reporter
From April 15 – 21, Taber resident Jan Clemis and her daughters, Bonnie Turcato and Carli Bekkering, competed in the World Transplant Games in Perth, Australia.
"I felt like I was on top of the world," Clemis said. "Then being surrounded by 1500 donors and recipients and donor families, all with that, like-mindedness of gratitude for every extra day and for what our good health can bring to us was just a gush of emotion every single day. When we woke up, we'd meet somebody new, and we'd hear their story, and it didn't matter what organ they had been transplanted or if they were a living donor themselves or a family that had lost a loved one. Every story's unique and the gratitude was just palpable."
Clemis says that her family did very well in the Games. She earned five medals in total: Gold in the 50-meter freestyle, Gold in the 50-meter butterfly, Gold in the 200-meter Individual Medley, Silver in the 100 meter-backstroke, and bronze in the 50-meter backstroke. 
Clemis says that her one daughter, Bonnie Turcato, earned three medals: Gold in the 50-meter freestyle, Bronze in the 3000-meter Race walk, and Bronze in Pétanque. 
"The most meaningful part of the Games was getting to share experiences and stories related to organ donation and transplantation," Turcato said. "For years before my mom received her kidney transplant, we watched her health decline and witnessed the physical and emotional challenges brought on by her kidney disease. Watching a parent struggle through organ failure was horrible. Being a mom of young children as well, it's heartbreaking to imagine how challenging it must be to witness your child so ill before an organ match became available. Seeing in person these people run, swim, and be so full of life brought more than a few tears to my eyes throughout the week."
Clemis says that her other daughter, Carli Bekkering also earned five medals during the Games: Gold in the 5K run, Gold in Pétanque, Gold in the 100-meter sprint run, Gold in the 3000-meter Race walk, and Silver in the 50-meter freestyle. Carli, Clemis says, was also a recipient of the Donor Family Greatest Gift Award. 
"I don't think I've met a more grateful group of people in my life than this incredible international gathering of transplant recipients," Bekkering said. "Grateful for their donor, for the extra time with the people they love, and for the ability to participate in an event that celebrates a healthy, active life after transplant. There was a feeling at the Games from all the participants that was equal parts excitement and thankfulness. Meeting so many recipients and their families have gone through that very unique and intense journey was rare and it was extremely moving to hear their stories."
Bonnie and Carli, Clemis said, competed in the Under 50 Years Old Donor Family Category while she herself competed in the 60 to 69 age group.
"To be able to travel to the other side of the world with our mom and watch her excel in something that she loves to do was incredible," Turcato said. "And it would not have been possible without the generosity of our brother, Blair, who donated a kidney to her. There are just no words to explain how much his gift means to our entire family and everyone who knows our Mom. She has honored this gift every day since receiving it and is making every second of her "bonus time" count. It was a trip of a lifetime and I'll be forever grateful to have experienced it with my mom and Carli."
The Games, Clemis says, actually started before the actual competitions with the Service of Remembrance and Thanksgiving and the Donor Beach Walk to commemorate the donors that got the athletes to Perth. Unfortunately, Clemis says, she and her daughters were unable to attend the beach walk because her daughters needed to learn to play Pétanque that night, but they were able to attend the cultural night on the Wednesday evening. For the cultural night, Clemis says, everyone dressed in ceremonial garb from their country and she, Bonnie, and Carli all wore something with the maple leaf, bow ties, and Canadian flags and also ordered t-shirts that they were on the "eh" team. 
"We were just tickled to be with Team Canada," Clemis said. "Everybody participated so graciously."
Clemis that the Games' Opening Ceremonies were held in the Optus Stadium and each country of athletes went over a bridge that was lined with cheering supporters, all of whom wanted to watch the ceremony.  There was also an Australian recording artist who performed at the Games named Rose Parker, Clemis says, and Parker composed a song called Because of You that she wrote in tribute to her brother who saved many lives by donating his organs after dying a year ago. 
"It was just a beautiful tribute to him that he gave the gift of life to many others," Clemis said. " And although she had lost him, she knew that others were granted that gift of life because of his gift. That was the first time she ever performed it in public. So of course, there was not a dry eye in the place, and it was just fantastic for her to witness all of our positivity and all of our ability to be there and to have come so far and to want to be together. It was a tribute to her personally that she knew that her brother was part of that and others like her brother that enabled us to make our journey and to be looking forward to a week of togetherness with other families. It was fantastic. It was just amazing that it was just so poignant that you're able to find that solace and that grace in knowing that your loss prevents someone else's loss."
Among the 1500 present at the Games, Clemis says, nearly 100 individuals, specifically 86, were under the age of 18 including Addison McArthur, a 12-year-old athlete that came to Perth from the Vancouver, B.C. area for the World Transplant Games as part of Team Canada. 
"She got her heart transplant when she was three weeks old and she's just this beautiful young girl and so full of vim and vigor and funny faces," Clemis said. "Her little sister, Charlie, was along with her and her mom and dad were also there. They're just a lovely family and just living their life in memory of the young baby that was lost to another family, so their daughter could have this amazing life." 
Clemis says that there were also 400 volunteers present at the games that had come forward to assist with all of the different venues. Ultimately, Turcato said, Team Canada took home a total of 59 medals from the 2023 World Transplant Games.
Volunteering her time at any event that will help raise awareness about organ donation, Clemis says, is something she absolutely loves to do. Clemis says even though she has stepped down as Provincial Director of the Canadian Transplant Association, she is still actively involved in the events that they put on and also encourages people to register their decision to be an organ donor and have that conversation with their families.
"The next event that I think that we're going to be at is up at the Jack Singer Concert Hall in Calgary on June 18," Clemis said. "There's a couple named Tania and Vishal Malpuria that live in Calgary who are very staunch advocates of organ donation, and they have a choreography company called SPARQ Productions. Every year, Tania and Vishal put on a show, and it's called ONE – WORLD GOES BOLLYWOOD, and they invite the Canadian Transplant Association to come in and do an awareness event in the lobby. With that, we're able to acknowledge that Vishal was a heart transplant recipient in 2015 and he's alive and well and still, teaching all these people amazing dance moves. And so that's a big celebration for their family and also an opportunity to have those conversations and showcase the fact that Vishal is a very healthy man that still contributes."
The Kidney March, Clemis says, will be another event she will associate herself with and that will be a 100 kilometer walk between Millerville Racetrack through Kananaskis Country to Canada Olympic Park on September 8, 9, and 10, 2023. Clemis says she was also involved in honoring Green Shirt Day with the Boulet family; she had a little organ donor awareness table at the free Family Skate that was held at the Logan Boulet Arena on April 7, 2023.
"Toby and Bernie Boulet are just an amazing family to always stand up and tell their story and in a gracious way to encourage others to hopefully follow Logan's footsteps and have that conversation with their family ahead of time in the event that anything tragic may happen in the future," Clemis said. "And he certainly expressed his wishes to his family, that he wanted to be an organ donor, so when the Humboldt tragedy occurred, they knew his wishes and were able to honor them. And so we have the Logan Boulet effect as a result of that. So  the Boulet family did their family skate there in Lethbridge at the Logan Boulet Arena. That's the arena that he always skated at as a young boy."
Her own story with the Transplant Games, Clemis says, will hopefully continue in 2024 at the Canadian Transplant Games in Ottawa and she definitely plans to compete because the Canadian Transplant Games haven't been held since 2018. After that, Clemis says, she hopes to compete in the next World Transplant Summer Games in Dresden, Germany in 2025 and take her son, Blair, with her so they can compete together. 
"The true meaning of the Games depends on our donors," Clemis said. "None of us would be there without our donors. It takes two minutes to register, but it could save up to eight lives and up to 75 lives with tissues and skin and vessels and those kinds of surgeries and operations that require human tissues to save a life. It's pretty easy to go online to my health.alberta.ca and take two minutes and register."