'Rebels' rebrand idea sparks controversy at Taber's W.R. Myers
Posted on September 28, 2023 by Taber Times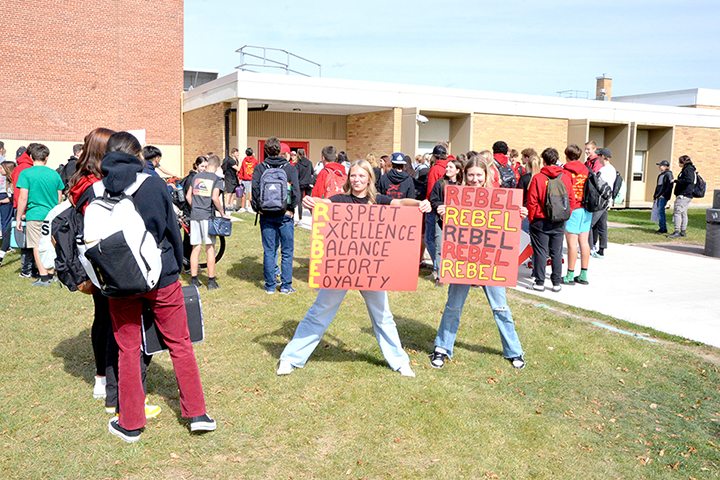 By Trevor Busch
Taber Times
editor@tabertimes.com
Students at Taber's W.R. Myers High School staged a walkout last Tuesday in protest over consideration of a rebrand for the school's Rebels athletic program.
Despite misinformation circulating on social media, Horizon School Division Supt. Wilco Tymensen was careful to point out that no decision on the matter has been finalized.
"There was certainly a group of parents who had a concern with the athletic name, and they came forward to school administration. I think their concern was more linked to historic (references), the term 'rebels' with the U.S. Civil War. They brought forward concerns, some may have been students 20 years ago, and now they're parents and they have kids in the school. And they're connecting some of their past experiences with the name as well," said Tymensen. "So the school had initially considered it. And then as they looked further into whether or not they should proceed, it kind of got out into the public. And so there's a lot of information on social media about the fact that the name had already been changed, which is incorrect."
W.R. Myers is currently planning for a major modernization of the school infrastructure for the southern portion of the building.
"You could think of it as a complete gut and rebuild. And so, when that happens, there are certainly conversations around rebranding," said Tymensen. "But nothing is finalized at this point."
Tymensen, who has been in the community since the mid-1990's, noted this isn't the first time there has been questions surrounding the Rebels name but he argues much has already changed as the name has evolved to represent something else entirely.
"I certainly recall at times where there would be school events where either community members or students would bring in the Confederate flag, as an example. My understanding, from individuals I've spoken to, is that some of the school's paraphernalia would have had that flag on it. But that vanished, probably at some point in the '90's. I think in many cases it was probably included more out of a place of ignorance, if you think back 20 years. And when people realized that this is probably is not an appropriate flag to be using, the school moved away from that. And they have shifted more to the notion of 'Rebels' as an acronym where it really stands for Respect, Excellence, Balance, Effort and Loyalty. There's little connotation or connection for today's students to the proceedings of the past. But there are people in the community who still have those memories."
On Monday, the regular school council meeting saw a packed room of status quo supporters and a contingent advocating for change after the rebranding discussion was put on the agenda.
"From a parent perspective around kind of getting an update on where are things and so there was a large presence," said Tymensen. "I don't have exact numbers, but I would easily say there was over 100 individuals there, both parents and students, and the school council gave individuals an opportunity to discuss their perspectives on the current name and whether they felt strongly about the name as part of the school culture and identity, or whether they had concerns. So there were individuals who spoke on both sides. I would say easily the majority were speaking in favour of the name, but there were certainly individuals who brought forward concerns."
Tymensen, who was present at the meeting, said many students made good arguments about preserving the status quo.
"I have to say that those students that spoke, spoke eloquently and passionately about their school. And there was a number of students who really talked about their sense of connection to the school, their sense of passion and pride in their school. And so they were, of course, speaking to the notion that they don't want things to change, because they identify with the school, and so they had concerns around that piece. I think that says a lot around school administration and staff in terms of the culture that they're creating." 
While not denying the scale of the initial student walkout on Tuesday afternoon, Tymensen did suggest some students may have been taking advantage of the situation.
"Obviously, the students proceeded with a walkout, but my understanding was that a large number left the premises quickly, and so I'm not sure if they're using that as an opportunity to get out of school, versus protesting and advocating for keeping the name. I have spoken with the principal (Scott Petronech), and he did share that there was probably a good 40 students or so who were advocating, and he did have some really good, respectful conversations with them. And so there's certainly a good group of students that are passionate about the athletic name, they're passionate about their school, and they're using their passion to agitate for that which I think is a noble gesture on their part, and something that we certainly advocate for, for students to share their perspectives."
Tymensen reiterated that the idea has been tabled for the time being, and there were statements to that effect from school administration at the Monday meeting.
"When the complaint first came forward, I think there probably was some knee jerk reaction on the part of the school division and the school as the school administration looked into what actually would be required to undertake a name change, especially given that there's a large modernization that's currently being planned as well. I think, even before this, this meeting was already kind of an understanding that this topic will be tabled. And so the administrator even committed to the parents at the school council meeting – that is to the students – that there will be no name change this year or next year. And that if there would be any decisions around a rebrand or a name change that he's committed to engaging with parents and students and gathering more perspectives."
School rebranding, says Tymensen, has been no stranger to Horizon School Division in recent years.
"It's something that continually happens across education. I mean, look at the new school in Milk River. There's an amalgamation happening there and so the school has a new name. The community is excited about moving forward with a new athletic team name as well as a new logo, given that these two schools are amalgamating. I look at D.A. Ferguson (Middle School), a number of years ago they rebranded as well with a new athletic team. Central School rebranded their logo as well, which is of course an elementary school. These things occur."
In terms of communication and disseminating the idea to parents, staff and the community, Tymensen admits the school could have done a better job.
"I think one of the concerns from parents is around lack of communication. And certainly I would say that, during the school council meeting, the school administration did apologize for that piece. Obviously, when the rumours get out, parents start reading into things. And there may have to be some changes in practice within the school itself. We always recognize, and especially in today's society where we want to be open and transparent and communicate, so I think the school administration acknowledged that they could have done a better job there. And they did commit to making sure that they would consider communication and transparency as they move forward."