SMS sees success during badminton season
Posted on May 25, 2023 by Taber Times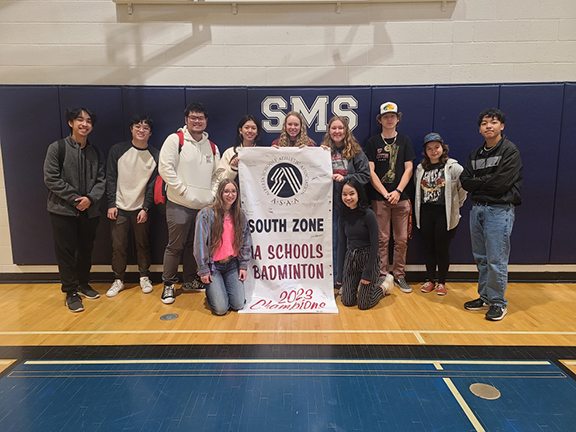 Times Photo Submitted
By Cole Parkinson
For Taber Times
Local Journalism Initiative Reporter
St. Mary's athletes hit the badminton courts this spring and the teams have seen quite a bit of success. It may be a short season but the players were able to hit the courts and come away with several accolades for their school.
On the senior high side, the badminton team captured the 1A Zone banner earlier in May with 16 total points, besting Coalhurst who had 11 — good enough for second place — and Picture Butte who had eight which placed them in third. On top of that, Sam Pacleb was all over the court and was able to capture the bronze in senior girls' singles against Japnoor Manku from Chinook High School. Natsu Adachi from Medicine Hat took the gold while Brooklyn Lesko from Winston Churchill was the silver medalist. 
"We were represented by two single players, two girls' doubles teams (tied for 5th), one boys' double team (tied for 5th) and two mixed teams, one of them tied for 5th. It was a total team effort to win the banner everyone sent earned at least one point to our total of 16 overall points," explained Derry Kolody.
SMS also saw their junior high team compete at a high level in the 2023 season. The team just missed out on first place in team points as they finished second in 2J Zones. 
"We sent three boys doubles teams — the two bantam teams finished with gold — Gavin Maksymytz and Madix Miller. Silver was Mason Kuryvial and Nathan Gensorkgold. The juvenile boys double team (tied for 5th) — two boys singles — was tied for 5th, the other ninth."
Next up for athletics at St. Mary's in track and field provincials at the beginning of June.