Taber Titans have a towering presence in sports for kids 
Posted on April 12, 2023 by Taber Times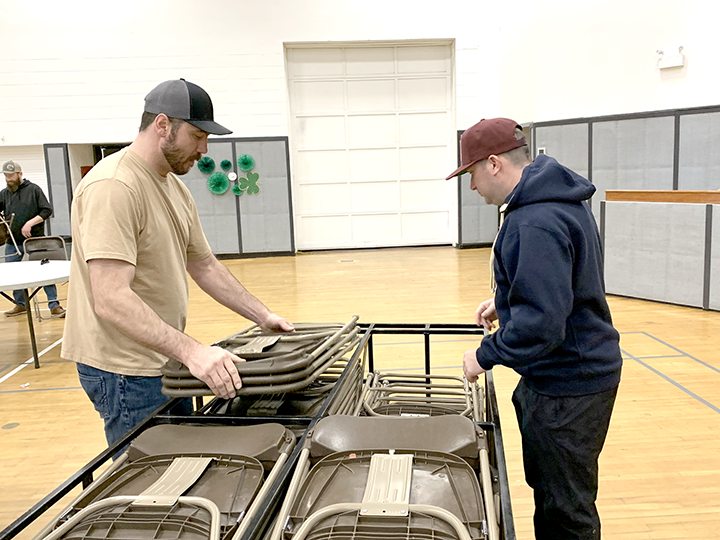 Submitted
By Greg Price
For Taber Times
What started off as a whisper, can now be heard loud clear when it comes to children in need with their love of sport.
Taber Titans just passed their one-year benchmark anniversary, where an idea formed into a reality.
"The ground work started in April. I made a few calls about the idea last week of March of last year," said Taylor Gouw, president of Taber Titans Charity.
That idea was to resurrect a fun men's hockey tournament in January that had faded away. But Gouw and a bunch of his hockey buddies he grew up with decided to take it a step further.
Their love of hockey would serve as a focal point to help kids play sport of any sort, even if their families did not have the financial means to do so, with the money raised from the tournament and cabaret.
"It's getting harder and harder for families to make ends meet, where it's the extras that have to be taken away," said Brady Thompson, a Taber Titans board member. "Sport meant so much to myself and the members of our board growing up. Life-long friendships formed, active lifestyles encouraged, character built, and work ethic instilled… sport can mean so much to youth growing up and we don't want to see any family denied of that if their kid has an interest."
A year in and the Taber Titans Charity has already touched the lives of families wanting to get their kids involved in hockey, club volleyball, basketball, baseball, biking and dance with their financial donations.
Along with monetary donations made through their hugely successful 5-on-5 hockey tournament and three-band cabaret held in January and other ventures, members of their board have also donated their sweat equity (volunteerism) to several different causes and events.
Concerts, fight cards, rodeos, 4H, TCAPS and STARS Taber Charity Auction fundraisers… this past calendar year has seen the Taber Titans with their finger prints touching many worthwhile causes.
"There are so many great causes and events out there in the Taber area that shows the kind of positivity we can achieve when we all work together," said Kyle Davidson, secretary for Taber Titans Charity. "The Taber Titans are but one small part of a caring community trying to do their part to fill in the societal gaps when we see them."
Upcoming ventures the Taber Titans Charity will be helping out with are a 4H highway clean up and the upcoming Cornstock outdoor summer concert.
"Along with our Facebook and Instagram pages, we are also in the process of building a website so the community can see what we are up to and see if they'd like to contribute," said Danny Weiss, co-treasurer of Taber Titans Charity.
"We are also tentatively coming up with an idea for a Titans banquet and a sports day where youth can give different types of sports a go to see if they'd like it, using the expertise of the different sporting organizations in town. We're never resting on our laurels when it comes to pairing kids with the love of sport."
If you would like to learn more about Taber Titans Charity, you can email tabertitanscharity@gmail.com or check out its Facebook and Instagram pages.