Orban and Setoguchi entering into Sports Hall of Fame
Posted on April 6, 2023 by Taber Times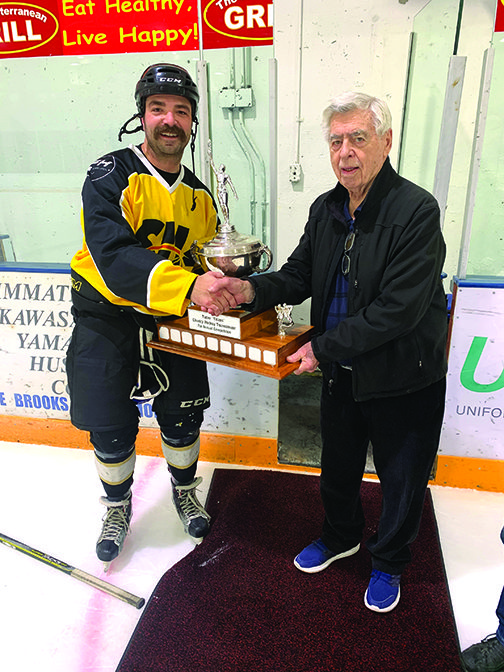 Photo by Greg Price Cutline: Tyler Kerner accepts the championship trophy from Joe Orban, at the Taber Titans Charity Hockey Tournament on Sunday at the Taber Arena. The trophy will be named after Orban as a tribute to his decades of giving back to the youth in Taber for sports.
By Greg Price
For Taber Times
After a brief hiatus, the Taber and District Sports Hall of Fame is back.
With its banquet set for Saturday, April 29 at the Heritage Inn, the Taber and District Sports Hall of Fame committee will be pleased to announce the inductions of Joe Orban (builder) and Devin Setoguchi (athlete) after careful consideration of the nomination packages it received.
"The year 2019 was our last induction banquet," said Debbie Sargeant, president of the Taber and District Sports Hall of Fame committee, adding Del Cleland and Brandi Merritt were inducted that year. "COVID hit and brought the world to a standstill, but we are back going strong."
Strong is the operative word for this year's inductees.
For decades upon decades, Joe Orban's impact could be felt in several sports organizations in southern Alberta… too many to mention, but can be seen at the end of the month in a presentation at the banquet. If you look close enough, you will see Orban has his very own parking stall dedicated to him by the town as he continues to sharpen skates to this day at the arena.
"Orban has been a fixture in the Taber sports landscape which has touched multiple generations of families," said Sargeant. "It was a no brainer to induct him when we saw his induction package come in that a citizen filled out. You can make a whole book out of his contributions to sport in Taber."
Devin Setoguchi played nine seasons in the National Hockey League with the San Jose Sharks, Minnesota Wild, Winnipeg Jets, Calgary Flames and Los Angeles Kings. Setoguchi played a total of 516 games in the NHL (131 goals/130 assists), with the former first-round draft pick's best season coming in 2008/2009 when he potted 31 goals on the way to a 65-point season.
"To last that long in the most elite hockey league in the world is saying something, playing alongside so many big name NHLers," said Sargeant. "Devin has carried on the tradition of the Taber area producing high-level athletes in their chosen sport. When you consider how small Taber is and how many athletes have made their presence felt at the provincial, national or international level, it's amazing to see at a per capita level."
If you would like to celebrate Orban or Setoguchi's accomplishments with their families, tickets can be purchased for the April 29 banquet from Sargeant herself or the town office.
Sargeant can be contacted at 403-332-3448 or by email at dgsargeant@shaw.ca.