Rebels basketball teams prepare for 2A zone tournaments 
Posted on March 9, 2023 by Taber Times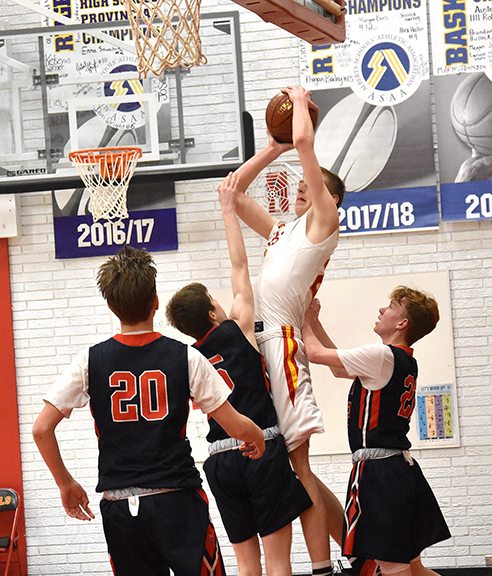 By Garrett Simmons
For the Times
It's time for March Madness.
In southern Alberta that means one thing – zone basketball tournaments.
For the W.R. Myers Rebels senior boys basketball team, the 2A boys zone championship run begins Thursday at Lethbridge College, where the No. 3 ranked team from Taber will take on the winner of Tuesday's Immanuel Christian (6) and County Central (11) contest.
If Myers takes care of business in the Thursday game, the Rebels will play again on Friday at 8:20 p.m. in the 2A zone semifinal. The final is set for Saturday at 7 p.m.
Myers enters zones on a high note after taking third place in the Deep South Basketball League playoffs with a thrilling 81-80 win over Stirling. Last Wednesday's game went right down to the wire, as Stirling missed a pair of free throws in the final seconds of the game, to seal the win for the Rebels.
Myers used a big 27-point second quarter to open a 44-35 lead at halftime. Stirling responded with a 30-point outburst in the third to set up an epic fourth quarter.
The Taber defence clamped down in the final frame, and held Stirling to 10 points, as the Rebels narrowly escaped with a win in the third-place game.
Colby Torrie and Logan Porter scored 19 points each to pace the Rebels offence, while Kade Hansen, Elias Cooper and Tyson Harker all had nine-point games.
Enoch Stone had 28 points for Stirling, to lead all scorers.
The JV boys dropped a 74-50 decision to Stirling, as Benson Leischman scored 14 and Keatyn Standing added nine.
The Rebels senior girls team will begin its 2A zone quest today at 5 p.m. at Lethbridge College. No. 2 Myers will take on the No. 7 F.P. Walshe. The winner advances to Friday's semifinal, set for 8:20 p.m. The final is set for Saturday at 3 p.m.
Taber will need to rebound from the team's final game of the Deep South League regular season, when the Rebels fell 53-34 last week in Lethbridge against Winston Churchill High School.
Myers struggled on offence in the first half and trailed 27-8 at the half. A big 20-point third had Taber within striking distance, down 39-28 after three quarters. But Winston's defence did the job in the fourth, as Churchill limited the Rebels to six points in the quarter.
Belinda Rios and Jenna Bailey led Myers with 12 points each in the contest.
The Rebels took the JV game by a score of 56-29.