Celtics capture River Ridge championship in dramatic fashion
Posted on March 9, 2023 by Taber Times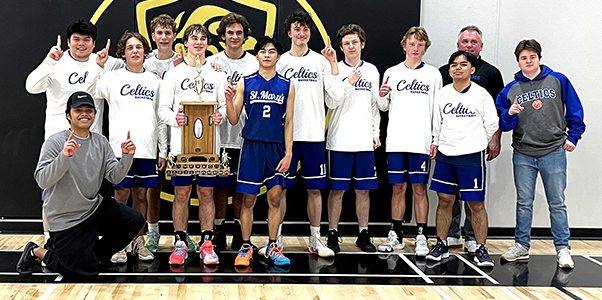 Submitted
By Garrett Simmons
For the Times
The St. Mary's Celtics senior boys basketball is entering zones on a hot streak.
St. Mary's defeated St. Mike's from Bow Island in the River Ridge League championship in a heart-stopping 66-64 contest, which went down to the wire.
With only six seconds left, Bow Island tied the game at 64, before the Celtics had a little magic left.
Coming up the court, a pass from Rex Bell was sent up the wing to Kaden Gross, who drove to the middle and hit a fadeaway jump shot at the foul line. The buzzer beater took the Celtics to victory.
"It was an intense game all the way through," said Celtics coach Jeff Bell. "Both teams gave 110 per cent throughout."
The Celtics managed to build a 12-point lead at one point, but Bow Island dug deep to keep the game close. Going into the fourth quarter with a nine-point lead, the Celtics looked to be in good shape until late, when a steal from Benny Bergen led to a Bow Island layup that tied the game with six seconds left.
Gross and his heroics propelled the Celtics to victory, as Rex Bell led the scoring attack with 20 points and Alvi Domingo was a close second with 18 points. Connor Klok and Jorryn Rose each chipped in eight points.
Heading into playoffs, it was set to be a battle for all teams, according to Bell, as Senator Gershaw was ranked No. 1 and a three-way tie for second had St. Mikes, Taber Christian and St. Mary's neck and neck. The Celtics opened the playoffs with a dominating 30-point win over Vauxhall and followed that up with a semifinal victory over Gershaw.
"After a hard-fought battle, the Celtics came away with a 22-point victory, taking us to the final game against Bow Island St. Mike's," said Bell.
And although the season had a championship ending, the coach added the regular season had its fair share of teaching moments for the young team.
"It had its ups and downs and presented an opportunity for growth," he said. "With only three Grade 12 players we are still young and learning quick. Losing to Taber Christian and Gershaw early in the season, we knew that we would have to change our game plan and come together in order to achieve a place in the finals."
Taber will play its opening game in the 1A boys zone tournament tonight at 5 p.m. at Lethbridge College against that same St. Mike's team.
"We are going in ranked fourth," said Bell, whose team, with a win tonight, will move on to Friday's 5 p.m. semifinal against the Gershaw-Taber Christian winner.
Bell, who was joined on the coaching staff by assistant coach Carter Hendricks, also had two league all-stars this season, in Grade 12 Alvi Domingo and Grade 10 Rex Bell.
The St. Mary's Auroras also concluded a successful league season, which saw the girls team advance to the league final.
Coach Josh VanUden's team fell to Vauxhall in the championship, as Logan Meier led St. Mary's with 15 points and Taniya Francis had 12. Mckenzie Siemens added eight and Jayden DeBoer and Haylie Peters chipped in with six points each.
"It was a hard-fought game," said VanUden. "We came out strong and led for much of the first half. Vauxhall took the lead later in the second quarter and we pushed back in the third quarter bringing it within seven, only to have Vauxhall pull away for the win."
St. Mary's advanced to the final with a 74-60 win over Milk River. Meier had 29 and DeBoer struck for 26 in the win.
It was a successful regular season for the Auroras, as St. Mary's combined with Taber Christian High School to put together a squad for 2022/2023.
"As a combined team of two schools we are playing in the 2A girls division in zones," said VanUden, whose team kicked off play Tuesday against J.T. Foster (results unavailable at press time). "We have had success in our zone and other tournaments. We finished third in Three Hills and in the Fort Macleod tournament. We won the consultation in Coalhurst and won the Double Blue in Taber in our home tournament."
The Auroras sported an overall record of 16-7, as St. Mary's also boasted two girls River Ridge League all-stars in Grade 12 Jadeyn DeBoer and Grade 10 Logan Meier.
St. Mary's entered zones ranked fourth, as the team has also earned an Honourable Mention in the final ASAA rankings for provincials for 2A girls.