Rebels boys see comeback fall just short against Brooks in third-place game 
Posted on February 9, 2023 by Taber Times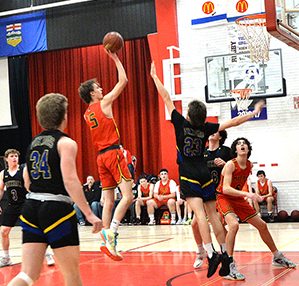 By Garrett Simmons
Taber Times
The W.R. Myers Rebels senior boys basketball team saw a fourth-quarter comeback fall just short in the bronze-medal game of the Rebel Classic.
Myers exploded for 36 points in the fourth and nearly came all the way back in a 96-91 loss to a provincially ranked Brooks team, thanks in part to an 11-point final frame from Colby Torrie. It all set up a dramatic late couple of minutes.
"A late game rally brought us within three points with under a minute left. We actually stole the ball and went for the possible tying layup but a Brooks player made an incredible defensive play, hustled back and got the block," said Rebels coach Dale Nielsen. "It was very good basketball for both teams."
Torrie finished the game with 29, while Logan Porter added 19 and Elias Cooper chipped in with 15.
"Brigham Porter was a defensive force and some of our younger kids, James Horseman, Benson Leishman and Dane Jensen, gave us great minutes and recorded points and rebounds for us," Nielsen added.
Taber was pushed to the third-place game as a result of a 77-68 loss to McCoy in the second round of the tournament.
Myers led 23-13 after one and held a 33-29 lead at the half, but with Porter and Torrie in foul trouble, McCoy was able to take over in the third quarter, as Myers mustered only 11 points in the third frame.
The Rebels made a late charge, however, as a Cooper bucket made it 63-59 late in the game. That was as close as Myers would get, as Taber struggled a bit from the free throw line and could not find a way to narrow the gap.
To read the full story, pick up a Taber Times issue or subscribe to an ePaper digital subscription! You can sign up for digital or traditional subscriptions on tabertimes.com by clicking subscribe under ePaper on the home page.