Taber's Kade Duell lights up Circle K U18 Tournament
Posted on January 11, 2023 by Taber Times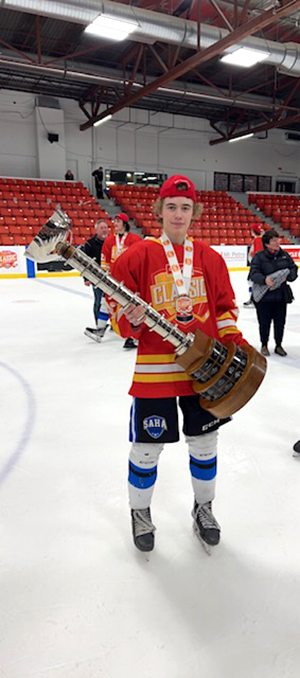 TIMES PHOTO SUBMITTED
By Cole Parkinson
Taber Times
cparkinson@tabertimes.com
As one of the more prestigious U18 hockey tournaments in the country, the Circle K Classic (formerly the Mac's U18 AAA Tournament) is a big deal for players. This year, Taberite Kade Duell was a major part of the tournament for the South Alberta Hockey Academy (SAHA) as the team ran the table en route to another banner.
With six games over six days, SAHA had a busy schedule. The first game of the tournament was on Dec. 27 against Saskatoon and SAHA was able to double up the Blazers with a 4-2 win. Duell would collect a single assist in the game. The following day saw SAHA line up against the Calgary Northstars, and this time the team rolled as they blanked Calgary 5-0. Duell would add his first goal of the tournament in the game. The round-robin finished with a matchup against the St. Louis Blues. Both teams saw their offence go off and the teams would head into overtime tied 7-7. In overtime, Duell would give SAHA a 3-0 record in the round-robin as he would score the game-winner. Duell would have a hat trick and three assists in the game to give him eight points in three games.
Heading into the play-down portion of the tournament, SAHA saw a quarter-final date against Yale Hockey Academy. After 60 minutes, SAHA was able to book their appearance in the semi-finals with a 4-0 win. Duell would add another goal and an assist in the win. On New Year's Eve, SAHA was back on the ice looking to get back to the finals but the Burlington Eagles were hoping to put a stop to that. The SAHA offence proved too much for the Eagles though as SAHA would skate to a 4-1 win. Duell had two assists in the win and SAHA advanced to the final on New Year's Day. In the Circle K Championship, SAHA saw the Calgary Buffaloes. Offence, defence, and goaltending were all top-notch for SAHA as the team was able to blank the Buffaloes with a 6-0 win and come out as the Circle K Classic champions. Duell would score the first goal of the game and end the tournament with six goals and seven assists.
"It was a great experience and the competition was great. It brought our team together and it was great to get the win," stated Duell of the tournament.
In terms of his offensive production, he credited his linemates for his success.
To read the full story, pick up a Taber Times issue or subscribe to an ePaper digital subscription! You can sign up for digital or traditional subscriptions on tabertimes.com by clicking subscribe under ePaper on the home page.