Taber Trail 77 celebrates another year of success
Posted on November 30, 2022 by Taber Times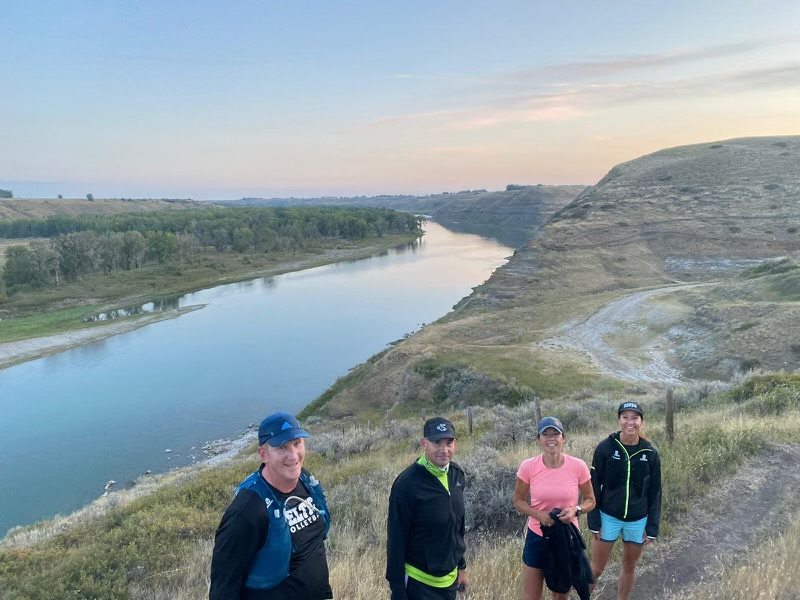 TIMES PHOTO SUBMITTED BY TRAIL 77
Submitted by Trail 77
Taber Trail 77 members and board are looking back at the year in review. With successes in events and trail development, the Trail 77 Board and members would like to celebrate the great support from all our sponsors, volunteers and the frequent users of the trails.
Steve Vangeest, trail club president indicated, "The support we receive from the Town of Taber and the M.D. of Taber is what helps create the success we've experienced so far. Knowing that the Town and M.D. are behind us has helped us to continue to push through our five-year master plan that we presented two years ago. We are ahead of schedule and want to thank our volunteers for all their work. We added several bike stands and repair stations on the trail network and installed the frame for our map and information boards. We could not make this happen without so many people and groups that support and sponsor the club. The businesses that sponsor help make this a great place to live."
The Trail 77 club indicates that 600 volunteer hours were logged this year on building trails and maintenance. New trails this year included High Tower on the east side of the trail network, and the start of a new green trail close to Trout Pond trails, called Interlakes. With 600 hours of work completed, it was clear that the work was needed for all the events that were hosted.
John Muller, who leads up the trail maintenance for the club was thankful for the volunteers. "Without our volunteers, we would be just a few people out there building and maintaining trails. Because of the number of volunteers, we can get more done for the trail network. Some of the trail maintenance is tedious and we are thankful that we have people who want to trim and work on benching trails. We even had a school create a class in their Jr. High to build a wood feature on Coal Pad."
Trail 77 board member Klaas Hoekstra reflected on the project. "It was so great to see kids from Taber and area giving back to our community. Seeing these kids study, build and create was awesome. We are planning to add in a study on erosion and have applied for a grant for building supplies for the class. When any of us work on these trails, we keep our focus on the environment and sustainability. In 20 years, I'm happy these kids can look back and say 'I built that.' These trails aren't just for us, but for our community and for the future riders, runners, and hikers."
The fourth annual Taber Tuff Ultra Run took place on July 9. Again it consisted of three distances: 6k, 12.5k and 25k. The event sold out in early April with one hundred runners signed up from Alberta, Saskatchewan, and British Columbia. Again we had super support from our sponsors in providing shirts, buffs, door prizes and other monies to make the event go. In addition, we had an excellent group of volunteers who provided support for the runners at the aid stations (food (some homemade!!), first aid, cheering) and on the trail (water, photographers, bike sweepers). A special thanks to both the Town of Taber Fire Department and the M.D. Fire Department for their volunteer support. Race directors, Tyler Paul and Jeff Hamilton, again were in awe at those that support the race and those that actually ran the race. They look forward to another fantastic event on July 8, 2023!
The second annual Oldman Mayhem bike race took place on July 16. Over 100 riders registered for the event which happened on a hot day in July!
"The registration for the event filled up quickly once again this year. We were happy with all the volunteers who came to support this race. It was great to see that 85 per cent of our riders were from outside of Taber. We love to see the economic impact events like this has for our community", commented race director Klaas Hoekstra. "We are set for July 15, 2023. We had so many first-time racers last year and hope to add more this coming year. It seems like a big thing to ride in a race, but once you've done one, it's like riding a bike!".
A new event that the club created this past year was the Tuff Oldman. This race was a running and biking duathlon that was well attended. Jeff Hamilton and Klaas Hoekstra organized the event.
"We saw an interest in a duathlon and with the incredible increase of trail usage this year, we know this event will be a success."
Trail 77 will be hosting this event again next year on July 12, 2023.
 One of the favourite events is the Gnarly Niblets. Candace Vangeest, one of the organizers, was happy with another successful year.
"The available spots we had this year went quickly and had almost 50 kids from ages 6-14 participate. Kids were split into groups based on their abilities and we had several parent volunteers help lead. One of our volunteers recently received their level 1 bike instructor certification for the purpose of helping the kids learn." Plans are in place for 2023 and will be made available when finalized.
Connected to Gnarly Niblets, Trail 77 joined with IMBA (International Mountain Biking Association) to host Take A Kid Mountain Biking day. Over 200 people attended the event which had kids riding trails, learning skills, and parents joining along. The event ended with a BBQ and many prizes awarded to the kids. Several new bikes were given out as part of the event.
Next year is shaping up to be another big year for Trail 77. "We are planning to break ground on the pump track and skills park which will be located close to Trout Pond. The fundraising for this has been going well and we are excited about what this pump track and skills park will offer to this community. For a town our size to build something like this is special. The community support for this has been awesome. We will be completing the Interlakes trail and pushing forward on our Master Plan."
"We're always looking for more volunteers so if you are interested, reach out to us. We care for the trail network and know that our town is seeing the benefits of the network," noted Steve Vangeest.
Weekly events throughout the warmer months include Ladies Ride on Tuesdays, Hilzzzz days on Wednesdays, Group rides on Thursdays and Tuff Run on Saturdays. For more information about Taber Trail 77, visit their website at tabertrail77.ca or follow them on Facebook and Instagram.