Rebels unable to overcome Drumheller Titans
Posted on November 23, 2022 by Taber Times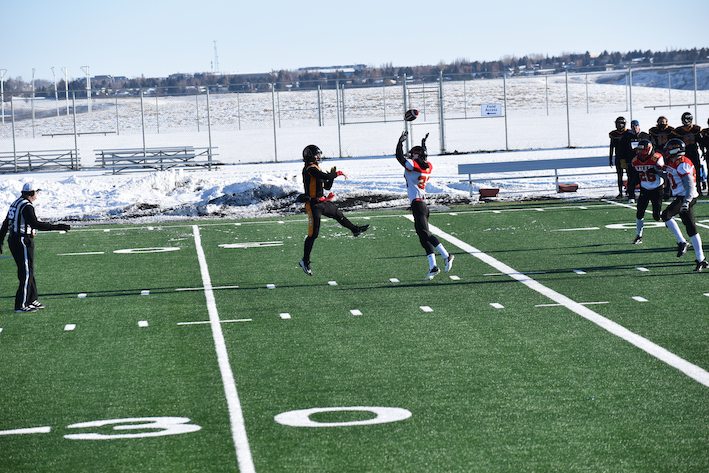 TIMES PHOTO BY COLE PARKINSON
By Cole Parkinson
Taber Times
cparkinson@tabertimes.com
The W.R. Myers Rebels looked like an unstoppable juggernaut over the last few weeks, but in big games, you never know what's going to happen. Unfortunately for the Rebels, they ran into a tough Drumheller Titan squad in the provincial semi-finals and the Rebels were unable to put together sustained pressure as they fell 26-7 in Lethbridge.
"Well, in every football game, someone has to win, and someone has to lose. Unfortunately, this time it was us that came out on the bad end," said Jason Jensen, head coach of the Rebels. "Drumheller came out firing, and managed to find the endzone early in the game, but we shut them down on a two-point attempt to keep it 6-0."
While the Titans were able to score first, both teams stalled on offence for a while after that. While the weather wasn't overly cold, both teams were unable to heat up and score tons of points in the first quarter.
"From there, things kind of turned into a stalemate, with each of us putting together short drives, but neither side getting in. It really turned into a case of them capitalizing on our mistakes, while we were unable to capitalize on theirs," added Jensen.
Come the second quarter though, Drumheller was able to capitalize on some Rebel mistakes and take a big lead into the break.
"A second-quarter interception deep in our territory put the Titans in a position to score again, and again fail on a two-point attempt to make it 12-0. Then on the last play of the half, Drumheller took advantage of blown coverage, and went up 19-0 going into halftime," continued Jensen.
With a comeback needed in the second half, the coaching staff knew none of the players were ready to give up. Despite a 19-0 deficit, the Rebels knew they were only a play or two away from getting right back into the game.
"At halftime, we pushed the boys to dig in, and not quit, and I could see that the fire in their eyes had not gone out. These players were not done yet," continued Jensen. "The second half was a total dog fight, with each of us threatening to score, but the defences coming up strong. Finally, rookie quarterback, Dane DenHollander found senior receiver Brennan Abela with a pass in the endzone to get us on the board."
But that didn't deter the Titans as they were able to get right back into the end zone.
"Unfortunately, the Titans weren't ready to quit, and rounded out the scoring with an interception for a touchdown, sealing things 26-7. The Rebels kept fighting, but it just wasn't meant to be," added Jensen. "The fact is, Drumheller just played better than we did on Saturday. We coaches felt our team was well-prepared going in, and honestly, I still feel we were. The Titans just did a better job of capitalizing on their opportunities. That's just how football works, especially when you're talking about the final four teams in provincials."
To read the full story, pick up a Taber Times issue or subscribe to an ePaper digital subscription! You can sign up for digital or traditional subscriptions on tabertimes.com by clicking subscribe under ePaper on the home page.