Rebels run into tough Coyotes squad
Posted on September 21, 2022 by Taber Times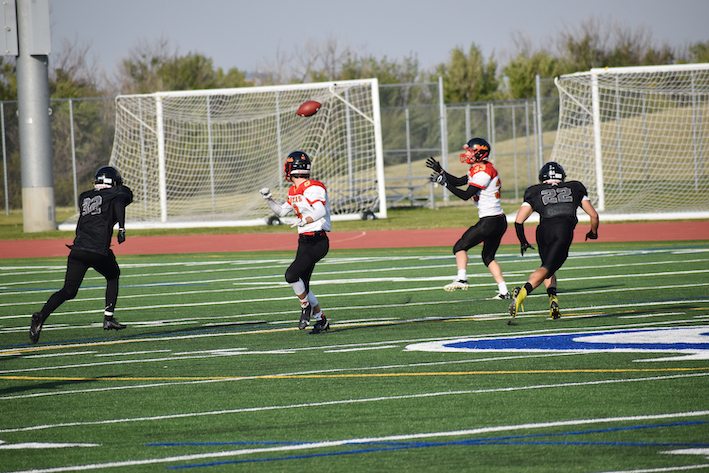 TIMES PHOTO BY COLE PARKINSON
By Cole Parkinson
Taber Times
cparkinson@tabertimes.com
After a great Week 1, the W.R. Myers Rebels were hoping to build off of that with a Week 2 matchup against the Chinook Coyotes. On Friday night, the Rebels travelled to Lethbridge for their game against Chinook at the University of Lethbridge Stadium and while expectations were high, the Rebels ran into a buzzsaw as the Coyotes walked away with a 33-0 win.
"Well, to say that was a tough night is an understatement. We knew we were in for a physical battle, and hats off to Chinook, they really brought that to us. They had size, speed, skill, and lots of it. To go with that, it was a Murphy's Law kind of night for us, where injuries and errors seemed to kill us time and again," stated Jason Jensen, head coach of the Rebels.
The game started off right away in Chinook's favour as the Coyotes managed to recover their own short kick. From that, they were able to drive down the field.
"The tone was really set on the opening kickoff, where the Coyotes kicked it short, and managed to recover it. I think the defence was a little shell-shocked at that moment, and despite a tough effort, Chinook was able to drive down and score. Thankfully we managed to block the extra point, and keep it at 6-0," added Jensen, while also touching on the team's offence in the first half. "The offence was able to move the ball pretty effectively, but costly fumbles and miscues seemed to thwart any momentum we would get going. The defence hung in, sometimes allowing big gains, but getting stops in the end, even pressuring the Chinook kicker into missing a field goal. Finally, they were able to score again in the second quarter, and it was 13-0 at halftime."
While the Rebels were down by 13 at the half, the coaches were still adamant the game was far from over. With two quarters left to play, the coaches discussed with the players that they were only a big play away from being right back in the game.
To read the full story, pick up a Taber Times issue or subscribe to an ePaper digital subscription! You can sign up for digital or traditional subscriptions on tabertimes.com by clicking subscribe under ePaper on the home page.