Taber's Viper swim club ends their year with a trip to provincials
Posted on August 10, 2022 by Taber Times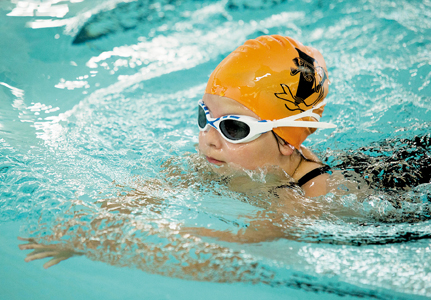 TIMES FILE PHOTO
By Ian Croft
Local Journalism Initiative Reporter
news@tabertimes.com
At last week's regional swim meet, the Viper swim club made waves as over a majority of them won their events and qualified for provincials — the highest level of swimming competition for their age. With this tremendous success, Kristen Irving, head coach of the Vipers, talked about the swim team's achievements.
"This is probably the best the Vipers have been doing in a really long time," said Irving. "We actually just won the large team net point winners for regionals, we won the banner which hasn't happened since 2014. This is the third banner in Viper history ever. It's really exciting — it was a huge weekend. We had some amazing swims, some really great best times — I think out of the 36 swimmers we had going to regionals, we have about 28 to 30 going to provincials. Almost all of the kids qualified in either a relay or an individual event, which is really exciting. We even have some six-year-olds and six and under that have qualified as well."
Irving then discussed what will be coming after regionals.
"A lot of the swimmers that did qualify actually qualified in all of their events — not just one of their events, they qualified in all of them. They're ranking really high in the province, so we're looking hopeful to get some medals out provincials as well — which will be really exciting for the Vipers. We had a lot of club records just crushed this weekend and in the whole season. We've won (most) net points at two other meets this year, the Summer Games and then we also won at the Lethbridge and Taber swim meet. Now, going into provincials, we compete as a region, so we compete as region F which is with all the other teams around the area."
After this, Irving spoke on the improvement that she's been seeing from the kids that are swimming this year, as well as touching on some of the records that have been broken this swim season.
"The one relay team — there was a record that they broke that was from 1988," said Irving. "It was really old and they crushed it. There was another, Adison Hutzul, she broke the Viper record for the 1,500 metre, 800, and then she's trying to chase down the ones for her backstroke as well. We had Evan Klemen go huge time with a 26 this weekend, which is really good for his 50 free. Then I would also like to mention Rebecca Carver, she took off a minute in her 800 from just swimming not too long ago which is just huge. Everyone in general — just the team has been really positive. Everyone gets along really well — we actually won the unofficial cheering award as well because we are a very loud encouraging team and we love supporting one another."
Irving then discussed how the Taber swim team is becoming more noticeable due to all the achievements they have been making this year.
To read the full story, pick up a Taber Times issue or subscribe to an ePaper digital subscription! You can sign up for digital or traditional subscriptions on tabertimes.com by clicking subscribe under ePaper on the home page.