Local Norcrest team take home District banner
Posted on August 10, 2022 by Taber Times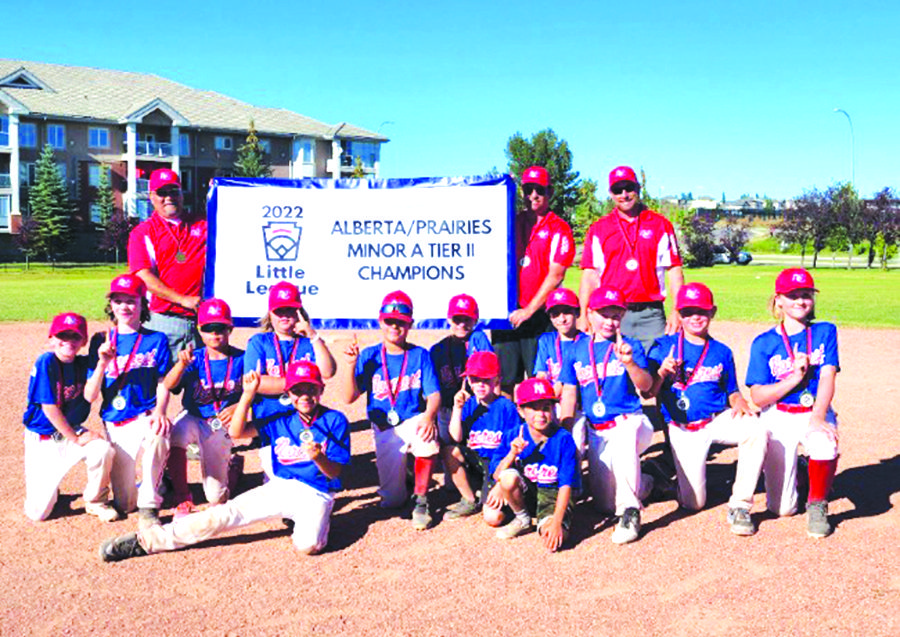 By Cole Parkinson
Taber Times
cparkinson@tabertimes.com
It was a weekend to not forget for the Norcrest Minor 'A' team. The team captured the Alberta/Prairies Minor A Tier II championship this past weekend in Calgary. The team this year consisted of players from the Taber and Vauxhall areas.
"It was really good. We went 4-0 this weekend and everyone played really well. It worked out really well for us," explained head coach Dave Kimoto.
This year's team consisted of Hudson Ilczynski, Jacob Wamsteeker, Zylan Balint, Liam Van Der Ploeg, Quaid Finlayson, George Ostrop, Elizabeth Ostrop, Mya Nielsen, Carter Balint, Mitchell Kimoto, Justin Neudorf , and Nash Stober along with bat boy Kohen Ilczynski and mascot Nico Balint. The team was coached by Kimoto, Jake Ilczynski, and Ben Finlayson.
While the season ended on the highest of notes, the beginning was much rockier. When tryouts rolled around in the spring, there weren't enough kids to form a team.
"We had tryouts early in May and we only had four kids come out. We thought it would be a no-go, but we made some calls and put together a team at the last minute and rounded up some kids. We just went for it," explained Kimoto.
Formed with nine and 10-year-olds, it was a struggle to form a full lineup, but once the team was filled out, things went about as good as anyone could have imagined. While the 2022 season is wrapped up, the group is hoping they don't run into the same struggles in 2023.
"It's nine and 10-year-olds for this level, and they have other levels as well that play, but our level is nine and 10-year-olds. The more kids that try out, the better. We didn't need a tryout this year as we didn't have enough kids to have a tryout. Anyone who wants to play some ball is more than welcome to come and try out," added Kimoto.
   Players can come from Taber, Vauxhall, Coaldale, Enchant, Picture Butte, Grassy Lake, and Foremost. And Kimoto explained the season crams in tons of baseball in a short amount of time.
"It's kind of an intense seven weeks. You have to go to two pre-season weekends or you can go to all three, and then two out of three regular-season weekends. Then it's the wrap-up week seven which is the championship weekend. It's a lot of ball in not a lot of time, but it's fun and gets kids playing ball and building skills," he said.
To read the full story, pick up a Taber Times issue or subscribe to an ePaper digital subscription! You can sign up for digital or traditional subscriptions on tabertimes.com by clicking subscribe under ePaper on the home page.