Boxers head under the lights at Ken Mac this Saturday
Posted on August 10, 2022 by Taber Times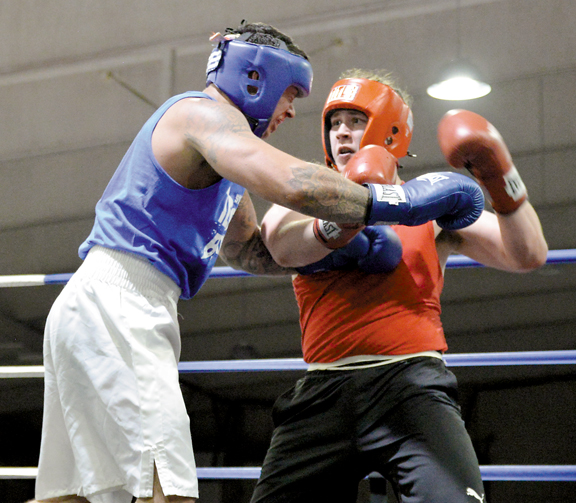 TIMES FILE PHOTO
By Cole Parkinson
Taber Times
cparkinson@tabertimes.com
It's going to be an event for the ages in the town of Taber come Saturday night as 13 local boxers head under the lights at Ken McDonald Memorial Sports Complex.
This boxing card is being held outdoors and is coming this weekend as local fighters Brad Olson, Logan Jordan, Hunter Thompson, Liz Knull, Dakota Huddleston, Justin Young, Colt Jordan, Jay Jay Buitenhuis, Jordy Stolk, Alonso Baron, Tage Jensen, James Murray, and Tirone Parker all hit the ring. The card, which is presented by Bam Bam Boxing, Teofista Boxing Series, Cory Matthews Training, and Spider Entertainment, is the first-ever outdoor boxing card for promoter Joel Mills.
"It's been something ever since we've started doing the promotions and something I've kind of dreamed of. I fought in a fight card in Sacramento one time at a ball diamond and the crowd sat in the grandstand. I thought it was a super cool experience and made for a really cool night, so I always dreamed of doing one at Ken McDonald," explained Mills. "Logistics and the fight cards, we were just never really able to take that chance. This time around, I wanted to take that chance and go outdoors. I never took it before because there's a gamble with the weather but this time I thought 'let's try this out' and I got Ken Holst on board with Spider Entertainment. He looked at the logistics and thought it was something we could pull off. We went for it and now here we are a week out and it looks to be a big night."
With plenty of local content in this card, attendees will have plenty to look out for.
"I've got 13 locals and about 16 fights altogether. Brad Olson will be in the main event and it's his fourth match. He always campaigned as a heavyweight in prior fight cards and he's dropped all the way down to 170 now, so he's fighting as a middleweight now. That will be good to watch him finally with a size advantage," stated Mills. "I've got a kid from Bassano, Alonso Baron and he's in his fourth fight coming up — he's a tough little dude. Justin Young is a tough kid and he's in his fifth fight and I have a whole bunch of first-time fighters. Six or seven of them, it's their first fight ever."
As plenty of the local fighters prepare for their first bouts, Mills says he's going to do his best to get them ready to enter the ring. While nerves may be talked about as a negative in sporting events, Mills says it's not necessarily something that needs to be looked at as a bad thing.
"I try to tell them whatever they're feeling on the inside is normal and the opponents are feeling it too. That's one of the biggest things, I think — accepting nerves are a normal part of it. I feel like everyone looks at nerves like it's a bad thing because it doesn't feel good to have them, but they think of it as 'am I prepared because I'm feeling this?' I think it's getting them to accept the fact what they're feeling is normal and part of the fight."
And with the fights going down outside, mother nature may provide a few more challenges than a normal inside venue would.
To read the full story, pick up a Taber Times issue or subscribe to an ePaper digital subscription! You can sign up for digital or traditional subscriptions on tabertimes.com by clicking subscribe under ePaper on the home page.