Angels in the Outfield looking for fee waiver
Posted on August 3, 2022 by Taber Times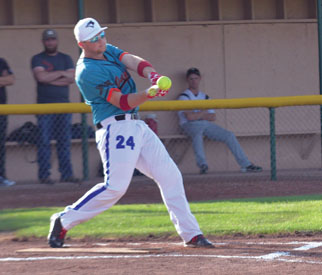 TIMES FILE PHOTO
By Kenyon Stronski
Taber Times
reporter@tabertimes.com
Scott Takaguchi appeared before council on July 18 to speak on the Angels in the Outfield tournament being held Aug. 26 to 28 at the Ken McDonald Memorial Sports Centre. Angels in the Outfield was looking to request a facility waiver for the charity event.
For background, the agenda notes the charity tournament has been running since 2015 with annual proceeds going to the Neonatal Intensive Care Nursery (NICU) in Lethbridge. The Town of Taber has supported the tournament in the past through the Community Grant Program, and the history of waivers is $1,000 in 2016, $2,633.75 in 2017, $2,769.75 in 2018 and $2,617.50 in 2019 with the event being cancelled in 2020 and no application being received in 2021.
"We are trying to apply again to get support from the town with the fees and everything as well as renting out the ball diamonds to host this tournament and camping as well," began Takaguchi. "We actually have received this before, we did not get it for our last one as we did not get our request in, in time so we have to reapply. No changes, we did run into a few complications but that was mostly due to COVID and some miscommunication but that was all handled very well and things are good. We do have 14 teams right now with a maximum of 20 and in the next few weeks, we could meet that goal. We had 12 last year."
The application through the Community Grant program for 2022 was missed — which brings the request to council for a waiver.
Derrin Thibault, Chief Administrative Officer for Taber, added some extra information. "Just thought I'd provide some extra background, we had the Special Events application come around and due to how many folks might be showing up, we did do an amendment to accommodate the extra campsites and I think it satisfied everything well."
Takaguchi responded that working with the town was amazing and they made it easy to understand the guidelines and bylaws in place.
"Absolutely, and actually it was very nice they came up with this solution especially with the confusion with the bylaw for us last year, but that was talked about and handled quite well. This year, because we want to follow the guidelines and bylaws that have been set out to us, (so) we understand them a lot better the town themselves gave us an option of what they can do to help us out and it's more than enough. Very easy to work with."
To read the full story, pick up a Taber Times issue or subscribe to an ePaper digital subscription! You can sign up for digital or traditional subscriptions on tabertimes.com by clicking subscribe under ePaper on the home page.