TMA sees another successful race in 2022
Posted on July 20, 2022 by Taber Times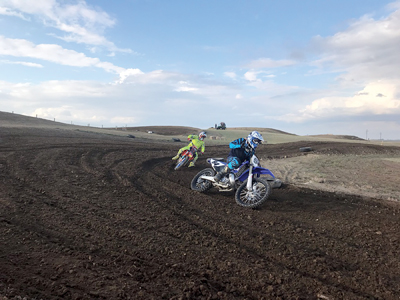 TIMES FILE PHOTO
By Cole Parkinson
Taber Times
cparkinson@tabertimes.com
In early July, Taber Motorcycle Association was back on the track hosting their second annual MX4Life Performance Cup. With practice day on July 9, racers were ready to go come July 10 with races going all day.
"(The races) were really, really good," said Jay Duell. "It was a great event and everyone had fun."
With racers coming from all over, TMA saw plenty of racers come to the municipality to hit the track at the Taber Motorsports Park. On top of plenty of racers, there were plenty of spectators in the audience as well.
"We had 208 entrants, but some people double raced, so I don't know the exact number," added Duell. "There was quite a few people, it was pretty packed out there. I don't know how many exactly, but the parking lot was full. I'd say 300 or 400 people — maybe more."
With only one race day a year, the group was geared up to build upon a successful run in 2021. And by all accounts, everything went as smooth as it possibly could have.
"It was awesome. We raced last year, so we didn't feel the effects (of COVID) like some other sports, but it was nice to see all of the people, all of the food trucks, and everyone had fun," continued Duell.
The race season may be over at the Taber Motorsports Park, but after another successful race weekend, there are talks about expanding races in the area come 2023.
"That's it for us, we do one race a year. Next year we may do two — we'll see how it goes," stated Duell, who also touched on the growth of the event and what TMA has seen over the past few years. "Last year, we had 187 or so, we went about 10 per cent again this year. Our club out there is growing all of the time, too."
No event can run smoothly without tons of help, and TMA saw lots of that during the weekend. Between sponsors and volunteers, TMA is thankful for all the support they received.
"You can't run a race without the sponsors. At the end of the day, they donate money and prizes for prize tables, which draws in more people. Sponsors are key and so are the volunteers. We can't do it without them," said Duell. "If you include all of the club members and then we have paid flaggers, and there were 18 flaggers. Volunteers, we probably had 50 to 100 people who volunteer for different jobs. You probably have 50 club members doing different tasks, so it adds up pretty quick."
To keep up to date with TMA, visit their Facebook page at http://www.facebook.com/Tabermxtrack/