Jets go 4-0 over first home games on the spring — next up is a trip down to the States
Posted on April 6, 2022 by Taber Times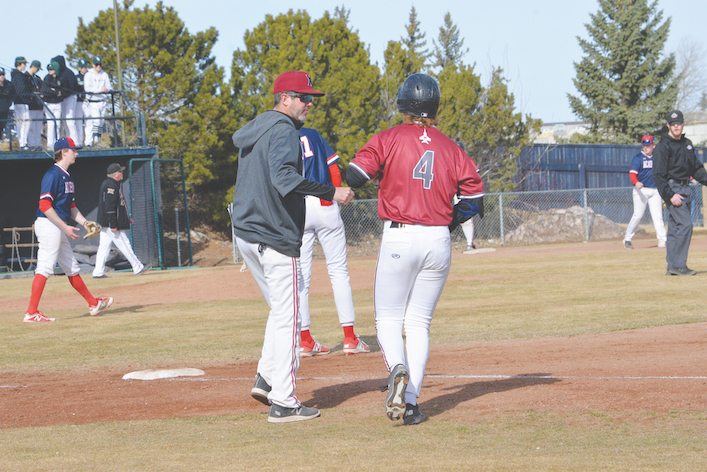 TIMES FILE PHOTO
By Cole Parkinson
Taber Times
cparkinson@tabertimes.com
The Vauxhall Academy of Baseball Jets have had a scorching start to the season and they once again went undefeated in their last games of March before a U.S. road trip.
With two doubleheaders scheduled at Jets Stadium on March 25 and 26 against the University of Calgary JV and SV teams, VAB was ready for some home cooking. 
"We played good baseball. On Saturday we played the junior varsity team from the University of Calgary and we pitched really well in the first game, but didn't hit great. The second game, we hit really well and still pitched pretty good. Moving into the senior varsity on Sunday, we had balance. We had one tough inning in Game 2, but outside of that, we were really good in all three facets of the game. It was refreshing and fun to see, and overall, you couldn't have asked for a better weekend weather-wise. It was a beautiful day on Sunday especially and it was great to play at home. Now we're preparing to go on a road trip," said Les McTavish, head coach of the Jets.
Saturday saw a doubleheader against the JV team and it was a good start for the Jets as they took a 5-0 win in their first game at home this spring.
Demitri Shakotko and Jack Wheatley saw a BB and a run each, Kyle Yip had a single, and an RBI, Kayden Hleucka went 2-3 with a double and an RBI, Jared Bendfeld had a run and stolen base, Adam Vulcano scored a run and had a stolen base, Colin Fisher had a walk, and Raphael Ranger had a single and an RBI. The Jets amassed four hits, three walks, and struck out six times over seven innings. Vulcano and Bendfeld also collected a stolen base. Drew Lenehan got the start for the Jets and struck out seven batters over 3.2 innings while walking four. Mason DeRuyck finished the game with 3.1 innings, which saw five strikeouts and a walk. The Jets committed three errors in the game.
While the Jets only scored five runs in the opening game, the bats were on fire in the second. With plenty of hits and runs scored, the Jets took an 18-3 win over the JVs and VAB totalled 19 hits in seven innings. They also saw seven walks and six strikeouts. Shakotko went 4-4 with three runs, two RBI, a double, and a homer, Wheatley went 2-5 with a triple and an RBI, Cardel Dick went 3-5 with three RBI, a double, and a home run, Yip also had a home run, one RBI, and a walk, Vulcano had a single, Brennan McTavish scored a pair of runs and walked twice, Ranger hit two bombs and had six RBI, and Carson Boyko went 2-4 with a double and an RBI. Shakotko, Hleucka, and Boyko each stole a single bag.
To read the full story, pick up a Taber Times issue or subscribe to an ePaper digital subscription! You can sign up for digital or traditional subscriptions on tabertimes.com by clicking subscribe under ePaper on the home page.