Myers sees successful first season with return to wrestling
Posted on March 2, 2022 by Taber Times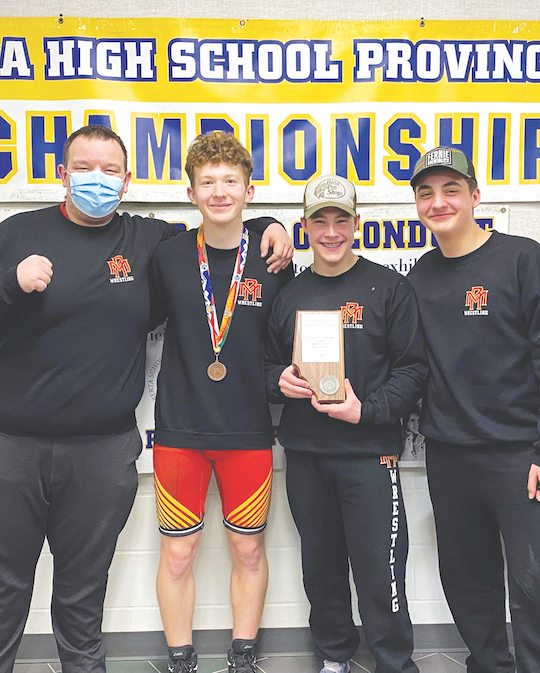 The W.R. Myers wrestling team poses after a competition in February. (left to right) Emmitt Campbell (coach), Bryden O'Connor, Austin Johnson, and Kiernan Gyepesi.
By Cole Parkinson
Taber Times
cparkinson@tabertimes.com
The 2021-22 school year saw the wrestling team start up again at W.R. Myers.
After a few seasons of no wrestling team, the school saw a handful of students get back into the sport and the results were very successful by all accounts.
"The season has been really good, and it's actually been more than what we could have asked for because at the start of the year, because of COVID restrictions, it was looking like we weren't going to be able to get any tournaments in. Turns out, we were able to sneak one out at the last minute in the first weekend of February. We had a really strong showing there and we ended up getting in two tournaments there. They had a rookie tournament for newer wrestlers and then on Saturday, they had an open for new or older wrestlers. I think we actually did better at the open tournament than at the rookie tournament," explained coach Emmitt Campbell.
The team saw three wrestlers attend tournaments in Bryden O'Connor, Austin Johnson, and Kiernan Gyepesi, and another practice squad wrestler in Liam Ellingson.
After the first tournament of the year, the squad saw some great performances and considering it was the first competition after only a few weeks of training, the coach was happy with how everyone competed. O'Connor saw a great first tournament and he was able to take home a silver medal.
"He ended up wrestling a guy who has about five years of experience and it was a tough match for Bryden — the guy was pretty dominant. The team was shut down for a few years and I remember seeing him back when he was in Grade 9 and he was strong then. Coming home with silver — we weren't disappointed with that one," said Campbell.
To read the full story, pick up a Taber Times issue or subscribe to an ePaper digital subscription! You can sign up for digital or traditional subscriptions on tabertimes.com by clicking subscribe under ePaper on the home page.