Oil Kings battle over weekend
Posted on January 19, 2022 by Taber Times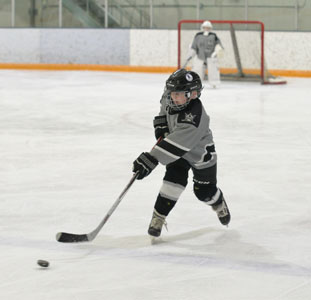 TIMES FILE PHOTO
By Cole Parkinson
Taber Times
cparkinson@tabertimes.com
Most Taber Oil King teams were in Central Alberta Hockey League action this past weekend as the season rolls along.
U11 Tier 3
The U11 Tier 3 Oil Kings were off this weekend and will return to the ice on Jan. 29 against Coaldale and Jan. 30 against Vauxhall.
U11 Tier 6
Two games were on tap for the U11 Tier 6 Oil Kings as they had a pair of home games this past weekend.
On Saturday, the team saw Pincher Creek come to town which resulted in a 7-7 draw. Mitchell Kimoto potted a hat trick, Logan Rabusic and Jaxson Tychsen each had two goals while Ryden Baker collected two assists, and Samuel Hathaway, Lennon Kover, and Lincoln Braun had one assist each. Aidyn Derksen Arnel got the start in net.
On Sunday morning, the Oil Kings welcomed in Siksika for a mid-morning matchup. In a few words, the Oil Kings offence was firing on all cylinders as they cruised to a 38-1 win. Blake Untereiner had eight goals and an assist, Baker had five goals and four assists, Barrett DeVlieger had seven goals, Rabusic had four goals and an assist, Kover had a hat trick and two assists, Kimoto and Tychsen had hat tricks and one assist, Braun had one goal and three assists, Benjamin Williamson had two goals and an assist, Hathaway had one goal and two assists, and Theoren Boling had a single goal and assist. Dylan Volk was between the pipes for the Oil Kings.
The team has the upcoming weekend off before returning for a two-game slate on Jan. 29 and Jan. 30 where they face Coaldale.
U13 
The U13 Oil Kings were off this past weekend, but return this coming weekend when they head out on the road to take on Brooks on Sunday evening.
U15 
The U15 Oil Kings saw themselves in a single game this past weekend when they hit the road to Brooks on Sunday evening.
It wasn't pretty for the Oil Kings as they fell 14-2. Samuel Tolsma and Evan Untereiner had the Oil King markers while Tate Nakashima had one assist. Avery Remfert got the start in net and faced 52 shots.
The U15s return to the ice on Jan. 22 when they head to Lethbridge for an 8 p.m. puck drop.
U18
In a pair of tough games, the U18 Oil Kings went 0-2 over the weekend.
On Saturday, the team travelled to Raymond where the Knights handed them a 5-4 loss. Evan Rabusic and Gideon Tams had a goal and an assist each while Brant Allen and Parker Miller had the other Oil King tallies.
Chase Plumb got the start in the crease for Taber.
Sunday saw the team return home where Lethbridge was waiting. Unfortunately for the Oil Kings, Lethbridge was more than ready as they skated to an 8-2 win. Tams had the two Taber goals while Rabusic, Miller, and Plumb collected assists. Plumb turned away 44 shots in the game.
One more game is coming this weekend for the U18 Oil Kings as they travel for a 1 p.m. game against Bassano on Saturday.