Two of three Suns teams hit the ice over weekend
Posted on January 12, 2022 by Taber Times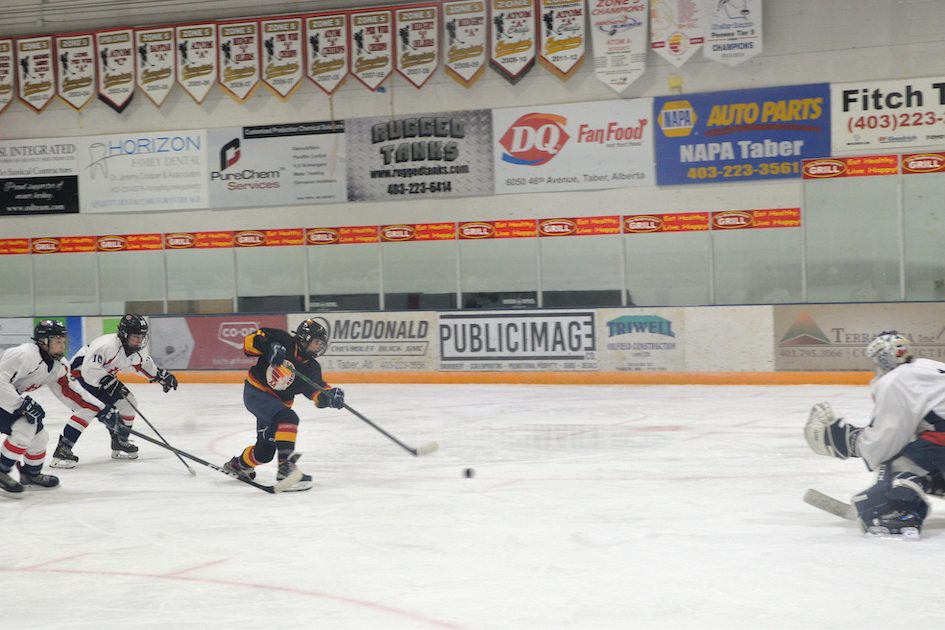 TIMES FILE PHOTO
By Cole Parkinson
Taber Times
cparkinson@tabertimes.com
This past weekend saw two of three Suns teams hit the ice as South Central Alberta Hockey League action continues into 2022.
U13
It was a tough weekend for the U13 Suns as they went 0-2 in a pair of road games.
On Saturday afternoon, the team travelled to Bow Valley to face off against the Timberwolves which resulted in a 7-3 win for the home team. Truett Moeller had a goal and two assists, Foster Weatherhead had a pair of goals, while Devin Groenenboom and Nixon Miller chipped in with an assist. Griffin Stenger was busy between the pipes as 41 shots were fired at the Suns' net.
On Sunday, the team hit the road to Okotoks to face off against Oilers Black, but the results were the same as the Suns fell 7-3 for the second straight game. Miller had a goal and an assist, Yanming Chen and Liam Okell potted a goal each, and Curtis Martin had a single assist. Liam Slomp was between the pipes for Taber and faced 25 shots.
The U13 Suns hope to turn things around this coming weekend when they return home for a pair of games. On Saturday, the Suns see Red Deer Parkland come to town for a 3 p.m. puck drop. On Sunday, the homestand continues with Okotoks Oilers Green in town for a 1 p.m. game.
U15
After an extended Christmas break, the U15 Golden Suns finally returned to the ice this past weekend.
With their second half beginning with a road game against the Lethbridge Hurricanes, the Suns came out firing as they collected a 3-2 win. Koye Larson found the scoresheet three times with assists while goals came from Nathan Planger, Tage Jensen, and Parker Young. Chase Stronge and Kayden Kress also had an assist each. Bowen Hann got the start for Taber and turned away 19 of 21 shots.
With a two-game win streak on the line, the Suns returned home on Sunday to face off against the Central Alberta Selects. Another close game ensued, but the Suns were once again victorious 5-3. Kress collected two goals and an assist while Planger and Elijah Fleck scored the other Suns' goals. Jensen had a pair of assists while Ty Hanson, Jett Matisho, Barrett Van Nistelrooy, and Cage Smith found the scoresheet with an assist each. Cashton Carriere was in net for the Suns and made 17 stops.
The U15 Suns look to continue their winning streak this coming weekend as they have a long game on Saturday when they welcome in the Wheatland Warriors for a 5:30 p.m. puck drop.
U18
The U18 Suns have yet to hit the ice in 2022. The team makes their return this coming weekend with a pair of games. On Friday, the team takes on the Lethbridge Hurricanes at 7:30 p.m. They then travel to Medicine Hat on Sunday for a matchup against the West Central Tigers.