Former Coaldale athlete has sights set on the Olympics
Posted on December 29, 2021 by Taber Times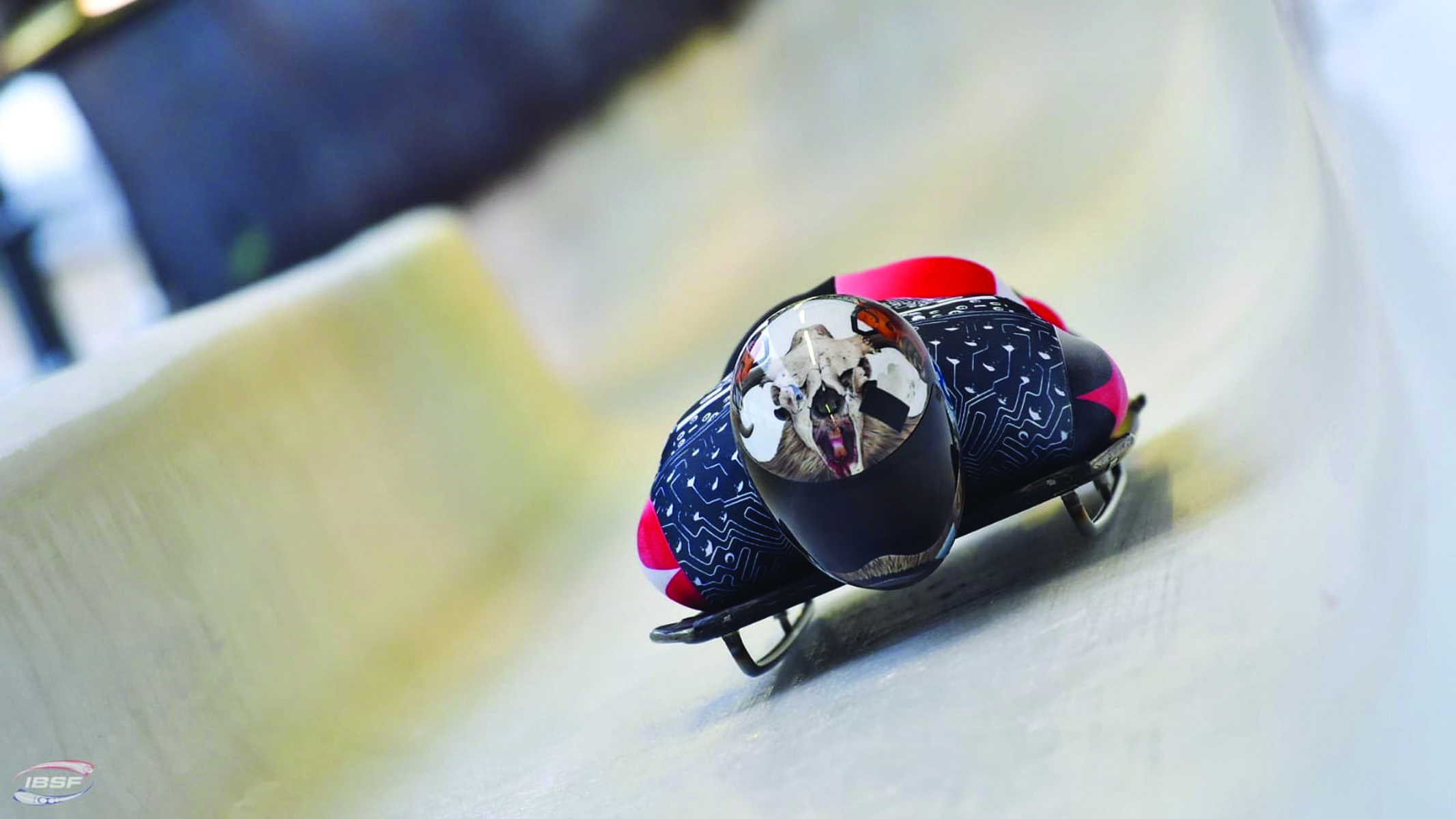 From Coaldale to Team Canada. Kyle Murray is vying for a spot at the 2022 Beijing Olympics.
By Erika Mathieu
Taber Times
One Coaldale-raised athlete has his sights set on the Olympics.
Skeleton racer, Kyle Murray, grew up in Coaldale, where he was very involved with many different sports. Kyle's skeleton career began by taking a driving school in 2013 with the Alberta Skeleton Association. His career began taking shape during his first two years of development. In 2015, Kyle attended his first national testing camp and achieved the push standards, he was put on North America's Cup development circuit where he continued to gain experience until 2018 when he progressed onto the Intercontinental Cup circuit.
He said although he now resides in Calgary, he still has strong ties to the community.
"I was raised in Coaldale, I still keep in touch with my high school buddies."
He added his hometown pride is a central part of his competitive uniform. His helmet, airbrushed by artist Jordon Bourgeault features iconic Canadian iconography including a beaver skull, moose antlers, chainsaws, and a shoutout to Coaldale, Alberta. Bourgeault has worked on NHL's Jacob Markstrom and Corey Price's masks, in addition to Murray's helmet.
Murray graduated from the University of Lethbridge in 2012, and moved to Calgary shortly after for an internship. He holds a Bachelor of Fine Arts in new media, but says there isn't actually a lot of crossover between his creative side and training regimen for skeleton.
"I don't think they really inform each other," he said. "I've done stand-up comedy a couple of times, and you get a ton of nerves on stage, and that's probably the closest thing to getting on the line (to race)."
Having just finished up in Altenberg Germany, placing 28th, he said he is hoping to compete in Latvia in the coming days.
Due to funding constraints, Murray has been granted permission to focus on lower circuit IBSF (International Bobsleigh and Skeleton Federation) points to qualify for Beijing from the Intercontinental Cup Circuit. Murray placed 4th and tenth in Whistler, 12th and 21st in Park City, Utah, 16th in Innsbruck, Austria, and 27th in Winterberg, Germany.
Kyle is receiving a lot of support from his family back in southern Alberta. His mom, Carla Murray said the reality is, athletes with less funding are at a disadvantage just in terms of their gear. Carla has been engaging with community businesses as a way to bridge the funding gap. She said the family has been, "looking at, different ways to maybe sponsor him, We want to make sure he can go to the Olympics with at least new runners on the bottom of the sled, he doesn't even need a new sled." Kyle said these runners can be upwards of $10,000 and need to be replaced after a certain amount of wear or damage.
To help support fundraising efforts, Kyle wrote a comic book — "The Lowest Hanging Fruit" — a comic book about anthropomorphized fruit. Kyle said his appreciation of comedy influenced the book, and he was excited to have friends and family support his him by purchasing the book.
"I was very pleased with the response from the community, and I barely scratched the surface. Kyle is an avid stand-up comedy fan, and comedian in his own right," said Carla of her son. The comic book, is something, "a lot of my friends and family have bought to support me," said Kyle. "So far it's been a very good response from the community," added Carla.
Kyle said although he was ahead in points, at the time of his interview, he wasn't sure yet if he would be making an appearance at the controversial 2022 Beijing Winter Games.
To stay up to date on Kyle's progress and training during the IBSF Intercontinental Cup, visit http://www.ibsf.org/en/athletes/athlete/263579/Murray.