Golden Suns finish for Christmas break
Posted on December 22, 2021 by Taber Times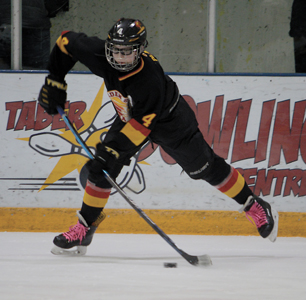 TIMES FILE PHOTO
By Cole Parkinson
Taber Times
cparkinson@tabertimes.com
While the South Central Alberta Hockey League is now off for Christmas break, two Taber Golden Suns teams saw game action this past weekend.
U13
The U13 Golden Suns had the weekend off and won't return to the ice until Jan.2 when they welcome in the Chestermere Lakers.  The U13 Suns finish the 2021 portion of the season with a record of 9-3-2, good for 20 points and tied for second in the South Conference.
U15
Two games were on tap this past weekend for the U15 Golden Suns. On Friday, the team saw Medicine Hat SEAC Tigers come to town which resulted in a 3-1 loss. Chase Stronge had the lone goal with Elijah Fleck and Garrett Janzen drawing assists. Bowen Hann faced 29 shots.
On Saturday, the team hit the road to face the Foothills Bisons. In a high scoring game, the Suns would win the game 8-5. Stronge and Cage Smith would have two goals each, Koye Larson and Kayden Kress would have a goal and an assist each, and Mason Seibel and Tage Jensen would pot one goal each. Fleck would collect three assists in the game, while Ty Mason, Jett Matisho, Barrett Van Nistelrooy, and Blake Smith found the score sheet with an assist each. Cashton Carriere made 22 stops in net.
The U15 Suns will return after the Christmas break on Jan. 8 when they head to Lethbridge to face the Hurricanes and on Jan. 9 they see the Central Alberta Selects travel to Taber.
The U15 Golden Suns finish 2021 with a 6-11-0 record and 12 points, which slots them in fifth in the South Conference.
U18
The U18 Suns finished the 2021 portion of their schedule with a single game against the Olds Grizzly. On the road on Sunday, the Golden Suns took care of business as they skated to a 7-4 win.  Jaxxon Pavka did some heavy lifting with a five-point night (three goals, two assists), while Rylan Millo also collected a hat trick and an assist. Brinley Degenstein had the other Suns tally, while Riley Preachuk and Kade Degenstein had a pair of assists, while Brody Braun, Connor Eldridge, and Kobe Fujita had a single assist each. Kieran Hancock made 29 of 31 saves while Landon Porteous made nine of 11 stops.
The next several weeks see no U18 Suns games as they return on Jan. 14 in Lethbridge and Jan. 16 in Sylvan Lake. The U18 Suns finish 2021 in fourth place with 18 points in the South Division.