Suns head into last few games of 2021
Posted on December 15, 2021 by Taber Times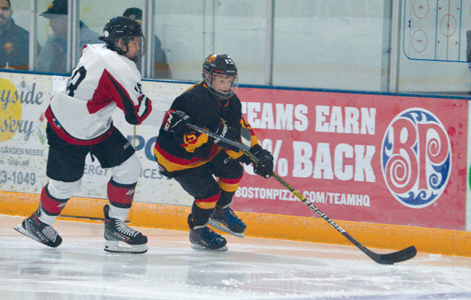 TIMES FILE PHOTO
By Cole Parkinson
Taber Times
cparkinson@tabertimes.com
U13
The U13 Golden Suns had a pair of games this past weekend that resulted in a loss and a tie.
On Saturday, the team was at home when Lethbridge Hurricanes White made their way to Taber.
In a closely contested battle, the teams would tie 2-2. Devin Groenenboom and Nixen Miller were the Suns' goal scorers, while Curtis Martin, Grayson Biegel, Ryan Serfas, and Yangmin Chen collected an assist each. Liam Slomp faced 26 shots between the pipes.
On Sunday, the Suns went north for a matchup against Red Deer Motors which saw a 5-2 loss. Liam Okell and Miller potted goals for the Suns while Truett Moeller and Foster Weatherhead had assists. Griffin Stenger saw 30 shots fired his way in net.
The Suns still tied in second place in the South Conference with a 9-2-1 record and 20 points.
The Suns have the rest of the year off and will return to the ice on Jan. 2.
U15
The U15 Suns had two games on tap this past weekend.
On Saturday, the team welcomed in West Central Tigers, but no game sheet was available Monday morning.
On Tuesday, the team hit the road to Lethbridge that saw a close 4-3 loss. Parker Young had a goal and an assist, Barrett Van Nistelrooy and Cage Smith had one goal, while Jett Matisho, Kayden Kress, and Garrett Janzen had an assist. Bowen Hann was busy with 34 shots fired at the Taber net.
Next weekend sees two more games to wrap up 2021 for the U15 Suns. On Friday, Medicine Hat SEAC Tigers come to town for an 8:30 p.m. game and then Taber hits the road on Saturday for a game against the Foothills Bisons.
U18
Another three games were on the U18 Suns' schedule this past weekend that saw the team go 1-2.
On Friday, they rolled over the Foothills Bisons 8-4 in Taber. Jaxxon Pavka had two goals and two assists, Brinley Degenstein had two goals and an assist, Rylan Millo had two goals, Riley Preachuk had a goal and an assist, Jasper Lyle, Ryan Holm, and Josh Plumer had two assists each, Evan Koizumi had a single goal, and Drew Thompson, Kobe Fujita, and Ashton Lukacs had one assist each. Landon Porteous saw 29 shots in the Suns' crease.
On Saturday, the Suns welcomed in the Wheatland Chiefs which saw the road team skated to a 6-2 win. Millo and Pavka had a goal and an assist each while Holm posted two assists. Landon Porteous saw 35 shots between the pipes.
In their final game of the weekend, the Suns fell 8-2 to CRAA Blue. Klemen and Millo had the Taber goals while Pavka and Hunter Van Vaerenbergh had two assists each. Kieran Hancock was busy in net as 46 shots were fired at him.
The U18 Golden Suns have one last game in 2021 as they head to Olds to face the Grizzlys on Dec. 19.
The U18 Suns currently have a record of 7-10-2 and 16 points which has them sitting in fourth place in the South Division.