Oil Kings hit the ice as December schedules start
Posted on December 8, 2021 by Taber Times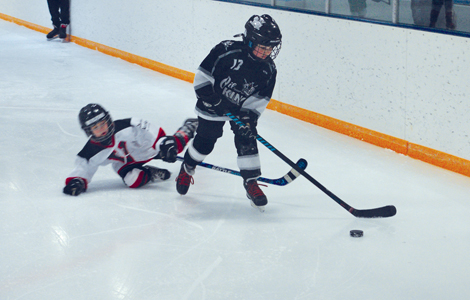 TIMES FILE PHOTO
By Cole Parkinson
Taber Times
cparkinson@tabertimes.com
Taber Oil Kings teams hit the ice this past weekend as Central Alberta Hockey League play continues into December.
U11 Tier 3
The U11 Tier 3 Oil Kings skated to a 7-7 tie against Irvine this past weekend.
On home ice, the Oil Kings saw a back and forth battle that resulted in a tie. Ryder Nielsen had a hat trick and an assist, Wyatt Valgardson had a pair of assists, while Hayden Eldridge, Kash Kover, Dalan Blasetti, and Cole Swanson had a single goal each, and Jack Burt had an assist. Brodyn Sutka had 32 shots fired his way in net.
The U11 Tier 3 Oil Kings see another two games this coming weekend, both at home. On Saturday, they welcome in Bow Island/Foremost for a 12:45 p.m. start and then on Sunday, Raymond comes to Taber for a 1 p.m. puck drop.
U11 Tier 6
With two games on the schedule, the U11 Tier 6 Oil Kings saw plenty of goals over the weekend.
On Saturday, Chestermere visited Taber which resulted in a 16-2 win for the home team. Logan Rabusic was on fire as he put six goals home and collected an assist. Blake Untereiner had a hat trick and an assist, Mitchell Kimoto, Barrett Devlieger, and Luca Nielsen had two goals and an assist each, Lincoln Braun had a goal and an assist, and Theoren Bolig had an assist. Aidyn Derksen Arnel got the start in net.
On Sunday, the Oil Kings saw Redcliff come to Taber and both teams scored plenty of goals — though Redcliff would win the game 9-8. Rabusic had a pair of goals and assists, Lennon Kover had two goals and an assist, Untereiner had two goals, Nielsen had a goal and an assist, Kimoto had a single goal, Benjamin Williamson had two assists, and Bolig had a single assist. Derksen Arnel was once again between the pipes for the Oil Kings.
 This coming weekend, the Oil Kings see another pair of games on tap. On Saturday they travel to Strathmore for a 10:45 a.m. game and the. On Sunday, Pincher Creek comes to Taber for a 10:30 a.m. puck drop.
U13 Tier 3
In a two-game weekend, the U13 Oil Kings saw a 1-1 record when all was said and done.
On Saturday, the team saw Lethbridge come to the Taber Arena for a mid-afternoon game. After back and forth scoring, Lethbridge would walk out of the arena with a 6-5 win secured. Delphin DeBoer had a pair of goals and assists, Ethan Volk and Skylar Jensen contributed with a goal and an assist each, Blaise Odland had a single tally, and Lincoln Wiebe had an assist.
Jack Lukacs saw 24 shots in net, while Ashton Jensen had 10 shots fired his way.
On Sunday, the Oil Kings would avenge their Saturday loss with a 5-2 win over Brooks on the road. DeBoer once again put up points as he collected a hat trick, while Wiebe and Jensen had single goals, and Raiden Koizumi and Adelyn Williamson had a single assist each. Jensen got the start and faced 23 shots in net.
The U13s have a single game on tap this weekend when they see Irvine come to Taber on Sunday for a 3:30 p.m. start.
U15 Tier 3
The U15 Oil Kings had one game this past weekend when Irvine travelled to Taber on Saturday. No game sheet was available on Tuesday morning.
The team sees their next action on Dec. 17 and Dec. 18.
U18 Tier 3
One game was on the schedule this past weekend for the U18 Oil Kings when they travelled to Lethbridge on Saturday.
In an off game, the Oil Kings were handed a 10-3 loss.
Gideon Tams had a goal and an assist, Evan Rabusic and Mason Vanseters had the other Oil King goals, while Brant Allen and Matteo Blasetti collected an assist each. Chase Plumb faced 39 shots in the game.
The U18s return to the ice this coming weekend when they travel to Bow Island on Saturday for a 7:30 p.m. game against Bow Island/Foremost.