Suns see tons of wins over weekend
Posted on December 1, 2021 by Taber Times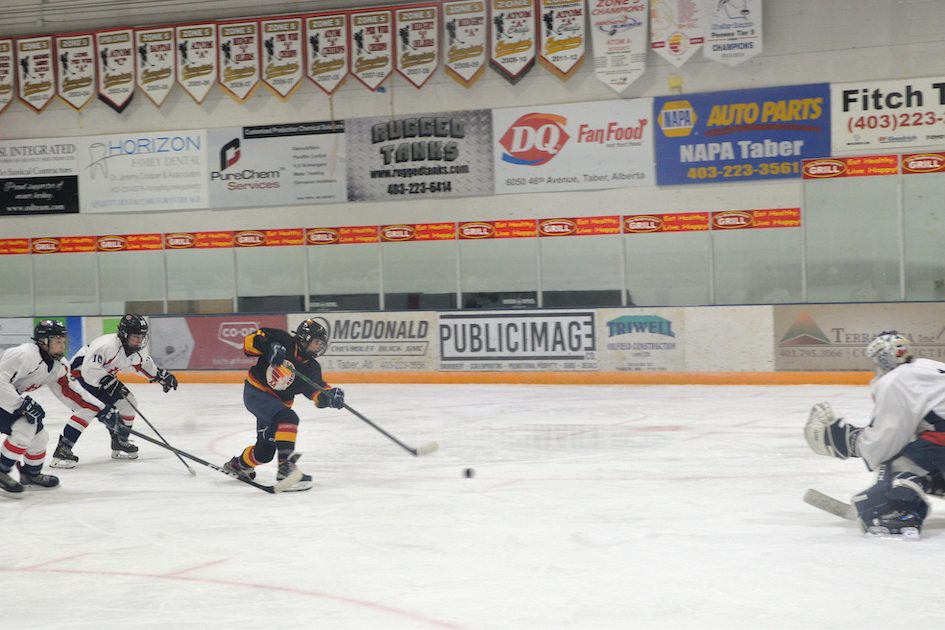 TIMES FILE PHOTO
By Cole Parkinson
Taber Times
cparkinson@tabertimes.com
With the U13 and U18 'AA' Golden Suns teams in South Central Alberta Hockey League action this past weekend, the teams went a collective 4-0 in an impressive few days of games.
U13
The U13 'AA' Golden Suns had one lone game on the schedule this past weekend when they hit the road to face off against the Foothills Bisons on Saturday. Despite being on the road, the Suns sure felt at home as they skated to a 10-0 win.
Arlo Heal had four goals and two assists, Mason Noble had a goal and four assists, Devin Groenenboom had one goal and three assists, Nixen Miller had one goal and a pair of assists, and Yanming Chen and Foster Weatherhead had a goal and an assist each. Curtis Martin and Hansen Heston had a pair of assists, while Truett Moeller had a single tally in the win. Liam Slomp was perfect as he stopped all 13 shots he faced.
The U13 Suns have two games on tap this coming weekend. On Saturday, they travel to Lethbridge to face off against Lethbridge Hurricanes White before returning home on Sunday for a 1 p.m. showdown against the Foothills Bisons.
The Suns currently sit in third place in the South Conference with a 7-2-1 record and 15 points.
U15
The U15 Golden Suns were off this past weekend. With the weekend off, the team is now preparing for a two-game slate this coming weekend. On Friday, they welcome in the Okotoks Oilers for an 8:30 p.m. puck drop and then they hit the road to Olds on Saturday to face off against the Grizzlys.
U18
In a busy three-game weekend, the U18 Golden Suns saw a perfect 3-0 weekend.
On Friday, the team was at home waiting for the Foothills Bisons. In a close battle, the Suns would skate to a 3-2 win. Rhett Klemen had a goal and an assist, while Rylan Millo had a single marker. Hunter Van Vaerenbergh had a pair of assists, while Connor Eldridge and Jaxxon Pavka had an assist each. Landon Porteous stopped 25 of 27 shots en route to the win.
The following day, the Suns hit the road as they faced off against the Bisons yet again. Like the previous day, the results remained the same as Taber would win 5-3.
Eldridge potted a pair of goals, Klemen had a goal and an assist, Jasper Lyle had two assists, Millo and Kobe Fujita had a goal each, and Brinley Degenstein, Heath Hansen, Kade Degenstein, Van Vaerenbergh, Riley Preachuk, Pavka, and Ryan Holm each collected an assist. Porteous was strong once again in the crease as he turned away 35 shots.
Rounding out the weekend, the Suns travelled to Medicine Hat on Sunday which saw a high offensive game and a 7-6 win over the Hounds.
Millo had a hat trick and Pavka had five assists in the win. Holm had one goal and two assists, Preachuk had a pair of goals, Klemen had a goal and an assist, John Plumer had two assists, and Brody Braun, and Brinley and Kade Degenstein each had an assist. Porteous stood tall once again as he made 37 shots in the win.
The U18 Suns see one game coming this weekend as they travel to Okotoks on Saturday for a 6:45 p.m. matchup against the Oilers.
The wins elevated the Suns into fourth place in the South Division with a record of 6-7-2 and 14 points.