Storybook ending comes up short for the W.R. Myers Rebels
Posted on December 1, 2021 by Taber Times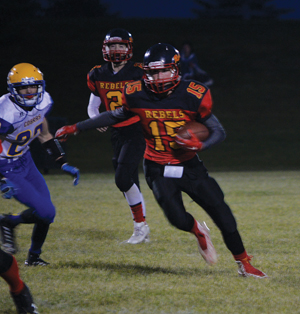 TIMES FILE PHOTO
By Cole Parkinson
Taber Times
cparkinson@tabertimes.com
It sure felt like the W.R. Myers Rebels were destined for a storybook ending with how their march to Provincials was progressing, but the Sexsmith Sabres had something to say about that.
The Rebels lined up against the Sabres on Saturday morning at Commonwealth Stadium in Edmonton, and the number one ranked team in Tier IV showed exactly why they were the best team in the grouping as they marched to a 51-7 win over the Rebels.
W.R. Myers saw their run defence shut down in the first half as they only amassed three rushing yards, while the Sabres garnered 84 rushing yards in the first half. In the second half, the Rebels saw things open up a bit more as they saw 62 rushing years, but the Sabres also capitalized on the ground as they ran for 206 yards.
The lone Rebel touchdown came from quarterback Kade Lund in the first quarter and he had 15 rushing yards in the game. Evan Rabusic had 30 yards over eight carries, while Mason Werewka had 12 yards on one carry.
Lund went 10-19 in the air, with 126 yards gained and three interceptions.
"Well, it was a day where everything that could go wrong, did go wrong. We started off by forcing their offence to go two and out, and then our offence put together an incredible drive, that saw some highlight reel passes, and was capped by one-yard QB sneak by Kade Lund to put us up 7-0," explained Jason Jensen, head coach. "The Sabres answered back with a drive that would basically sum up the rest of the game for us. It looked like we had them stopped, but a fluky fumble recovery on an onside punt gave them a new set of downs. Then, an untimely penalty extended the drive further, before they were able to find the endzone on one of only two passes they were able to complete that day."
Jensen explained things just don't go the Rebels' way from that point on. Between injuries, miscues, bad bounces, and everything in between, the football gods were not in the favour of the Rebels on this particular day.
"And from there, the bad luck continued. Weird bounces on special teams, miscues, and injuries to key players kept stalling any momentum we would get going. It still looked promising going into halftime, as we were only down 21-7, but unfortunately, the injury trouble heightened the fatigue factor, and against a team as strong as Sexsmith, any sort of gap like that will doom you. That is a very fast, skilled team, and they were able to exploit every opportunity," he confirmed.
Despite the unsatisfactory ending to the Rebels' 2021 season, the coaches and players have lots to look back on fondly throughout the year — from training camp until their final game at Commonwealth Stadium. The team battled hard through plenty of adversity early in the season and were able to overcome that with a date at the Tier IV Provincial final.
"Through that all though, I couldn't be prouder of my boys. Despite all of that adversity, they never quit, and a lot of other teams would have. Even in the fourth quarter, when the game was well out of hand, I had injured players begging me to go back out there because they wanted to keep fighting. As a coach, seeing that resolve and attitude in a team tells you that you've done your job right," added Jensen. "So, once the sting of the loss goes away, I think we'll all look back on this 2021 season as something unforgettable. We had that tough mid-season stretch, which could have broken a team, but which instead showed me that these boys had the resolve to take it all the way. We had this magical playoff run, where we knocked off the number 2 team in the Province in less-than-ideal conditions. And all of it culminated in a fantastic weekend trip to Edmonton, and getting to play at the largest stadium in Canada. These are memories that are going to stick with these young men for a lifetime, and it was sure nice to be along for the ride."