Taber Minor Hockey continues to roll along during CAHL tiering season
Posted on November 3, 2021 by Taber Times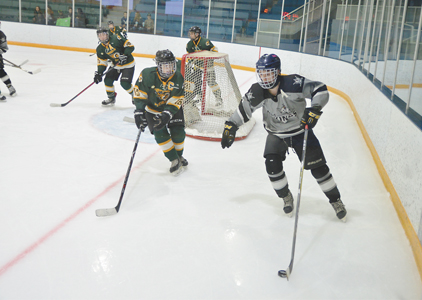 TIMES FILE PHOTO
By Cole Parkinson
Taber Times
cparkinson@tabertimes.com
The Central Alberta Hockey League tiering round is nearing its end, but before that happens, all Taber Oil Kings teams hit the ice this past weekend for another full slate of games.
U11 Tier 4
The U11 Tier 4 Oil Kings won a close game in their first action of the weekend as they skated to a 10-7 win in Irvine. Oil King goals came from Dalan Blasetti, Ryder Nielsen, and Kash Kover who all had two goals — Seth Jespersen, Jack Burt, Cole Swanson, and Hayden Eldridge each had singles. Nielsen also had a pair of assists, while Blasetti, Charley Fletcher, and Dallin Langhofer-Krahn chipped in with single assists. Brodyn Sutka got the start in net for Taber.
After a close first game, the stakes were just as high in the second when the team welcomed in Bow Island/Foremost which resulted in a 6-5 loss. Nielsen had a hat trick, while additional Oil King scoring came off Blasetti, Eldridge, and Baron Stand's sticks. Wyatt Valgardson, Burt, Rowan Beckie, Swanson, and Eldridge also put up one assist each. Sutka faced 21 shots in the game.
The team is next scheduled to play an unannounced team at home on Saturday at 12:45 p.m.
U11 Tier 5
The U11 Tier 5 Oil Kings had a single game on the schedule this weekend, and the team took care of business. Hitting the road to Redcliff, the Oil Kings won 9-7.
Lincoln Braun had a hat trick and an assist, Logan Rabusic had a hat trick, while Luca Nielsen, Mitchell Kimoto, and Jaxson Tychsen had singles. Lennon Kover, Theoren Bolig, Tychsen, and Nielsen all had an assist as well. Aidyn Arnel Derksen faced 25 shots between the pipes.
The team has two home games scheduled this weekend on Saturday and Sunday at 10:30 a.m. with opponents to be announced.
U13
In two games over the weekend, the U13 Oil Kings hit the road for one game and were back home for the other. Taber hit the road on Saturday for a matchup against Raymond where they won 5-3. Blaise Odland had a pair of goals, while Skylar Jensen, Lincoln Wiebe, and Ethan Volk scored the team's goals. Wiebe, Jensen, Julian Woordman, and Aiden Pierzchala collected one assist each.
Upon coming home, Redcliff was waiting and the away team skated to a 10-6 win. Delphin Deboer had four of the six Oil Kings goals while Raiden Koizumi and Wiebe had the others. Miles Goertzen had a pair of assists, while Wiebe, Adelyn Williamson, Kellon Schalk, and Woordman put up one assist each.  Ashton Jensen and Jack Lukacs each got some time in net in the game.
The tiering round continues this weekend for the U13s as they are scheduled for a home game on Saturday at 3 p.m. with the opponent yet to be announced.
U15
In a close battle against Magrath, the U15 Oil Kings were able to squeeze out a 2-1 victory on the road on Saturday. Samuel Tolsma provided a goal and an assist while Blake Rabusic scored the other Oil King marker. Ty Dorin made 41 stops on 42 shots.
The second game of the weekend was much less favourable for the Oil Kings as Irvine rolled to a 7-0 win over Taber. Avery Remfert faced 69 shots in the game.
Saturday, the team travels to Claresholm before returning on Sunday to face-off against Nation in a 3:30 p.m. puck drop.
U18
The eldest Oil King team had a tough schedule this weekend, but were able to grind out a tie and a win to wrap up the weekend.
On Friday evening, the team travelled to Pincher Creek to take on Pincher Creek Black. In a close battle, the game ended in a 2-2 tie. Parker Miller had both Oil King goals, while Kole Reynolds chipped in with an assist. Wade Ypma faced 26 shots in the tie.
In their second game of the weekend, the Oil Kings' offence was able to put plenty of goals on the board en route to a 6-3 win over Okotoks on the road. Miller had four of the six Oil Kings goals, while Brant Allen had the other two goals. Gideon Tams and Allen also had an assist. Chase Plumb faced 27 shots in the win.
The U18 Oil Kings upcoming weekend seems them welcome in Medicine Hat on Saturday night and hit the road to Nanton for an early afternoon game.