Oil Kings continue CAHL tiering round action
Posted on October 27, 2021 by Taber Times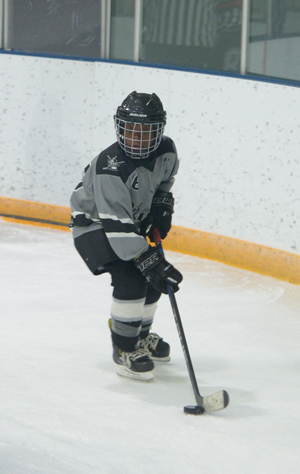 TIMES FILE PHOTO
By Cole Parkinson
Taber Times
U11 Tier 4
On Saturday, the U11 Tier 4 Oil Kings played at home against Vulcan where they skated to a 10-2 win. Ryder Nielsen had four goals and two assists, while Dalan Blasetti had a goal and an assist. Additional scoring for the Oil Kings came from Hayden Eldridge (two goals), Cole Swanson (two goals), and Kash Kover. Brodyn Sutka faced 37 shots in net.
On Sunday the Oil Kings hit the road and collected a 15-4 win over Duchess. Nielsen had eight tallies, while Eldridge had a hat trick, while Kover, Seth Jespersen, Swanson, and Rowan Beckie had singles. Jespersen also had a pair of assists, while Beckie, Eldridge, Wyatt Valgardson, and Blasetti each had one. Sutka was back in net for Taber.
The team will hit the road to face Irvine on Saturday before coming back to Taber on Sunday for a 10:30 a.m. puck drop with the opponent yet to be announced.
U11 Tier 5
The U11 Tier 5 Oil Kings had one game this past weekend, which resulted in a 19-5 loss at home against Nanton. Logan Rabusic had a hat trick and a pair of assists. Jaxson Tychsen had a goal and two assists, Blake Untereiner had a goal. Luca Nielsen and Lincoln Braun had a pair of assists, while Mitchel Kimoto and Lennon Kover had one assist each. Aidyn Derksen Arnel was in the net for the Oil Kings.
The team heads to Redcliff this coming Saturday.
U13
The U13 Oil Kings went 1-1 this past weekend. They started their weekend with a 7-5 win over Magrath in Taber. Delphin Dekore had a hat trick and an assist. Other markers from the Oil Kings came from Julian Woordman, Lincoln Wiebe, Blaise Odland, and Ethan Volk. Jaxson Badura had three assists in the win, while Wiebe, and Volk had two, and TJ O'Grady, Odland, and Deboer had one assist each. Ashton Jensen got the start in net for Taber.
In the second game of the weekend for the U13 team, they saw an 11-3 loss on the road against Duchess. Goals for the Oil Kings came from the stick of Deboer (two) and Skylar Jensen. Wiebe had the lone assist. Jack Lukacs got the start between the pipes. Their next game comes on Oct. 31 at home with an opponent to be determined.
U15
The U15 Oil Kings saw an offensive explosion in their first game as they skated to a 10-4 win in Nanton on Saturday. Ryan Gray had a hat trick, while Landon McEwen, Samuel Tolsma, and Evan Untereiner had two each. Scoring was rounded out by a single tally by Kylan Odland. Tolsma, Tyler Kiss, Konnor Wiebe, and Carter Kerkhoff each found the score sheet with single assists.
Sunday saw the team take on Bow Island/Foremost, though the score sheet wasn't posted prior to press time.
Next up, the U15 Oil Kings are on the road against Magrath on Oct. 30 and then a Halloween matchup against Irvine at 3:30 p.m. in Taber.
U18
On Friday night, the U18 Oil Kings had a closely contested battle that saw a 4-3 win over Lethbridge on the road. Oil King goals came from Gideon Tams and Parker Miller who each found the back of the net twice. Mason Vanseters, Kyler Marchuk, and Evan Friesen also collected an assist each. Wade Ypma turned away 32 shots in the win.
Saturday saw the team overmatched in a 9-1 loss at home against Claresholm. Tams collected the Oil Kings' lone goal on an Evan Rabusic assist. Chase Plumb faced 24 shots in the loss.
Friday night Irvine visits Taber for an 8:15 p.m. puck drop and on Sunday, the Oil Kings travel to Okotoks.