Golden Suns teams start 2021-22 season
Posted on October 13, 2021 by Taber Times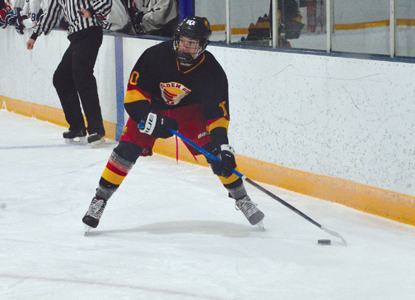 TIMES FILE PHOTO
By Cole Parkinson
Taber Times
cparkinson@tabertimes.com
U13
The Taber Golden Suns 'AA' U13 team has started on fire in the 2021-22 South Central Alberta Hockey League season.
Before this past weekend's action, the Suns had a record of 3-0.
The Suns had beat Medicine Hat Hounds Orange 7-4, the Chestermere Lakers 2-1, and Lethbridge Hurricanes White 4-2.
This past weekend, the Suns travelled to Okotoks to take on Okotoks Oilers Green.
In a tightly contested game, the Suns were handed their first loss of the season 6-5.
Arlo Heal put two past the Okotoks netminder while Curtis Martin, Yanming Chen, and Devin Groenenboom scored the other goals for Taber.
Foster Weatherhead had a pair of assists while Truett Moeller and Liam Okell had one assist each.
Liam Slomp got the start and made 27 saves in the loss.
This season, the offence has come from Moeller and Okell who lead the team with six goals and two assists and one goal and seven assists, respectively.
Heal has seven points, Weatherhead has six points, Groenenboom has four points, Martin has three points, Mason Noble and Nixen Miller have two points, and Madix Miller, Chen, and Heston Hansen each have one point.
Goaltenders Griffin Stenger and Liam Slomp have each played two games.
U15
The U15 Golden Suns have had a tough start to the SCAHL season.
Heading into this past weekend, the Suns were 0-4 after losses to Wheatland Warriors (8-2), Medicine Hat SEAC Tigers (7-4), Foothills Bisons (6-4), and Wheatland again (8-1).
On Saturday night, Taber travelled to Airdrie as the Suns faced off against the Lightning.
In a lower-scoring affair, the Golden Suns lost their fifth straight game in a 3-2 loss.
Koye Larson and Cohen Zasadny scored the Suns' goals while Jett Matisho, Kayden Kress, and Cage Smith each had one assist.
Cashton Carriere made 24 saves on 27 shots.
Matisho leads the team with five points, while Kress, Zasadny, and Smith each have four points.
Mason Seibel has three points, Barrett Van Nistelrooy, Larson, Tyson Church and Tage Jensen each have two, while Chase Stronge and Garrett Janzen have one point.
Carriere has started in the net for four games while Bowen Hann has played in two games early in the season.
U18
In three games this season, the U18 Golden Suns are still searching for their first win of the young SCAHL season.
In their first game on Oct. 1, the Suns fell 6-1 to the Okotoks Oilers.
This past weekend, the Suns hit the road for a pair of games as they visited Cochrane on Friday and Calgary on Sunday.
On Friday night, the Bow Valley Timberwolves laid a smackdown on the Golden Suns as they skated to an 8-1 win.
The lone goal from the Suns came from Ryan Holm, assisted by Kobe Fujita.
Goalie Kieran Hancock faced 40 shots in the game.
On Sunday afternoon, the Suns faced off against CBHA Blackhawks and came back home after a 7-3 loss.
Ryan Millo scored two goals, while Fujita scored the other.
Jaxxon Pavka had two assists, while Heath Hansen, Kade Degenstein, Riley Preachuk, and Josh Plumer had single assists.
Landon Porteous faced 41 shots in the game.
Millo, Fujita and Pavka lead the team with two points, while Ryan Holm, Brinley Degenstein, Kade Degenstein, Hansen, Preachuk, Plumer and Elton Akune each have one point.
Porteous has started two games in goal while Hancock has one start under his belt.