Council approves $5,000 for Firefighters Curling Championship
Posted on October 13, 2021 by Taber Times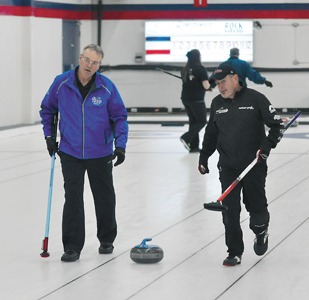 TIMES FILE PHOTO
By Mason Workman
Taber Times
Council has started discussing numbers of very important public event initiatives, and one event that has been sabotaged due to COVID-19 was the annual Firefighters Curling Championship in southern Alberta.
At town council's regular meeting on Sept. 27, a delegation from the Taber Fire Department approached council with a funding request of $5,000 to cover a shortfall.
With an estimated $30,000 cost, and the event hosted by the Taber Firefighters Association with possible assistance from the M.D. Fire Department, they are projecting a shortfall of $5,000.
During the meeting, Assistant Fire Chief Steve Swarbrick answered a question regarding the M.D. Fire Departments involvement with the annual championship.
"We've also asked the M.D. Fire Department, but they haven't made an official decision yet," said Swarbrick.
He then went into more detail about the importance of the championship stating it would be the 62nd annual bonspiel to be held. Swarbrick also mentioned due to the size of the teams, they may need to consult with the Vauxhall Curling Club and arrange for another potential rink.
Afterwards, Coun. Garth Bekkering asked Swarbrick when the deadline for the grant would be.
"Preferably we would like to receive the grant by the end of January," Swarbrick responded.
Coun. Joe Strojwas stated, "The 2021 grant program has the funds available, and according to the information they received, they have the money."
"It's a great chance for firefighters across Alberta to unite as brothers and sisters and spread awareness," added Swarbrick.
With the championship being discussed upon this year, council wondered if the effects of COVID-19 will also have an effect on the decision.
"If you aren't able to host your bonspiel this year, will it be postponed until next year?" asked Coun. Carly Firth in relation to COVID-19 restrictions.
"Yes, we will try making some arrangements, but cannot promise it will come back to Taber. But they did host one championship in Taber after it was previously cancelled," responded Swarbrick.
These championships have become a solid foundation of southern Alberta in the past years, says Swarbrick.
And "uniting as brothers and sisters" is Swarbrick's hope, if the grant is indeed delivered to the Taber Firefighters' Association.
A motion was made to approve the $5,000 funding request from the Taber Firefighters' Association out of the 2022 Community Grants Program budget, was carried.