Rebels lose close battle in Week 4 against McCoy
Posted on October 6, 2021 by Taber Times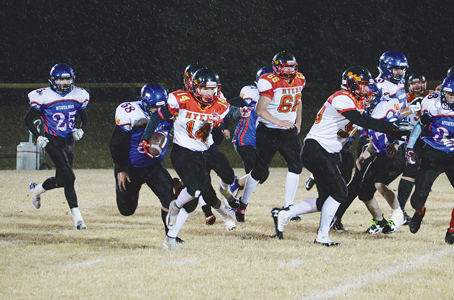 TIMES FILE PHOTO
By Cole Parkinson
Taber Times
cparkinson@tabertimes.com
After back to back losses in Weeks 2 and 3, the W.R. Myers Rebels football team were edged out 32-21 against the McCoy Colts in Week 4.
"That was another tough night on the road for us. This was actually quite the neck and neck dogfight, and we were pretty evenly matched. In fact, the game was probably closer than the score indicates," explained head coach Jason Jensen. "McCoy is always tough as nails, and very well-coached, so I knew it would be a hard game. It just seemed that they caught a few extra breaks, and more importantly, they capitalized on every mistake we made."
With the coaching staff and players looking to get back in the win column, the team was strong defensively for the first quarter as they went into the second quarter tied at zero.
But midway through the second quarter, both team's were finally able to score.
"The game was scoreless through the first one and a half quarters, save for a rouge we were forced to concede on a deep punt. Midway through the second, the Colts managed to break off two touchdown runs in short order, before we could answer back with one of our own, and head into halftime down 15-7," added Jensen.
In the third, the Colts once again were able to put points on the board, but Jensen says the Rebels answered back quickly to keep the game close heading into the final quarter.
"The 3rd quarter, the Colts were able to kick a field goal, before we were able to answer back again, and narrow the score to 18-14," he explained. "That would be as close as we could narrow it though, as we basically took turns trading touchdowns until it was final. We had a late drive that showed some promise, but much like last week, we just ran out of time."
With another loss on the books, the coaching staff is still seeing plenty of positives in the room.
Despite the frustration everyone has with losing, the entire team realizes little mistakes have cost them in close games.
With a good week of practice ahead before their next match, the coaching staff is itching to get back on the field alongside the players to get ready for Week 5.
"Once again, I was pretty impressed in the lack of quit from these boys, but another loss is still frustrating. Going forward, we just need to figure out how to turn this corner, so we aren't digging ourselves out of a hole late in games all the time. We have an immense amount of talent on the squad, and know we are a lot better than what our record would indicate, we just need to clean up these small mistakes," confirmed Jensen.
The good news for the Rebels is they return home for a Friday night matchup against the Crescent Heights Vikings.
"This week, we're back at home facing the Crescent Heights Vikings out of Medicine Hat, and they very well may be the toughest team we've faced yet. I know their coach quite well, so I'm positive they're a well-honed team, and like our last three opponents, they're grouped in a Tier above ours, as we continue to punch up. I'm looking forward to a good week of practice here, and hopefully, we can fix these little mistakes, and come away with a win in front of our hometown fans," added Jensen.
Kickoff goes at 7 p.m. on Friday at Ken McDonald Memorial Sports Complex.