Rebels start season with 54 point offensive explosion
Posted on September 15, 2021 by Taber Times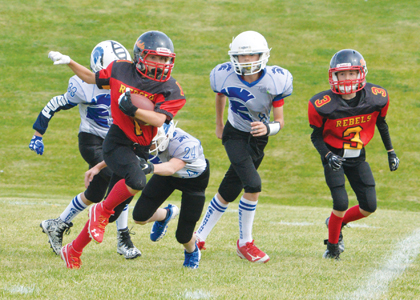 TIMES FILE PHOTO
By Cole Parkinson
Taber Times
cparkinson@tabertimes.com
It's certainly starting to feel like football weather in southern Alberta and the W.R. Myers Rebels high school football team have begun their season with a massive win over a big rival.
Heading out on the road for Week 1, the Rebels took on the Willow Creek Composite Cobras last Friday night where they were able to walk away with a 54-6 win.
"It sure felt good to get back into real gameplay for the first time in almost two years. While we did manage to get in those two exhibitions with Medicine Hat High this past fall, those weren't the same thing as real league play," explained Jason Jensen, Rebels head coach. "Of course, kicking off the season against our biggest rivals, the Willow Creek Cobras, isn't the most ideal situation, but I also don't mind being tested right away. We have the biggest roster we've had in quite some time, with 29 players, but that also means we have a lot of inexperienced players as well — several of whom were playing in their first football game ever. Now practice is one thing, but a game situation is entirely different, so I was excited to see how they would respond to the real thing. Needless to say, I was impressed."
When kickoff finally came, the coaching staff expected some nerves with plenty of first-time players.
"The game kind of began how I thought it might. We started off with the ball, and after a couple of nervous miscues, we were forced to punt. Thankfully, it was the same sort of start for the Cobras, so we quickly found ourselves back in possession of the ball, and our offence settled in. Quarterback Kade Lund executed a five-play drive, that culminated in a 27-yard pass reception to Colby Hansen to put us up 7-0 early in the game. After that, our defence dug their heels in, and forced the Willow Creek offence to go two again. The offence got right back to work, and Lund capped a four-play drive with a 23-yard quarterback keeper for another score. After a missed PAT, the score was 13-0 at the end of the first quarter," stated Jensen. "The second quarter was fairly even, until senior running back Mason Werewka broke loose with a 64-yard touchdown run, followed by nearly converting on a two-point conversion pass, after a bobbled ball on the point after attempt. We headed into the locker room with a 19-0 lead."
With a healthy lead heading into half-time, the Rebels coaching staff issued several challenges to the players before they suited up for the final two quarters.
"At half-time, we challenged these players to be better in the first half than in the second. A few sloppy mistakes had ended our drives early, and extended a couple of Willow Creek possessions. We could explain a little bit of that away with it being their first game, but I told them they now had a full half under their belts, and the time for excuses was over. Well, the boys must have taken that to heart, as halfback Cody Heide intercepted a Cobras pass on the second play of the half, and the offence went to work. Werewka ripped off a 40-yard run, followed by a 13-yard gain by slotback Aiden O'Connor, which set up a four-yard TD plunge for Lund. One successful PAT later, and the score was 26-0," added Jensen.
While the offence was firing on all cylinders, the defence was no slouch either.
Jensen confirmed the Rebels were just as strong on the other side of the ball during the second half.
"The Rebels defence was right back at it, as rookie linebacker Allen Clements forced a fumble on the ensuing play, with senior defensive tackle Nathan Keeping scooping up the ball to give the Rebels possession deep in the Willow Creek end. Fullback Kyler James then rumbled for 25-yards up the middle for another major. The Cobras turnover woes continued, as on their next possession, a bobbled punt attempt allowed linebacker Konner Unser to tackle the Willow Creek punter in the backfield, forcing a turnover on the 20-yard line. Werewka found the endzone again on the next play, scoring his second major of the day. By this point, a lot of teams would have started to quit, but the Cobras refused to relent. They answered back with their best drive of the game, stringing together nine plays, culminating in a passing touchdown to break the shutout, and narrow the gap a little going into the fourth quarter."
Heading into the final quarter, the Rebels put their stake on the game and cemented their first victory of the season in a big way.
"The fourth quarter began with both teams trading short possessions until defensive lineman Daimen Hammond was able to recover a fumbled snap, and give the Rebels the ball back near mid-field. Lund took to the air again, when he found O'Connor in the back of the endzone, for his second passing major on the day. On the next Rebels possession, it was time for the rookie Heide to see his first high school action at quarterback, and he did not fail to impress, taking off on a 43-yard keeper to the endzone, capping the scoring on the day, with a final score of 54-6," continued Jensen.
Scoring 54 points and holding the Cobras to only six points lead to plenty of big performances both offensively and defensively.
Looking at the team's offence, Jensen explained just how successful they were in the first game of the season.
"Offensively, Lund was eight for 14 passing, for 105 yards, and two touchdowns. He also rushed three times for 22 yards and two TDs. The leading receivers were O'Connor, with two catches for 51 yards and a touchdown to go along with his 45-yards rushing, and Hansen with two receptions for 34 yards and a touchdown. On the ground, Werewka lead the way with 137 yards on nine carries, with two touchdowns, plus a 10-yard punt return. Rabusic had 67 yards on six carries, James toted the rock twice for 22 yards and a touchdown, and Brennan Abela contributed 19 yards on four carries. Rookie Cody Heide had a great all-purpose day, with a 43-yard rushing touchdown, and 67 special teams return yards, to give him 110 all-purpose yards on the day."
From the defence perspective, it took a full team effort to limit the scoring of the Cobras.
"Defensively, an impressive 15 different players contributed tackles. Allen Clements lead with six tackles, one sack, and one forced fumble. Logan Porter had five tackles, Xavier Hull four tackles, and rookies Jorge Garcia Rebollo and Andrew Howatt managed three tackles apiece. Rabusic, Hammond, and Keeping each had a fumble recovery, Heide and Werewka both had interceptions, while Tyson Harker and Lund each registered a quarterback sack," explained Jensen.
Looking back at the Rebels' first action in the 2021 season, Jensen is happy with how the team performed.
While more practice time will be needed to reach their ultimate goal of a championship, the first step was a good indication of what the coaching staff has in the team.
"While it is obvious Willow Creek is in a rebuilding year, with a lot of young players trying to find their feet, they still brought it to us, and at no point did I ever feel like we could just relax and ride out the rest of the game — that's a real testament to their tenacity. That being said, I have to say, I'm quite happy with how our boys came out to play today. There were a lot of sloppy mistakes that we'll have to clean up, but a lot of that is to be expected in our first game of the season. I was particularly impressed at how many of our Grade 10 players made real impacts in this game, and how little drop off there was in our team's play as we rotated in the backups throughout the second half," said Jensen. "It tells me that we have a lot of gamers on this team. All through training camp, we challenged players to step up, and show us that they can be contributors, and we could tell that a lot of them were trying to do just that. Boys were out there trying to make the best of every opportunity, be that on offence, defence, or special teams. That was great to see, as we're going to need that going forward."
While the first week is complete, the road ahead doesn't get any easier for the Rebels.
This Friday, the Rebels will welcome the Chinook Coyotes to Taber in another division rival battle.
"Our next opponent is another division rival, the Chinook Coyotes. They are a Tier 2 program, and typically have around 40 players on their roster. We know they're going to be tough, and we have to be ready. After what I saw on Friday night, and with another week of practice under our belts, I'm confident that we will be," added Jensen.
Kickoff is at 7 p.m. at Ken McDonald Memorial Sports Park and it's W.R. Myers Fan Appreciation Night.
The W.R. Myers Student Council is cooking free hot dogs for all fans in attendance.