Rebels football gearing up for training camp next week
Posted on August 11, 2021 by Taber Times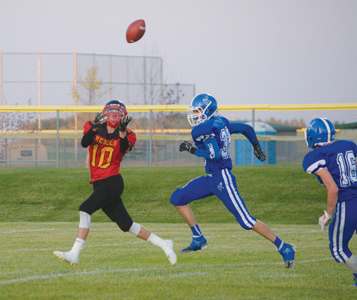 TIMES FILE PHOTO
By Cole Parkinson
Taber Times
cparkinson@tabertimes.com
With fall on the horizon, football players in Taber and the surrounding area are readying for the upcoming season.
While the W.R. Myers Rebels were able to play in a modified season last year, they are set for a schedule more in-line with seasons' past in 2021.
Before that can begin though, players looking to play are invited to take part in the Rebels' training camp slated for early next week.
"Our high school training camp is going to kick-off on August 16, at 5:30 p.m. at W.R. Myers. I'm hoping we have full attendance, and if that's the case, I expect numbers hovering around 30 players, which for us, would be fantastic. Last fall, we were just lucky to be able to get some kind of football in, especially since the Lethbridge teams and Livingstone Range teams weren't able to do anything at all. This year, however, we're slated to go ahead with a normal, full schedule, including provincials," said Jason Jensen, Rebels' head coach. "While we were lucky to be able to get some football in this past fall, I don't think anyone was very satisfied with what we had. We ran a two-week minicamp at the end of June, and we talked a lot about the 'lost season,' and how we needed to make up for it this fall. It seems a lot of these boys have really taken it to heart, and are excited to get out on the field, and make this season a special one. As a coach, looking at what we had for a team in 2020, I can't help but feel like we were robbed of a very successful season, so I want nothing more for these boys than to deliver a fall that is memorable."
Looking back at the last full season in 2019, there aren't many players left from that squad.
Those who were on that team though are excited to avenge a provincial quarterfinal loss and get back to their winning ways.
"Our last full season, in 2019 was a tough one for us. We were a very young team, and were struck with several key, freak injuries, and essentially limped into the provincial quarterfinal, only to be bounced by a very good Drumheller team. Now, the only players left from that season will be seniors this fall. I know for a fact that those boys still remember the sting of the end of that season, and want to go out and erase it from everyone's memories," added Jensen.
Over the prior season, many senior players were unable to finish their Rebel careers with a hunt for a provincial title.
But with the experience and hard work they brought last season, the coaching staff is excited by what the younger players learned from the veteran players and are eager to see them deploy it in game situations.
"Now, we've just graduated some fantastic players, guys who were key leaders, but got robbed of their senior year, and they're leaving some very big shoes to fill. Thankfully, I think our incoming Grade 12s are up to the task. We should have 11 seniors returning, a group that not only includes skilled players, but also some outstanding leaders," continued Jensen. "We're going to have to lean on those boys if we want to go on the run I think we're capable of. Aside from the senior group, we've got a strong Grade 11 class, one that includes several players who would have either had starting roles, or at least seen significant playing time had we had a full season in 2020. I'm very excited to see how big of a step they all take this year. And, of course, I have to mention our incoming rookies. This group will have five players from the Bantam Showcase-winning South Knights, and a handful more that I think could have made the team, had they tried out. I'm excited to see where they'll fit this year, and I expect a few will challenge for starting jobs, and at the least will see a lot of time on the field."
Once training camp wraps, the Rebels have a season to look forward to.
And it won't start easy as the group as they start on the road and play one of their biggest rivals right out of the game.
"I think we've put together the toughest schedule we've had in quite a few years, and we kick it off against our biggest rival, the Willow Creek Cobras, on September 10. That's right, we're headed straight into the fire in week one. We suffered some pretty bad losses to Willow in 2019, so I know our seniors will be up for it at the very least. Hopefully, the rest of the team is just as motivated," said Jensen.
With high hopes for the new season, Jensen and the coaching staff know hard work will be required for the entirety of the schedule in order to reach the team's goals.
"Our first goal for the season is to reclaim the Jerry Dawson trophy, which is awarded to the league champions, which we had to surrender to Chinook on our home field in 2019. If we want to do that, we're likely going to have to be perfect in league play, and that makes that first game all the more important. The old saying goes that steel is forged in fire, so hopefully starting the season with a tough matchup, and basically not having an easy week from there on out, will have us in clicking like the team we need to be for playoffs and provincials," stated Jensen. "I believe we have a team capable of great things, but there's a reason wins aren't awarded on paper, and pre-season predictions. We have to play the games to find out who's really got the mettle, and I'm excited to get after it."
The first home game for the Rebels is set for Sept. 17 at 7 p.m. at Ken McDonald Memorial Sports Park against the Chinook Coyotes.