Taber football players make impact at 2021 Bantam Showcase
Posted on August 4, 2021 by Taber Times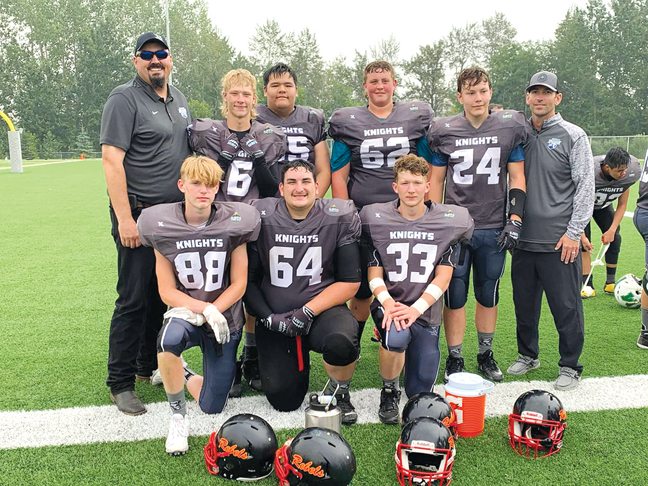 TIMES PHOTO COURTESY OF JASON JENSEN
By Cole Parkinson
Taber Times
cparkinson@tabertimes.com
After COVID-19 delayed several football tournaments and games in the previous year, football players, coaches, and fans were finally treated to some game action earlier this summer.
The Bantam Showcase, which developed after the 2020 Alberta Summer Games were cancelled, was finally held in mid-July in Red Deer.
Several southern Alberta football players were featured on the South Knights team that faced off against the Central Huskies.
"Normally, the ASG features an eight-team football tournament in the U-16 age group. Those games were supposed to have been played in Lethbridge in 2020. Initially, they just postponed the games until 2021, but later they cancelled them all together," explained Jason Jensen, head coach of the South Knights. "Football Alberta, did not give up hope and planned for an event any way, so the Bantam Showcase was created. Now, even that was cancelled earlier this year, in the height of the third wave of COVID, and we thought we were dead in the water for sure. Once the vaccinations started rolling out, and restrictions were lifted, suddenly we were back in business, with very little time to plan. Tryouts that were supposed to happen over the course of three weekends in May were suddenly done over the second and third of July, in Medicine Hat and Lethbridge. Two weeks after that, we were practising, and heading to Red Deer to play."
This fall saw an unusual football season for many districts, but some players across the province weren't even able to suit up at all.
With that in mind, the coaching staff had minimal time to prepare their players for game action.
"Getting after things was interesting, to say the least. Some of these kids were able to take part in a modified football season in the fall, but a whole lot of the Medicine Hat players didn't have any kind of season, and so they hadn't participated in live football in over a year and a half," continued Jensen. "I wasn't sure how that was going to work out, but from the first tryout, it was apparent that they were all thrilled to be out doing something again. More than one player remarked how for the first time in forever, things felt normal."
Once the team was assembled, players and coaches hit the ground running.
But even with the team full-steam ahead, they didn't get nearly the same amount of practice they would under a normal set of circumstances.
"Now, in a normal Summer Games year, we would be given 30 hours of practice time, over the course of a whole week. For this event, we got 12 hours over two days, which were broken down into four sessions of three hours each. Needless to say, we had to get creative to get this team dialled in. Half of the playbook was sent out before the tryouts to all registered players, and we ran those plays as part of the tryout process, so that gave everyone a bit of a head start. Even still we were in a pretty serious time crunch," explained Jensen.
With so little practice time, the coaching staff asked players to do a bit of homework before the big game.
"I warned the players at the end of the tryouts that they had better take time over the two weeks before we practised to do some conditioning, as we wouldn't be able to sacrifice practice time for that. We needed every bit to try and get the playbooks installed, and fine-tuned. The first practice session started out kind of rough, but I suppose that was to be expected. We had those players on a pretty steep learning curve. Truthfully, we were all a little worried about whether the kids would be able to pick this stuff up in time. At the end of each of the practice sessions, I challenged the players to bring it even harder for the next session, and sure enough, we were able to see them getting incrementally better," added Jensen. "By the time our fourth session was done, all of us were feeling pretty good about the next day's game in Red Deer. I will say, the sweltering heat didn't do us any favours, either. I had to schedule frequent water breaks, and those kids really had their mettle tested. I'm pretty proud of how they held up to it, and it was something that played into our favour later, since the temperature in Red Deer was only in the mid-20s, so it actually felt quite comfortable for our players."
When the day finally came to suit up, Jensen and the coaching staff weren't totally convinced of what would unfold.
Despite a tight, back and forth affair, the South Knights would finally walk away with a 35-27 win.
"The game was a crazy experience. I told the players afterwards that it took years off of my life. It was back and forth scoring right from the get-go, with neither team able to hold a lead for long," stated Jensen. "The final three minutes of the game saw our defence block a PAT to preserve our lead at 28-27. Our offence then chewed a ton of time off the clock driving down the field, but since Central still had both of their timeouts, we were forced to score with 24 seconds left, rather than just kneel, and kill the clock. They got the ball back, and somehow managed to hit on a couple of spectacular plays, forcing us to make a stand on our own one-yard line to preserve the win. That's the stuff you see in movies. After all the time off, it was just fantastic to be playing again, but given all the work those players put in, in high 30s temperatures, getting that win was just too sweet. It really made all of it feel that much more worthwhile."
Jensen also acknowledged his coaching staff and how the whole coaching staff was essential for the team's success.
Coaches had just as little time to prepare as the players did, but Jensen explained everyone gelled quickly which lead to the team's success at the showcase.
"I can't say enough good things about our coaching staff. Four of us had coached together on the 2018 staff, and initially it was going to be two more guys from that group as well, but through the on-again, off-again process, a couple of them had to drop out, leaving us with a couple of vacancies with very short notice to fill them. Thankfully, the guys we got were more than up to the task. All of us got along well, and gelled quickly, which I think was key to us being able to get this team dialled in on short notice," he added. "These guys put in about as much mental work as the players did physical, designing systems that were sophisticated enough to be effective at a high-level event, but simple enough that they could be installed in 12 hours of practice. Now it's one thing to do that on paper, but to then go out and implement it is another thing entirely. These guys managed to push through plenty of frustrations, exacerbated by the sweltering heat, and in 12 hours, produce a team capable of winning on the provincial stage. It's tough to put into words just how impressive a task that really was."
With the W.R. Myers Rebels season coming quick, Jensen also gave praise to the handful of Taber players who cracked the roster.
"All in all, we had seven players from Taber and Barnwell make the team, which is a fantastic showing. Bryden O'Connor, Allen Clements, Tyson Harker, Cody Heide, and Nathen Murray will all be playing high school football this fall, while Elias Cooper, and Jess Neilsen still have another year of bantam to go. These players were fortunate that I ran my high school spring camp in the week leading up to tryouts, and the week after, so they were kind of seasoned already, and against players up to two years older than themselves," stated Jensen. "I think it definitely showed at the showcase. Each one of them was able to contribute to the team, and at times stand out for their play.  I think this whole experience has given them confidence, and will set them up well for the coming season. I'm going to predict that those players still in bantam are going to be absolutely dominant this fall, and we'll probably see their names when awards are handed out. As for the high school players, I expect all of them are going to see field a lot for us, and may even compete for starting jobs. They'll be ready to hit the ground running, and challenge some veterans for the vacant jobs."
Looking back, with the new season on the horizon, Jensen has nothing but positive memories from the entire experience.
"All in all, this event was a memorable one for both players and coaches. These players got to experience a process and game that in retrospect seems like a Hollywood-worthy story. They made new friendships that are going to continue into their high school careers, when they meet up as opponents on the field, and pose for pictures together afterwards," he said. "For myself, I love nothing more than seeing one of my Knights players in the handshake line at the end of a game, and catching up with them afterwards. For me, that kind of thing is what makes the Knights program special, and makes all the time and effort worthwhile."