Taber's Trail 77 Club hosts 'Oldman Mayhem' bike race
Posted on July 28, 2021 by Taber Times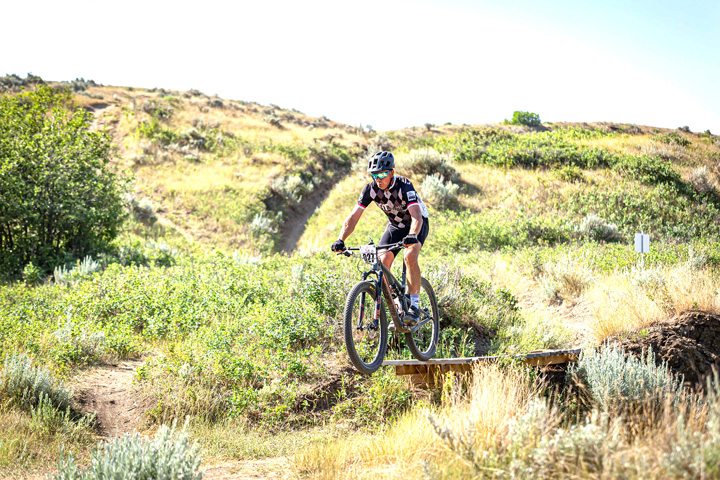 On July 17, the Trail 77 Club presented the inaugural mountain bike race called the "Oldman Mayhem." The event is a four-hour timed race.
"You try to complete as many loops of the race course as possible in those four hours," it was stated in a recent media release.
According to organizers, the race loop was 10.9 kilometres and 248 metres of elevation. It was a great day full of warm weather, good fellowship and competitive and fun mountain biking. The Trail 77 Club has been preparing for the bike race for some time — dedicating hours to prepare trails.
The Taber Tuff Run, held the week prior, helped with some of the prep as well and the trails were in great condition. "Many of the participants were amazed at the type and quality of trails, as this was the first experience coulee bike riding for several participants."
There were 86 registered riders for "Oldman Mayhem" — which is an incredible feat, considering this is the first year for the race. Of those 86 riders, 18 were in the team relay race.
During the opening address to all the riders, the organizers thanked the Town of Taber and M.D. of Taber for being active partners and recognized that without these two major supporters, this event would not have happened.
After the main race, there were two kids' races for ages six to eight and nine to 12.
"This event was an excellent way for people to experience the great trails of Taber.  Of the 86 participants, 61 were from out of town — Calgary, Crowsnest Pass and Medicine Hat. This was a great boost to the economy (for) our town," it was stated.
In planning for next year, "Oldman Mayhem" plans on being a bigger event to host more riders from around southern Alberta. The vast majority of riders said they were coming back next year and bringing some friends along.