Bekkering's Olympics hopes and dreams a reality
Posted on July 28, 2021 by Taber Times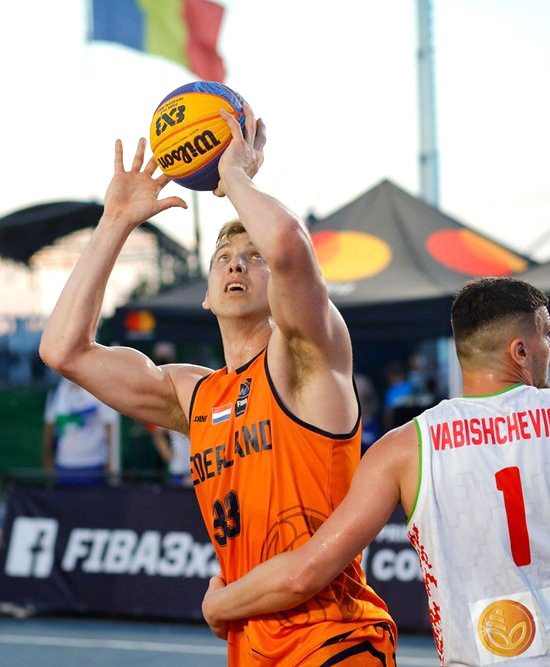 By Dale Woodard
Southern Alberta Newspapers
It's been a delayed year in the making, but Ross Bekkering is finally in the environment. And the Taber native who took to the court, as part of the Netherlands three-on-three basketball team is hoping his Tokyo Olympics experience will be a slam dunk.
"To be honest, there are new nerves, of course, because it's the Olympics and you're excited," said Bekkering, on the phone from the athletes village in Tokyo recently.
"We've had so many things happening in the last week or two in preparation, whether it's tests and forms or technical stuff with training. So I really look at every day as, wake up, know the schedule for the day and focus on that. It sounds, boring, but that's the truth. Every day I just have my schedule and that helps keep me moving towards where I need to move. There are moments where the excitement breaks through, especially at night or when you have an hour or two to just rest, and then you start to think this is pretty awesome. But it's still pretty focused."
Bekkering has played in the University Games in 2007 in Bangkok and 2009 in Belgrade.
After taking a leave of absence from his day job back in Lethbridge, as a teacher at LCI to pursue his Olympic dream, he now realizes that goal in what will be a unique Games with no fan attendance due to the COVID-19 pandemic.
"That was pretty cool, that was about 11,000 athletes and they had an athletes village," said Bekkering, of the University Games. "But obviously this is the highest level. This is pretty awesome."
It was almost an opportunity Bekkering passed on.
"I've been playing five-on-five my whole life and professionally in the Netherlands from 2010 until 2016," he said.
"I came back to Canada and did some other things for a couple of years and then in the winter of 2019 an old Dutch teammate of mine (Arvin Slagter) phoned me and said he had joined the Dutch three-on-three basketball program and he thought I would be a good fit for their team. He asked me if I was still in shape and if I was still interested."
Busy with other aspects of his life and having not played at a serious level of basketball for a while, Bekkering initially dismissed his friend's offer.
"But the timing and the situation was really perfect, it was something I needed to give a go," he said. "I came to Amsterdam and trained initially for about three months. I got selected to play in the qualification tournament."
Then COVID happened and shut down the planet, including the originally-slated 2020 Olympics.
"So I went back to Canada for about three months. There was a lot of uncertainty with the program and with the Olympics," said Bekkering.
But early last summer, the three-on-three Dutch program picked up again and Bekkering flew out for two months to resume training.
However, his teaching job back in southern Alberta beckoned.
"I had to come back in August because during the (pandemic) lull I had signed a contract to teach high school," said Bekkering. "So I came back and taught my fall semester and LCI."
However, Bekkering struck a deal with his employers.
"I had arranged with the school board and the administration to have a leave of absence in the second semester if the opportunity came up for me to be part of the program," he said. "Sure enough, the Dutch program was operating again and they wanted me to come out. So we organized for me to fly out again in January. I've been training since the end of January. Now I'm at the Olympics."
He's also a part of the first three-on-three basketball at an Olympic games.
"It's been bigger than I thought it would be," said Bekkering. "Three-on-three is a relatively new sport. I think the inception was in 2010 and they really didn't start building any momentum until about 2015. So, it's a very new sport just kind of gaining a little more popularity and exposure and the Olympics drew closer. This is the first time it's ever been in the Olympics, so it's a sport that's not only newly-created, but it's also trying to gain a certain market as a unique identity."
When the three-on-three program started in the Netherlands six years ago, Bekkering said the country's goal was to make the Olympics.
"The foresight was really good to understand if they adopted a professional program early they had a good chance of being ahead of the curve in terms of international development of the sport. So, they were one of the first countries to really have a program. The Netherlands is not synonymous with super high-level basketball, but it's a pretty big accomplishment to make it to the Olympics."
Whether they make the podium or not, it won't be in front of a gym full of fans with the 2021 games going fan-less due to a surge of COVID cases in Japan.
"Things have been different the last year and a bit," said Bekkering. "For me, it's just go with the flow and whatever adjustments and restrictions they have, at the end of the day I have enough to focus specifically on the sport. It's too bad there can't be the public energy aspect of the game, but it's still an unbelievable experience. The set up here has been really good."
As a twice-vaccinated athlete, Bekkering also feels safe in the environment he's in. Testing is thorough.
"I've had probably, no lie, probably over 100 tests in the last six months. They do it all. I don't think about it too much."
Back home, Bekkering has a cheering squad led by his wife, Carli.
"She was one of the first people when I first heard about this in the winter of 2019 who was one of the first people to say 'Hey, this makes sense the way everything is lining up,'" he said. "She was really one of the people who was encouraging me to do it. I initially dismissed it and came around after I collected more information. But that has been amazing, to be in a relationship and have that support. Without that, I don't think this would even happen because we've been doing long distance throughout it all."
"(With) friends and family, it's been really heartwarming to hear the positive words and I know they would be proud of me no matter what, whether we qualifed for the Olympics or I actually made the final selection (of 10 athletes). To be selected for the final four and to share them with family and friends has been really cool."