Justin Hall Memorial Golf resumes after hiatus
Posted on July 14, 2021 by Taber Times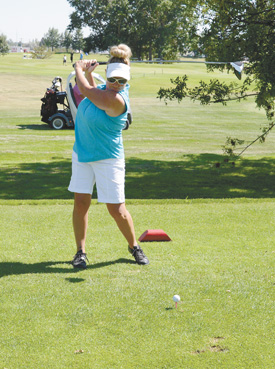 TIMES FILE PHOTO
By Laura Balanko-Dickson
Taber Times
After a two-year hiatus, the Justin Hall Memorial Golf and Dinner is back.
Dave Dube — one of the organizers of the event shared about the tradition his friend Justin Hall started, what participants can expect at the event and why it's important for Dube to carry on the tradition, as well as share some examples of how Hall's practice of aiding youth that can't afford sporting gear or enrolment fees provide for those needs in the community.
"My friend passed away in 2016," said Dube. "What Justin used to do is he would find a neighbourhood kid that wanted to be a part of sports, but couldn't afford it. He would end up buying sports gear for them, paying for their enrolment fees and going a bit further and coaching and mentoring them too."
Dube's late friend is the inspiration behind the event for himself and the other four organizers. According to Dube, many of Justin's friends became friends — while they were golfing with him. Because of this, the organizers wanted to incorporate golf into their memorial.
There is a limit of 72 golfers on the green. Dube said organizers are hoping to get their regular 60 golfers out on the course this year, and encourages anyone who has a connection to Hall or his family to get their registration for the event in soon.
Those who register to play have to pay a green fee. "Golf is $22 for nine holes. Plus $20 for a power cart."
"We just play the front nine at the Taber Golf Club," said Dube, "that starts at 3 p.m. July 17. Dube added at 6 p.m. the 300 Par Restaurant at the golf club does a dinner for the event. "They do a fantastic job and that's a time when those that aren't golfing can just come and share stories, eat dinner with us — kinda continue on the camaraderie."
"Then we will do a 50/50 draw. Pre-COVID we were asking the community for donations and we were doing silent auctions," said Dube, adding, "it's kind of tough out there economically right now."
For Dube, it's not just about carrying on his late friend's tradition of helping fund sporting gear and fees for disadvantaged youth.
"I think we want to see everybody that was close to him come together. We'll wind up with about 60 golfers and maybe about 100 altogether come for dinner."
"The three girls are also there," said Dube, "they get to see that outpouring of love for their dad," adding, "that's quite important to us."
"For this community, there's other people realizing there are other people out there caring for what they're doing," said Dube, "you know, keep kids safe, keep kids engaged, healthy lifestyle, all that."
Dube recalls how his late friend provided sporting equipment for "soccer and a variety of different activities."
"I'm thinking of one family Justin had connections with," says Dube, "there were three boys in this family. Low teen sort of age and they wanted to be involved in sports or whatever and Justin took them on."
According to Dube, the boys he mentions are Curtis, Thomas and Bailey Rolfe.
"I can see Justin's work ethic in them and they've gone onto work in the trades and get involved in the community," said Dube, "I'm pretty proud of them."
For more information e-mail justin.hallmemorial@gmail.com.