Jacob DeGrom an early candidate for 2021 Cy Young
Posted on June 9, 2021 by Taber Times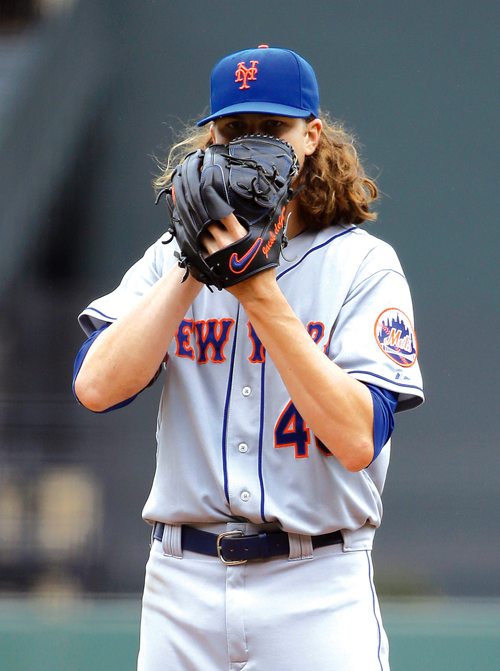 Photo courtesy of mlb.com.
By Cole Parkinson
Taber Times
cparkinson@tabertimes.com
Every five days from March till September, the baseball world can watch the greatest pitcher on the planet.
New York Mets' pitcher Jacob DeGrom has continued to outclass the vast majority of hitters in Major League Baseball for the past several years, but this season he's kicked it up another notch.
In nine games started this season, he has a minuscule ERA of 0.62 (first in the league), he's held hitters to only 25 hits in 58 innings, and he's only walked eight. He's amassed 93 strikeouts, a WHIP (Walks Hits per Innings Pitched) of 0.57, and he's already collected one complete game shutout. Looking at his per nines, he has a hits per nine of 3.9, a strikeouts per nine innings of 14.43, a walks per nine innings of 1.24 and a home runs per nine of 0.47, and hitters are only hitting .218 against him.
So yeah, he's been absolutely dominant in 2021. And while DeGrom has been a stud for several years, the Mets have continued to be a mediocre team that doesn't score a ton of runs.
This year, DeGrom has a 5-2 record, with two no-decisions. Looking at all nine of his starts so far, he's faced San Diego, Arizona twice, Colorado twice, Boston, Washington, Miami and Philadelphia. In those games, he has only allowed four earned runs, and the Mets have scored a total of 30 runs and have allowed 17 overall runs.
So far, so good for the Mets.
While wins and losses are not a very useful stat overall, I think it is telling of how much run support DeGrom has gotten over the past several years.
In 2020 he had a 4-2 record with an ERA of 2.38, in 2019 he had an 11-8 record with an ERA of 2.43, in 2018 he had a 10-9 record with an ERA of 1.70. Looking at 2018, if I told you a pitcher had an ERA under two, I bet you'd think their record would be 16-3, not 10-9.
And since he plays in the National League, would you be surprised if I told you he's been hitting the ball quite well too? He's hitting .391 with nine hits (eight singles and one double) and he's also collected three RBI. In his career, he has three home runs, 26 RBI, an On Base Percentage of .236 and he's even stolen one base.
Not bad as far as a pitcher is concerned.
But despite all of the Mets' troubles over the past few years, for the sake of baseball and getting the best players in the biggest games, I truly hope they can finally take a step into the playoffs in the NL East.
A few weeks ago, I wrote about Mike Trout and how the L.A. Angels need to be better, the same thing applies here. While Trout is far and away the best player in the game, there's an argument to be made that DeGrom is number two — I don't think there would be much dispute that he's easily the number one arm in the entire league.
And like Trout, his playoff appearances aren't very long.
He's pitched a total of 25 innings in the postseason — all in 2015, the year the Mets went to the World Series. Over those 25 innings, he has a 3-1 record, an ERA of 2.88, eight earned runs, two home runs allowed, 29 strikeouts and a WHIP of 1.16. Unfortunately, his worst start came in the World Series against Kansas City where he went five innings and allowed four earned runs.
Since then, the Mets have only made the postseason once, which was the following year in 2016 and they were eliminated in the Wild Card Game by the San Francisco Giants.
Mets fans have to be happy that Steve Cohen became the majority owner in 2020, and it's already led to money being splashed around. As -the richest owner in baseball, that's all you can ask for — an owner who isn't afraid to spend to put the best product available on the field. This past offseason, the Mets traded for superstar shortstop Francisco Lindor and promptly gave him a 10-year, $341 million contract.
While Lindor has yet to make any really massive impact with the bat, the Mets are currently holding down the top spot in the NL East. And with DeGrom going every five days, even if you aren't a Mets fan, it's must watch TV.