Taber Skating Club celebrating 55 years amidst pandemic
Posted on May 26, 2021 by Taber Times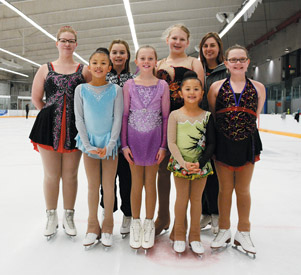 TIMES FILE PHOTO
By Cole Parkinson
Taber Times
cparkinson@tabertimes.com
Local athletes have had a tough 14 months with the ongoing pandemic as their seasons have seen cancellations, delays and start and stops throughout the entirety.
While it isn't how they want to celebrate, the Taber Skating Club has hit a milestone in 2021 as it's their 55th year as an organized club. Despite the challenges the group has faced, they are still looking to give their thanks to everyone who has been a part of the club throughout its 55-year history.
"The Taber Skating Club is very proud to have such a longstanding relationship with the community of Taber. We have been generously sponsored by many local businesses and families through our annual ice show, fundraisers and bottle drives. We work very closely with the Town of Taber to help us meet our ice needs and have a flourishing relationship with Taber Minor Hockey," said Barb Nakashima, current president of the club. "We are the only club to offer professional coaches to teach skating skills to the entire club, and are one of the few groups who employ professional coaches, as opposed to trained volunteers, and are an integral part of the community. We have skaters joining us from Grassy Lake, Barnwell, and Lethbridge."
Another integral part of the group has been volunteers who give their time throughout the skating season.
"The club cannot operate without the dedication of our volunteers. Unfortunately, we are at a crossroads and will have some difficult decisions to make going forward. We were very happy to welcome some new board members at the beginning of this past season, but we are still missing people for key positions such as vice-president, and for the upcoming season, president. Our board works very hard, but we are all parents, we have kids in multiple sports and activities, most of us work full-time. We are reaching volunteer fatigue and need more members to help alleviate the burden," added Nakashima.
As the pandemic continues well into 2021, the group hasn't made any concrete plans to celebrate their 55th year.
"No plans for our 55th anniversary. When we celebrated our 50th, our president at the time Heidi Hofer, travelled to the Skate Canada Alberta-NWT/Nunavut annual general meeting in Edmonton and was presented with a plaque to honour the occasion. We also have a banner hung in the arena to commemorate it," explained Nakashima.
Spring usually signals the end of winter sports, and this past season for the club was a strange one from start to finish. While plans were set to have the season run for the entirety with safety measures, the club ended up experiencing several hurdles throughout late 2020 and early 2021.
"This season was exhausting. Starting in August we worked very closely with our Skate Canada section as well as the recreation staff with the town to ensure we had guidelines in place/followed the guidelines. This included masking, sanitizing, utilizing more change rooms, contact tracing, altering how we come on and off the ice. We had to cut our pre-CanSkate program, which is the program for skaters starting at age three, and are just learning to skate, and a big chunk of our registration. Since our coaches and assistants were not allowed to help out the skaters, we had to make sure all our registrants could stand up on their own and move freely around the ice on their own," continued Nakashima. "We did need to get creative and helped one or two of our skaters out with hockey sticks, but we made it work and it was so rewarding to see so many smiling faces on the ice each week. We were shut down the third week in November along with all the other sports in the province. We spent hours agonizing over the decision to open up again, and when the opportunity presented itself, the restrictions made it financially impossible to run the club without going further into debt."
Despite the setbacks, the club is looking back at the previous season and while it didn't go the way they wanted, they were happy with how everyone handled the challenges they were presented with.
"We feel we did everything we could and explored every avenue available to us at the time. I think when we are further removed from the craziness of 2020-2021, we will look back on our decisions and feel we made the right ones for our club, our skaters, and our families. Volunteer boards and youth groups were faced with impossible decisions and scenarios. Running an organization through a pandemic is something none of us signed up for. I am very proud of our board and how well we worked as a team to do the best we could, despite all the roadblocks and bumps we were faced with," said Nakashima. "We were able to complete 70 per cent of our first session (September to November) and did not skate our second session. At the end of the 2019-2020 season, we were lucky to only miss a couple of weeks of skating. Our skaters were able to compete in some competitions, we moved our annual ice show six weeks earlier and were able to pull that off without a hitch and we were able to complete our casino which is our major fundraiser."
As the prior season fades in the rearview mirror, the club is turning its attention to the upcoming year. While there is no guarantee the pandemic will be over, the fact vaccines are available for a large portion of Albertans is encouraging for the club as they hope to finally get their regular scheduled programming back in place.
"I think with the vaccine being available to younger and younger demographics, we can be cautiously optimistic about returning to the ice. We have already been discussing what the 2021-2022 season could look like. We will be altering the registration process some, to accommodate potential shutdowns due to COVID and we will be keeping whatever necessary sanitation and safety measures in place," stated Nakashima.
Reiterating a previous comment, Nakashima noted the bigger concern for the club is volunteers heading into the New Year.
"We are in a bit of a difficult position volunteer-wise. We regularly reach out to the membership to recruit new members to the board, but it becomes more and more difficult every season. We've been running a skeleton crew and quite frankly, if we don't have more interest in the operation of the club, there is a good likelihood we could fold. It would be a shame to end our 55-year membership with Skate Canada due to a lack of volunteers," she said. "We are also the only learn to skate program in Taber. We've altered the name of the club to the Taber Skating Club to reflect the diversity of ice sports, and to encourage people who want to learn to skate, improve their hockey and ringette skating skills and simply improve their overall skating skills, without feeling the pressure to learn a triple axel. The coach training program Skate Canada provides is second to none and has produced many world-class coaches, and these coaches start out in clubs just like ours, teaching the same programs nationwide."
Nakashima also touched on the benefits the CanSkate program can provide to young figure skaters but also anyone looking to improve their skating.
"The CanSkate learn to skate program launches the careers of not just figure skaters, but also hockey players and speed skaters. Our CanPowerSkate program is coached by the phenomenal Pam Turcato, you'd be hard-pressed to find a more distinguished coach in southern Alberta. We offer the base for all skating sports and is a very inclusive sport. A past coach is now a part of the national figure skating program for the Special Olympics. We also work very hard to make sure skating is financially accessible to all members of the community by offering fundraising opportunities to help alleviate some of the financial burden, payment schedules, equipment exchanges and try to keep registration costs relatively stable through casino fundraisers. We are also able to run our club with the help of many local sponsors who help us out year after year."
If you're interested in signing up for the Taber Figure Skating Club, visit tabersc.uplifterinc.com.