Local baseball umpire Mitch Ball remembered as 'larger than life'
Posted on May 5, 2021 by Taber Times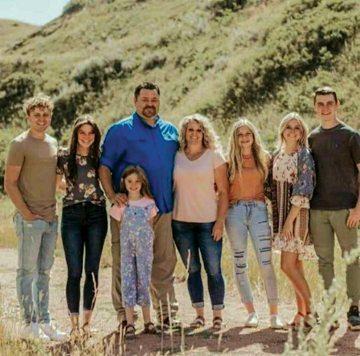 By Dale Woodard
Southern Alberta Newspapers
Mitch Ball was the equivalent of a big teddy bear — even called "Mr. Sunshine" by his co-workers.
However, when Ball put on his mask and umpire vest and stepped behind the plate to call the balls and strikes, the umpire commanded — and received — respect from players, coaches and fans with his calm, fair demeanour, a passion for his craft and for the respect he gave back to the game and the people he encountered.
That is how Ball, who passed away Saturday morning after complications with COVID-19, is being remembered by his family, friends and colleagues.
Ball is survived by his wife Jana, their six children Colton, Bailey, Halle, Brett, Macey and Margot — as well as their foster nieces, Micah and Sophie.
"If you talk to anybody who knows Mitch, he's a big teddy bear," said Jana, of her husband who umpired in the Western Canadian Baseball League for two decades, beginning in 2000. "He's a big guy. He's big in stature, as well. He's literally (a) larger than life guy and he's a big teddy bear. He looks like he could be intimidating and rough. But he's the kindest and sweetest guy. At work they call him "Mr. Sunshine."
"He's this big softie, but then you put him on the ball diamond, he transforms into this guy who commanded the field and not only did he command the field, he got respect from everybody. I don't think there was a player or a coach or another umpire that worked with him that did not have respect for him."
That respect has poured out in spades since Saturday morning with a flood of tributes from organizations and individuals alike, including the Lethbridge Bulls baseball club, who tweeted "We are incredibly sad to announce WCBL umpire, Mitch Ball passed away earlier today. Our deepest condolences to his friends and family. Rest in Paradise, Mr. Ball."
Ball was a hockey official as well and on Saturday night a Zoom call was organized so his referee buddies could get together virtually and recall old stories.
"Plenty of laughs and tears were had by all," said the South Region Referees Committee in a tweet. "You touched the heart of so many Mitch. RIP Mitch Ball."
Prior to puck drop Sunday night at the Enmax Centre — as they hosted the Medicine Hat Tigers, the Lethbridge Hurricanes honoured Ball with a moment of silence, displaying his picture on the video scoreboard.
Meanwhile, a Go Fund Me page set up Saturday has so far surpassed $65,000.
"Even when he was in the hospital, all the outpouring we had and what everybody was doing for us was already very overwhelming and super appreciated," said Jana. "Just the outpouring of love that has been shown to us, there are no words."
Growing up in Raymond, Ball played baseball in high school and his father, Sheldon, was an umpire who called local games.
"Someone came up to Mitch and asked him if he wanted to do that and that's what started the whole thing," said Jana. "That was when we first got married. He was 23 when we got married. We got married in 1996 and that was when his umpire career began and it has been our whole marriage."
That kept her husband away from their young family quite a bit during the summertime, but Jana saw the passion he put into umpiring.
"He was really good at it. So I always let him do it. His adoring family was watching their dad and watching him play. He was really fun to watch."
It wasn't just his family that looked forward to seeing Ball at the diamonds. The teams that knew he would be calling their games were equally elated.
"I know a lot of the teams, when they knew Mitch Ball was umpiring they were excited. Everybody wanted Mitch to umpire their games because he was fair, calm and respectful," said Jana. "It's not that he never got into rows with other coaches sometimes, but he wasn't one to get into their faces and yell and scream. He would walk over and discuss it. He would be forceful with them and he kicked some of them out, but he was a team player, so he was always fair."
When he wasn't making the calls behind the plate, Ball mentored hundreds of up-and-coming umpires, including his sons.
"That was everything for him because it was his passion and he wanted to share his passion with everybody else," said Jana. "He wanted to teach people to learn and do their best. He wanted kids to love the game. He wanted these kids to love what they were doing and be a part of a team and a group."
Ball also coached his children on different teams. He was equally popular in that role.
"He was the man. Colton's dad was the man because he was their coach and to this day they still call him Coach Ball," said Jana. "The thing about Mitch is he approached everything with love, respect and humility. Mitch was the most humble guy you'll ever meet and he never did anything to get noticed or to get recognition. He did things because he loved them and he wanted other people to love it as well."
As a coach, Jana said her husband wasn't a yeller, teaching respect for one's teammates and the game. Still, he wasn't afraid to put a player with an attitude in their place, either.
"They all got along and respected each other and they played together. They weren't the one-man show," said Jana. "If there was ever a kid who tried to pull the one-man show, my husband benched them. It didn't matter if they were the best player on the team. They were a team and they worked together and took care of each other. There was no yelling or swearing. It was respect and love and he received a lot of respect back because of that. He would put his arm around the kids and say 'You know, you had a bad day, but another day, another game. Let's try again' He never made them feel like they failed."
Jeff Chipley was mentored by Ball when he was coming up through the umpiring program in Alberta.
"I met him about 12 years ago. He was living in Rocky Mountain House at the time. I was able to work with him, be mentored by him, umpire alongside him and teach a bunch of clinics."
Chipley remembered Ball, not only as someone who not only was able to bring out the best in everyone, but someone who had time for everybody.
"Even if you saw him once or twice a year, he always took time out of his day to see how you were doing," he said. "He always spun things in a positive sense, nothing was ever negative with Mitch."
Working alongside Ball at clinics, Chipley remembered his mentor as someone who could keep over 100 kids engaged and had unique ways of doing it. He could also be quite the prankster and dispenser of nicknames.
"He always made sure the kids had a smile on their face," said Chipley, adding if one of the kids got a question right, Ball would reward them with a baseball card from the 1990s.
"These kids who wouldn't even know who somebody like Ricky Henderson was," said Chipley.
Then there were the pranks, little tricks and the Mickey Glove.
"If a kid accidentally made an out call with their left hand instead of their right hand, Mitch had this thing he called the Mickey Glove, which was an oven mitt that he took the top part of off," said Chipley. "He'd make the kid wear the Mickey Glove and I know one of the clinics we were instructing, our biggest goal was to catch his oldest son goofing off, so we could put the glove on him."
Chipley was also the target of Ball's practical jokes, recalling a botched call that came back to haunt him.
"One of the things he always bugged me about, I was working a provincial game in Okotoks and I missed a call on a flyball to the outfield because I saw this white thing that looked like it was bouncing off the ground, but it was actually a white butterfly floating around," said Chipley. "So Mitch's nickname for me was 'Butterfly.' Every single chance he got, he would try and immerse some sort of butterfly picture or magnet or diagram. He had a nickname for every one of his friends. He wasn't afraid to play some practical jokes on them. All in good fun, too, and he always kept it positive at the end of the day."
That was the biggest lesson Chipley said he took from Ball.
"Baseball is just a game and there are times where you can focus on more positive things in life, whether it's your family or your friend and even if you're having a rough day with baseball, if you focus on the positive you'll succeed and not only help yourself, but help others. He was all about helping others. He would be floored with how much support people are showing him and his family right now."
Ball worked for the City of Lethbridge as the field risk and safety co-ordinator, where he earned his "Mr. Sunshine" nickname.
But when he wasn't working his day job, his umpiring chores took him around the world to high-calibre events.
He umpired seven Baseball Canada Championships and served as a supervisor at another three.
Ball represented Canada at the 2008 International Baseball Federation World Junior Championship in Edmonton in addition to the 2009 IBAF World Cup in Europe.
He also umpired at the 2015 Pan Am Games in Toronto and the Tournament 12 in 2016.
In 2016, Ball received the Lethbridge Sport Council Achievement Award for officiating excellence.
Jana said Mitch was going to umpire school early in their marriage when their children were younger.
He ultimately made the decision to stick closer to home and his family, but his wife believes he could have gone pro as an umpire.
"Most umpires don't go pro for about 10 years and they're gone a lot," said Jana. "He made the decision not to do that because he was a husband and a dad and he didn't want to spend his life on the road because when you become a professional umpire you're gone nine months of the year. He chose not to go that route. But I truly believe if Mitch had chosen to go pro, I think he could have gone all the way."
An avid fisherman, Ball shared that hobby with his family.
"Mitch loved teaching his children all the things he loved. He loved to reminisce about his childhood and do the things he did and he wanted to give his children those same experiences," said Jana. "Mitch is a diamond in the rough. There's nobody like him. There is nobody on this earth who has met him who does not like him. He was a good dad, a hands-on dad. He was loving and wanted his children to be good and respectful and learn how to work."
His passion for calling the balls and strikes earned him recognition from players, coaches and fans, but when the game was over Jana noted a husband who left it on the field and turned his attention back to his family.
"We supported him in his umpiring, so he was able to do that," she said. "But the umpiring stayed on the field when he came home. He was able to separate those two, we were always the priority. That's why I was able to support that, because when he was home, he was home."
To make a donation on the Go Fund Me page, visit http://www.gofundme.com and click on Mitch and Jana Ball.