Taber Trail 77 club preparing for second season
Posted on April 21, 2021 by Taber Times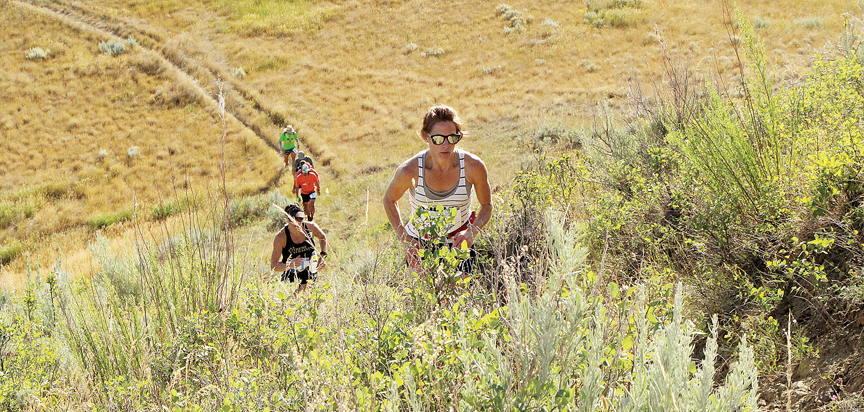 TIMES FILE PHOTO
By Cole Parkinson
Taber Times
cparkinson@tabertimes.com
After a successful first year as an organization, the Taber Trail 77 club is hoping to expand in all facets in 2021.
While the COVID-19 pandemic affected several activities, Trail 77 didn't see too much negative impact due to them being almost entirely outdoors on trails near Taber.
They even got started on several different projects, including trail maintenance and building several bridges — which will continue into this spring and summer.
"Last year, we had a few things going on we didn't quite finish. This spring, we'll be working on some of that stuff we didn't finish up like some of the green trails and blue trails along the river," explained Jay Anderson, secretary/treasurer for Trail 77. "Over the winter, trails do get worn down from snow and different things, but we've got runners out there all the time using the trails. Come spring, there is a bit of trail maintenance that needs to happen. That's what we've been doing. We do have planned in 2021 to just maintain what we have and improve and expand what we have."
In terms of disruption from the pandemic, the group didn't see a lot.
"The only thing it has really affected is our director meetings, meetings with the town or our gatherings like our AGM. That was done on Zoom and some of our director meetings have been done over Zoom," said Anderson. "The effect on our group rides or activities down there has been minimal because we are outdoors. We try to keep our groups to a minimum and that parking lot at (the Taber Trout Pond) is really nice because we can spread out."
On top of that, the group is in the very early stages of expanding trails in the area.
They approached the Taber Recreation Board during their regular meeting April 1 with a proposal to develop the north coulee for multi-use trails.
Trail 77 has been working with Redcliff-based company Western Trail Fabricator to develop the area for a mountain bike optimized multi-use trail network to extend the existing trail network to the south.
The area in question is partially town land and partially Municipal District of Taber land and is located on the east bank of the Oldman River, just north of the Town of Taber.
Trail 77 has also been working with Velosolutions Canada (based in B.C.) on a development on a potential pump track and skills park with a location set east of the main parking lot at the trout pond.
They've also been speaking with the Canadian Ramp Company to provide ramps for any potential track.
At the end of the month, Trail 77 will be presenting its findings to town council.
"We might get going on some of that if we get approval from the town later this fall or early 2022. But it is early days," added Anderson.
With the second year underway, they also expressed their gratitude to the town for continuing to support the project.
"The town has been amazing. They've supported us financially for the second year in a row now. It's been amazing," stated Anderson.
The town approved funding for Trail 77 in 2020 in the amount of $5,000 and the club asked for another $5,000 for 2021, 2022 and 2023.
While support from the town has been great for Trail 77, they've also been overwhelmed by community reaction.
Since its inception, the group's numbers have continued to grow and in the second year, they're expecting membership to be well above what they reached in 2020.
"The community has been fantastic. Last year, we had 83 members and this year we are already over 80. We opened registration for membership April 1. We're hoping to break 100 and that shows support from the community — the running community, riding community and it demonstrates to the town there is interest in what we're doing," continued Anderson.
Support from local businesses in the area has also been staggering.
Anderson says they've been on a sponsorship drive and many local businesses have been more than willing to help out in any way.
Upcoming this spring and summer, the trails will see plenty of action including organized races in the Taber Tuff Run and Oldman Mayhem.
With plenty of work still ahead, Anderson also wanted to highlight the fact many members of Trail 77 put in long hours to help realize their goals.
"There are other people who are doing a lot more work than me on this.
"I'm just along for the ride," added Anderson, with a chuckle. "It's pretty neat and I've really enjoyed."
If you want to keep up-to-date on Trail 77 or join as a member, visit the group's Facebook page at http://www.facebook.com/groups/259163361843884.