Taber Soccer hoping for a more normal spring
Posted on March 24, 2021 by Taber Times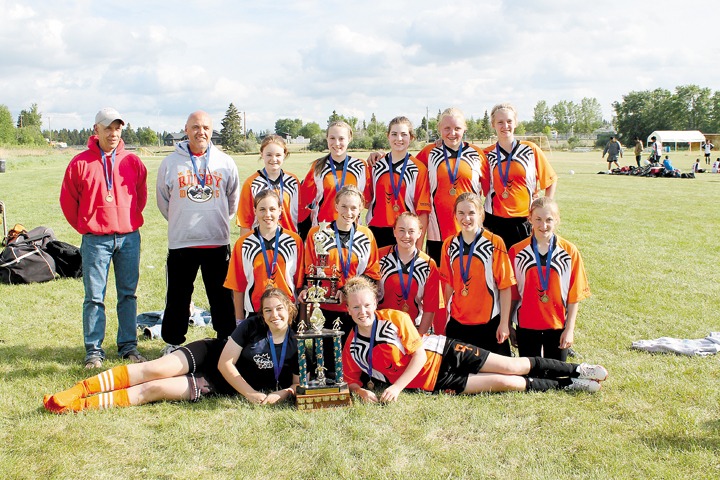 TIMES FILE PHOTO
By Cole Parkinson
Taber Times
cparkinson@tabertimes.com
While everyone waits to see what spring brings, the Taber and District Soccer Association is hopeful it allows for a return to regularly scheduled programming.
The past year has been untraditional in every sense, but with warm weather coming to southern Alberta, the association is ready for whatever comes down from the provincial government.
"A couple of weeks ago, we posted to all of our members letting them know we're planning to move ahead with some sort of soccer season. Obviously, some of that will depend on the government and the decisions they make. I would be shocked if there wasn't some way we can't play. I'm sure the government will put something in place that allows youth sports to move on. What that looks like — we're not sure," said Brett McCoy, president of the Taber and District Soccer Association. "We do have a few options though. Right now, we have opened registration and it's an open registration with no payment right now because we know so little we can't even put a fee on anything. We don't know what the organization we are a part of is going to charge. Our goal and hope is to play somewhat of a regular season."
As no direction has come as of yet, many sports organizations in the area are planning for several different scenarios.
Taber Soccer has three different options heading into the new season and they're hoping it allows for league play against other towns.
"We know our older groups, within the past year, teams have been able to play in some sort of cohorts. So for our upper age groups, our hope is they'll be able to play some kind of cohort with other towns and locations with some kind of league play. Whether that is some home and home games with other towns and then take seven to 10 days off before you play another place. Those are some things we are open to and we can work with," continued McCoy. "Our U5 to U11s would just play in Taber. There are enough teams amongst each of the age groups they can play a normal league. That's our number one plan."
The second would heavily feature practice time and skill development within the town.
"The second plan, if we don't hear from the government or they allow outdoor practices or skill development — but doesn't allow games, we'll put on some spring camps, where kids can come out to work on skills to get ready. Then we'd move into the season when we are allowed to. That's also something we're working on, it's not preferred, but we're preparing ourselves, so that can be an option," stated McCoy.
And the final would follow a similar path to last year's season.
"The third option would be the government doesn't allow for any league play, but would allow something like last summer — where we could be in one court. We could have 40 or 30 people, or whatever, so we would do some camps with skill development and games within your cohort. That is not a preferred option, but again, if that's the only thing we can do, we'll gladly do that. The goal is to be able to offer something for kids to do," continued McCoy.
As far as last season goes, despite the unorthodox situation they were put into regarding the COVID-19 pandemic, McCoy was happy with how they adapted.
"It was really good to be able to spend time with those age groups. We only ran three or four age groups. To be able to see their skill development develop over those weeks by doing the camps and we got to play a few games every week as well in the second half. The first half was all about skill development. The one age group I was volunteering in and being able to watch those kids from week one to week six, and how much better they got by focusing on skills was really fun from a soccer side. But from a perspective of just being able to see kids get out, you could see the joy they had to do some socializing and do something normal," he explained. "We didn't have the capacity to be able to work with all of our age groups, so we had to shrink things down — but it was great to be able to get out and get some fresh air."
While it's still early into the registration process, numbers are coming in and the group is expecting quite a few players per division this year.
"I'm pretty happy. They are lower than last year, which isn't surprising. With the uncertainty, and if we were able to put out a more concrete plan with what we were doing, we'd probably have a few more people jump in. One of the interesting things is there have been some people who have registered where their school sports were cancelled all year. So they may not have played soccer for a few years or had chosen not to do summer recreation because they do school sports, which has been robbed from them. They're looking at other recreation now — soccer, baseball, lacrosse and things like that — which are happening in the spring. Just to be physical, active and be a part of something right? We feel good about that," said McCoy. "We have teams in every age group right now, but there is lots of room, too. We never cap and we won't be capping, so we anticipate registration will continue to go up."
Sanitation and safety procedures will also be used extensively this season, much like last year. With no real end in sight to the pandemic, the association is focusing a lot of attention on safety for players, coaches, referees and fans.
"We're not 100 per cent certain what will be doled out in regards to that. Obviously, the basics of proper handwashing, hygiene and those kinds of things with hand sanitizer. Or people show up and they have their tracing for the week, so everyone comes with those sheets — both coaches, refs and players. Soccer is a game where you line up and shake hands, and obviously, those things change. You may stand on the sidelines and clap or whatever we decide. There will be changes like that," continued McCoy. "The nice thing about being outdoors is being spread out, and especially if we're allowed to play within some sort of cohort. Last year, I know they were sanitizing the high touch areas. So after practice sanitizing all the equipment and all of those things. We've maintained, as we've put out our notice, we believe strongly kids not only play soccer — but to have recreation available. That's very important for them and we need to do that in ways that are safe. As the government hands out those things, that will be additional costs for us and things we'll need to take care of. I know last year there was a lot of focus on tracing symptoms and making sure kids handed in their sheet and sanitizing. Those were the two biggest things."
When rules and regulations are finally released in terms of sports in Alberta, the group will be ready to get equipment in place to proceed with play. Another question mark revolves around fans on the sidelines.
"One of the things we don't know will happen is spectators. Are people allowed to watch — which is always a struggle. Kids are playing and parents have to sit in cars or whatever. Those are some things we'll have to approach and look at."
Despite the questions remaining, the group is happy the soccer season is approaching and the fact they are an avenue kids can take to get outside.
"We're grateful to get things going and registration is open. We'd love for anybody interested to join or ask us any questions," added McCoy.
For information on the registration process, including birth years for each division, visit tabersoccer.com.