New lacrosse season brings excitement
Posted on March 17, 2021 by Taber Times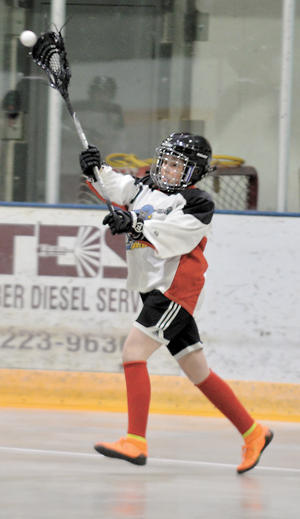 TIMES FILE PHOTO
By Garrett Simmons
For The Times
Even though the COVID-19 pandemic is still with us, these are exciting times for the Taber Lacrosse Association.
Taber officially became a lacrosse association this year, which means players will be registering to play with Taber teams this season, not through Lethbridge.
"So, for us to become official for this season, it is kind of a dream come true," said Jared Capner, president of the Taber Lacrosse Association. "The board has worked countless hours getting everything organized and fundraised, as well as all the boring stuff that comes with the process over the last couple years and have really been an awesome group to work with. Without their hard work and dedication to the game, we wouldn't be where we are today."
To start, the association applied to the government to form a society.
"This was a challenge at first, as we tried a few times over the years and hadn't heard anything — but with the help of the Alberta Lacrosse Association, we were able to get it passed through to the proper people and get approved in a rather quick manner," said Capner. "After we were an official society, we had to apply to the ALA to be approved into the league. Now that we have been approved by both the government and the ALA, we are officially a sanctioned organization that will hopefully be around for many years to come."
With that formality out of the way, a target of April 7 has been set to start practices.
"We will definitely move forward with that even if the restrictions stay the same," said Capner. "We are in a situation this season with a lot of new players hopefully joining that it will give us the opportunity to really push the development side of the sport. This, in turn, will help grow the game and grow Taber lacrosse. We are also lucky lacrosse can be played at a distance, so that definitely benefits us to be able to have a season."
Practice time is key, but for Capner, the hope is teams will be able to resume game action by May.
"That is definitely super important, as much as we could use the development this year, the kids want to play games," he said. "Part of playing sports is being able to go away and play against other kids, as well as have those teams come to your home arena, not to mention it would be nice for the parents and grandparents as well as family to be able to get out and enjoy the awesome facilities the Town of Taber has for us, restrictions permitting of course."
It has been a long year for many, without sports and several other activities. For one, Capner added he's missed his involvement in lacrosse, much like many other coaches and athletes across southern Alberta.
"As a coach and having a son who will play this season, I would say a lot," he said, as to how much he's missed the sport. "The last time anyone in Taber has played lacrosse was in July of 2019, so it has been over a year since these kids have been able to play lacrosse. Talking with some of the kids I coached a few years ago they all seem super excited to start playing this season, which is awesome to hear. The coaching staffs are also really looking forward to getting out there and expanding the sport."
The goal is to have teams in all divisions, including U8 (Tyke), U10 (Novice), U12 (Peewee), U14 (Bantam) and U16 (Midget).
"We are also opening registration to our U6 group as well, which in the past have had to go to Lethbridge," said Capner, who added last season, a total of 72 kids registered, which was double what Taber had the season prior. "Unfortunately, due to COVID, we were forced to cancel the season. We were extremely happy with the total registrations we had last season and we are hoping to add even more kids this year."
For those who take the plunge and register this season, Capner added the sport of lacrosse has a lot to offer.
"Lacrosse does have a tendency to be a little more on the physical side of things, but that isn't usually until the older age groups," he said. "The rules of the game are such that it is able to be played in a safe manner, while still being a contact sport. Lacrosse has been said to be the fastest game on two legs, but anyone can play no matter how fast or how long they can run for. There is always room for more kids."
He added lacrosse helps youngsters build several valuable skills.
"There is actually a ton of benefits for lacrosse that coincide with other sports — the hand-eye co-ordination and conditioning help with hockey and the offense and defense systems that are ran are very similar to basketball and the preparation for contact is really good for football. There have been quite a few Hall of Fame hockey players that have played lacrosse and are a big push to the multi-sport athletics, like Wayne Gretzky, John Tavares and many more."
As the 2021 season nears, Capner added he's appreciative to the many people that have helped lacrosse reach this stage in Taber.
"I just want to say thank you again to the board for getting this ready and organized, the Town of Taber for providing us with some of the best facilities in southern Alberta, as well as to all the parents and kids over the last couple years helping with fundraising and spreading their love of the game to more people."
The Taber Lacrosse Association has officially opened registration, which will be open until March 31. For more information, visit the association's website at http://www.taberlacrosse.com. The website also includes a link to the registration area.