Taber Minor Baseball dreaming of new season
Posted on March 10, 2021 by Taber Times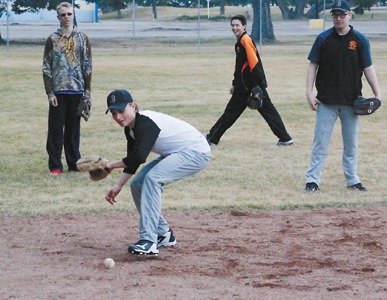 TIMES FILE PHOTO
By Garrett Simmons
For The Times
It may still be winter, but the boys of summer are gearing up for a season of baseball.
Planning for 2021 has kicked off for Taber Minor Baseball, as online registration officially began March 2.
Taber Minor Baseball President Darcy Firth is hoping to see the sports come back in full-force when the weather warms and southern Alberta shifts to outdoor sports season.
"We would really be happy to have 20-plus in each T-Ball and Machine Pitch," said Firth. "As for Minor and Major, 22 would be a nice number in each division. This way we could have two teams."
In the Intermediate division, this is where the players really start to drop off, Firth explained.
"But it would be nice to field a team," he said. "We would need at minimum 10-12 players to form this team."
It has been a rough year for sports in general, as the COVID-19 pandemic has kept many youngsters off the ice and away from the court nearly the entire winter. With that in mind, Firth added minor baseball has a number of initiatives aimed to boost participation.
"We are really hoping we get a jump in numbers this year," said Firth. "That discussion did come up at our last board meeting. To help with this, we have lowered our fees for the year. We are hoping this will help parents get their kids on the field this year. We are also implementing a no-player-left-behind policy. If a family is struggling to pay fees, we have ways to cover their costs. All they need to do is come to us. We have many wonderful and amazing businesses in our community ready and willing to step up to help a child."
The goal for Taber Minor Baseball includes to getting on the field around the middle of April with mass practices.
"This gives us some time to evaluate and see where the kids' skill levels are at," said Firth. "We want to put them in situations — where they will have an enjoyable year."
The Norcrest League, which falls under Little League Canada rules, held its AGM this last week, according to Firth, who added safety protocols for the new season will be much like they were last year during Taber's mini-camps.
"Basically, we are waiting to see what Step 3 of the Alberta re-opening looks like," said Firth, who added at this stage of the pandemic, he's hopeful spring will give local youth the opportunity to experience the joy of hitting the field. "This is both important, just to get the kids out of the house — but also for them to be able to get out with other kids. It was also important to get the players on the field to help with their progression of learning the sport. Repetition helps with muscle memory and so much of baseball is based on this. So, to get the kids on the field to keep this progression going was important to us."
Last year, several Taber baseball players did find a way to play on a few local teams, according to Firth.
"I believe we had around 12 players that we were able to find teams to play on in other communities. Some communities were able to get teams together by using players from other communities. This gave some of our players a chance to play a few games."
This year, Taber Minor Baseball is hoping that looks a lot different for local players.
"Best case scenario for Taber baseball this year would be for us to be able to play some games this spring, even if our numbers are down and we don't get as many teams in place," said Firth. "I would just like to see the kids playing actual games."
Baseball was on an upswing in Taber the last few years before COVID, Firth added, as Taber's 2019 numbers were solid.
"I believe we had four or five T-Ball teams, four Machine Pitch teams, two Minor teams and one really large Major team that was only a couple players away from being able to form two teams," he said. "Our Intermediate numbers were lower. Most of them played out of one of the Lethbridge leagues."
Those looking to register can visit the Taber Minor Baseball Facebook page or visit http://www.taberball.rampregistrations.com.
Locals interested in coaching are encouraged to send a message through Facebook or text Firth at 403-634-4600.
"Coaches are always welcome," said Firth.
"Even if the parent has no experience, we would pair them up with a coach who has experience. This way, they will learn the game, as they go. Coaching is not just teaching the kids skill. Coaching is also keeping the kids safe and supervised. This is where a parent with no experience can help out, while they learn the game."