Taber Vipers gearing up for spring
Posted on March 3, 2021 by Taber Times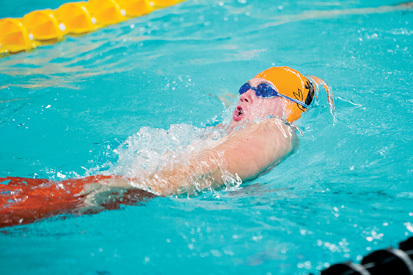 TIMES FILE PHOTO
By Garrett Simmons
For The Times
The Taber Viper Swim Club has kicked off the registration process for the 2021 season.
At this point, however, the club is seeking to get a handle on how many potential swimmers are thinking about hitting the pool this spring and summer. 
"We are not taking any fees until we hear if the season is a go," said club President Mike Duell. "We will continue the registration process until the season starts."
Duell added the club does not know how many returning swimmers may come back for the new season. "We max out at 50 full-time swimmers and 16 rookie swimmers," said Duell, who added the rookie swimmers participate in a shorter season, which equates to an introduction to club swimming for the younger athletes.
Head coach Kristen Irvine is returning for another season, as the club is working to complete its staff with rookie and assistant coaches. 
The coaching situation is just one issue to navigate, according to Duell, who added there is a lot of uncertainty in the air at the moment.
"We are in the blind right now," he said, as the club is not certain of what Alberta Summer Swimming Association rules around COVID-19 will involve.
Duell mentioned COVID-related rules could include stroke judges/timers and referees will be doing more jobs, with less duties actually carried out on the deck. 
"We just know we have to plan like there's going be a season," said Duell, who added club swimming is different for all swimmers.
"It's structured, can be very competitive or really just about swimming with the club and no meets. Each swimmer enjoys it for different reasons."
COVID-19 has thrown a wrench into every sport in Alberta, and swimming was no different. As the full impact of the pandemic began to become more clear last March, the Taber Viper Swim Club president said the cancellation of the 2020 season hit a lot of swimmers hard.
"I asked my daughter about last year," said Duell. "She was very disappointed last year. It's something she has done for a long time. She misses the competitive, self-improving side of swimming. She also really misses her teammates and friends she has met from other clubs. They grow up together first as competitors, but then become good friends, in the heat lines, the staging areas and so on."
For most swimmers, the competitive side of setting personal bests is extremely important, while for younger swimmers, it's all about fun, and becoming stronger swimmers. No matter what the reason may be for hitting the water, Duell added the sense of camaraderie is strong, among the swimmers and the parent group.
"They miss their friends," he said. "We have our older swimmers take the young swimmers under their wing, per se, and the younger swimmers really look up to the more-experienced swimmers. As a parent and stroke judge, I miss the other parents that have become our social network. I miss the cheering and noise of the pool. It's an incredible experience not only to watch the top swimmers battle it out, but the pool gets even more loaded and excited in cheering that young swimmer that last way behind the struggle to finish."
For Duell himself, the thrill of being around the pool during a swim meet has been greatly missed.
"It's hard to describe — it almost gives you butterflies. Of course, I miss watching my daughter swim and compete, watching her push herself. As a parent, we only have so many years until they become adults. I really hope we are going in May, but it's a toss-up at this point."
For more information on the Taber Vipers, and the registration process, visit http://www.teamunify.com/team/canassatvsc/page/home.