Hurricanes reflect on shortened 2020
Posted on January 20, 2021 by Taber Times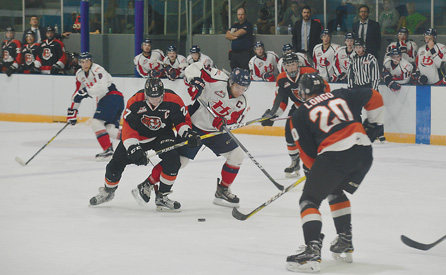 TIMES FILE PHOTO
By Dale Woodard
Southern Alberta Newspapers
Welcome to the 2020 edition of the Lethbridge Hurricanes, the year that was.
Or was it the year that wasn't?
Whatever it was, it featured double gold medals at the World Junior Championship, the return of a familiar face at the trade deadline and a Canes defenceman putting up league-leading numbers and ultimately becoming an NHL draft pick.
It also featured a pandemic that brought the season to a screeching halt almost overnight and, as the calendar turns to 2021, the Canes are still unsure when they'll be back on the ice to start the new Western Hockey League season after being pulled off of it in early March thanks to COVID-19.
The start date was set for Jan. 8 after two previous dates in October and December were bumped back due to the pandemic, but in mid-December the Canes and the rest of the WHL got word the season would be delayed yet again.
"I'll tell you what, it's hard to imagine how you take things for granted, all of us in all of our walks of life," said Hurricanes General Manager Peter Anholt. "Just to get back to some sort of normalcy like we're used to, coming to the rink and watching our guys on the ice and practising and playing. If we can find a way to have a good development year for our guys to finish this year off, that would be our goal and then let's start fresh next year and get going again in a normal situation."
Still, 2020 started off with some promise as two Hurricanes — Dylan Cozens and Calen Addison — returned to southern Alberta with world junior gold medals around their necks after capturing the 2020 title in the Czech Republic.
"Pretty special for our organization," said Anholt. "Personally, for me, Calen was my first draft pick here and of course Cozens and what he has turned into as a player through the whole time he's been here. He's been special since the time he showed up. So that was really fun to watch that and how they were such big contributors to that team. We were so excited for them to be able to experience that and represent Canada the way they did and represent the Hurricanes at that tournament."
The upbeat vibe continued into the WHL trade deadline Jan. 10 with the reacquisition of overage forward Brett Davis from the Red Deer Rebels.
"I think in the lead up to the Jan. 10 deadline we were looking at other options and figuring out what we were going to do," said Anholt. "We were a really young team, younger than anyone believed we were and were always surprised at how young we were. Yet, our coaches did a fantastic job of bringing this team together. Plus, you have Cozens and Addison, two world junior players who make you so much better."
"We looked at some other things and Brett Davis, of course being a former Hurricane, it was such a nice fit to bring him back. He was so excited to be back and be a part of things and, boy, he gave us something that was really special and we were so excited for him and the prospects moving forward."
Following his return to Lethbridge, Davis put up 16 goals and 25 points in 20 games, as the Canes headed into early March at 37-19-2-5, third in the Central Division and four points back of the Medicine Hat Tigers. Then came the pandemic that sent the season to the sideline.
"All of a sudden we were told we had to shut things down," said Anholt, whose team played its last game March 7 in Kelowna in a 5-4 loss to the Rockets.
If the season's sudden halt due to COVID wasn't tough enough, for Anholt, it was watching Davis and fellow graduating players Koletrane Wilson and Ty Prefontaine not get to play out their final major junior season.
"It was the overagers for me that were the biggest disappointment for them," he said."Prefontaine and Wilson were such good soldiers for us and did such a good job with the leadership of our team. Things were moving along nicely for them and then for the date to just kind of end. It was a hard time. That was probably the toughest part of the whole thing."
Then there was the potential first-round playoff clash with the rival Tigers down Highway 3 that didn't happen thanks to the pandemic.
"It looked like it was going to be a Medicine Hat-Lethbridge first-round series, whoever was going to be the host team," said Anholt. "Edmonton (Oil Kings) looked like they were going to end up in first. We've had such good games against Medicine Hat and it's such a great rivalry. It would have been a really good playoff series. I think it would have been really fun to go through, but unfortunately it wasn't."
Still, before the season shut down, Hurricanes defenceman Alex Cotton had a breakout second season in Lethbridge as the product of Langley, B.C., scored 20 goals and 67 points in 63 games, good for third in team scoring.
The six-foot-two, 180-pound blue-liner's season didn't go unnoticed as Cotton — who turned 19 on May 12 — was drafted in the fifth round and 132nd overall by the Detroit Red Wings in October's NHL draft.
"He came to us as a 17-year-old and hadn't really prepared to play major junior," said Anholt of Cotton, who led WHL defencemen in scoring in 2019-20. "I think he was caught off guard by it by what kind of shape he had to be in and what he had to do. But when he tasted it and knew what he had to do, he went back, had a really good summer, and came back and started to contribute."
For Anholt, the tell-tale sign of Cotton's development was when Cozens and Addison were at the World Junior championship, taking them away from the team for a month.
"He just continued to contribute and put up points," said Anholt. "It wasn't all about Coz and Addy. He contributed and of course (Logan) Barlage and guys like that really took their game to another level (as well as) Justin Hall while those guys were away.
"But Cots really caught people's attention and I thought he might have gone a round or two higher, but it doesn't matter. Now that he's been picked, he's Red Wing property and now it's up to him to keep progressing so the next step for him is to work to get signed. But we still look at him as a Hurricane and to play here and to finish off this year here, but we would certainly be open to him playing as an overage. I look at him as a guy who has a lot more room for development and has a lot more time to develop."
Hurricanes fans had to deal with a WHL-less fall as the league continued to monitor the pandemic.
After three attempts to start the season on Oct. 2, Dec. 4 and Jan. 8, the WHL announced last week the intention to play a 24-game schedule with a start time to be determined.
The start date for the season will be determined once final approval has been received from Health Authorities in each provincial and state jurisdiction and it is anticipated the approvals will be received soon.
But when the team is back on the ice, there will be familiar faces in goal with hometown boy Carl Tetachuk and Bryan Thomson back in the crease.
"That's going to be a really good competition to see how that plays itself out," said Anholt.
On defence, the Hurricanes added 20-year-old veteran Mitchell Prowse from the Victoria Royals in exchange for 18-year-old forward Nick Dorrington.
"We would love to see him in a Hurricanes uniform and his leadership ability that we know is there," said Anholt.
Returning on the back end are Trevor Thurston and Joe Arntsen after rookie campaigns last season.
"We have some younger guys coming in like Chase Pauls, we're really high on him," said Anholt of the defenceman from Osler, Sask., who played five games with the Canes last season, scoring one goal. "We're going to bring in a 16-year-old depending on how well that works out right now."
However, with the pandemic-shortened season, Hurricanes import players — forward Oliver Okuliar and defenceman Danila Palivko – will not return to Canadian soil.
Okuliar, who hails from Trencin, Slovakia, was second in team scoring with 33 goals and 68 points in 55 games and would have been coming into his overage season this year.
Palivko, a 2001-born product of Novopolotsk, Belarus, had two goals and 21 points in 62 games last season, his second in Lethbridge.
"Right now, we're not planning on bringing our two imports back just because of the shortness of the season and they're playing over there," said Anholt. "For us to bring them over here, we decided it might be more of a development year for some of those younger guys. So, we'll have the seven guys on the back end."
Up front, the Canes will lose Okuliar, but veteran forward Dino Kambeitz will return as one of the overagers.
"Up front we're going to go with a really small group and let those guys that are coming back perform," said Anholt. "Dino will be a big leader for us up front as will Hall and Barlage."
"Then you get those '02 (born players), there are so many of them that took a step. (Jett) Jones, (Chase) Wheatcroft and (Alex) Thacker. We look at those guys to take a step. I thought (Ty) Nash really continued to come into his own as a 16-year-old at the end. So, we're excited about him."
After an injury limited him to two games last season, Jacob Boucher, makes a return for his 18-year-old season.
"Then we have a couple of young guys in Salvatore Collora and Briley Wood," said Anholt. "We like our group. We think we have as solid group and we sure hope we have a chance to show them off."
As they wait for their start date to the 24-game season, the Canes announced Tuesday they've been working with the Ticket Centre and their ticket provider to begin the process of issuing full refunds to those who purchased 2020-2021 season tickets.
All refunds should be received in the next seven-to-14 business days.